'Mothertongues' at Cúirt International Festival of Literature
Published Tue 21 Apr 2020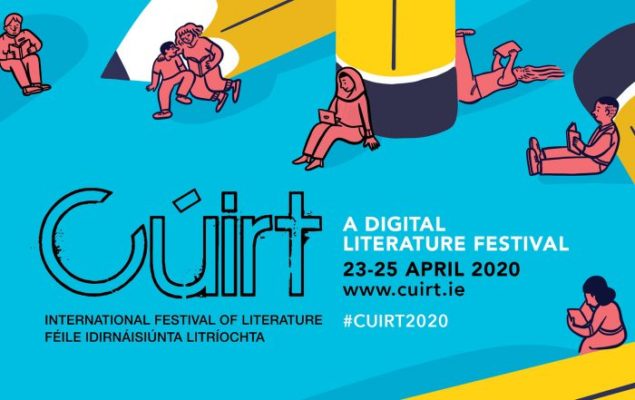 British Council Wales, Literature Wales, Welsh Government and British Council Ireland are collaborating on a multilingual event called 'Mothertongues' for the prestigious Cúirt International Festival of Literature. Originally due to take place in Galway, Ireland, the festival will now be broadcast online, entirely free of charge, between Thursday 23 and Saturday 25 April.
Part of a high-profile line-up, which also includes Irish fiction stars Eimear McBride, Anne Enright and Lisa McInerney, 'Mothertongues' will profile some of the best contemporary Welsh, Scots Gaelic and Irish poetry. Part of a series of ongoing conversations about language and poetry, 'Mothertongues/ Mamiaith' was inspired by last year's UNESCO Year of Indigenous Languages and supported by Wales Arts International.

National Poet of Wales Ifor ap Glyn, Irish writer and performer Ciara ní É and Scottish academic, writer and broadcaster Padraig Macaoidh will present poems delving into the idea of language, from a Welsh, Scots Gaelic and Irish language perspective. Their work also explores identities and how languages continue to evolve. Although the poems will be in the respective "mothertongue" languages, the presentations and discussions will be in English and translations of the poems will be displayed on-screen alongside the readings. The event will be introduced by Literature Wales CEO, Lleucu Siencyn
A Global Audience of Literature Lovers
In the context of current global challenges, the festival organisers and partners are keen to continue to delight and entertain fans of literature around the world.
Director of the British Council in Ireland, Mags Walsh said:
"As the British Council marks its 30th anniversary working with Ireland this year, our aim remains to nurture and deepen connections between the UK's diverse culture and artistic tradition to that in Ireland. We are delighted to partner with Literature Wales and British Council in Wales to make this event happen online. We look forward to celebrating rich literature traditions of Wales, Scotland and Ireland and having an inspiring and insightful conversation among the participants about the topics of language and identity in their countries."
Minister for International Relations and the Welsh Language, Eluned Morgan said:
"Wales and Ireland have a longstanding relationship which transcends borders and challenging times.  I am delighted that the British Council, Literature Wales and the Welsh Government is still collaborating in these unprecedented times with the prestigious Cuirt festival, Galway.  This digital literature festival allows us all to connect and inspire one another in these challenging times. I'm delighted that this important partnership on language will still go ahead virtually and is free to all to enjoy."
Lleucu Siencyn, Chief Executive of Literature Wales said:
"I can't think of anything more delightful than hearing a writer read their own work. We very much miss this live literature experience at Literature Wales, but are thrilled to be working with our partners to make sure that the best of our contemporary voices can still be heard – in your own living room! Throughout the current crisis, we continue to celebrate Wales' literary culture with our friends around the world."
Sasha de Buyl, the festival's director, said:
"Books are, to quote Stephen King, a uniquely portable magic and we're lucky in this time of shutdown that the ideas, voices and conversations that make our festival special can still be brought to our audiences."
Ciara Ní É is DCU Writer in Residence 2020. She is the founder of REIC, a monthly multilingual spoken word and open mic night that features poetry, music, storytelling and rap. She has performed internationally in New York, London, Brussels, Sweden, and across Ireland, and she is an Irish Writers Centre ambassador. Her work has been published in a variety of journals including Icarus and Comhar and her first poetry collection is forthcoming.
National Poet of Wales Ifor ap Glyn was born and bred in London to Welsh parents. He is a multi-award-winning poet, presenter, director and producer. A prolific writer, Ifor has twice won the Crown at the National Eisteddfod – one of the festival's most prestigious prizes. Ifor has represented Welsh poetry around the world in both the Welsh and English language, most recently in Cameroon, Lithuania, China, Belgium, Germany, and Ireland.
A native Gaelic speaker from the Isle of Lewis, Pàdraig MacAoidh is an academic, writer and broadcaster whose work is influenced by the diverse linguistic heritage of his birthplace. Padraig has worked at the Seamus Heaney Centre for Poetry, Queen's University Belfast; Trinity College Dublin and University College Dublin; and at Sabhal Mòr Ostaig, where he was writer in residence. He is the author of a monograph on the work of Sorley MacLean (RIISS, 2010), and has co-edited collections of essays on modern Irish and Scottish poetry and on Scottish Gaelic literature.