National Poet of Wales Hanan Issa performs with Simon Armitage at Gladstone's Library
Published Wed 29 Mar 2023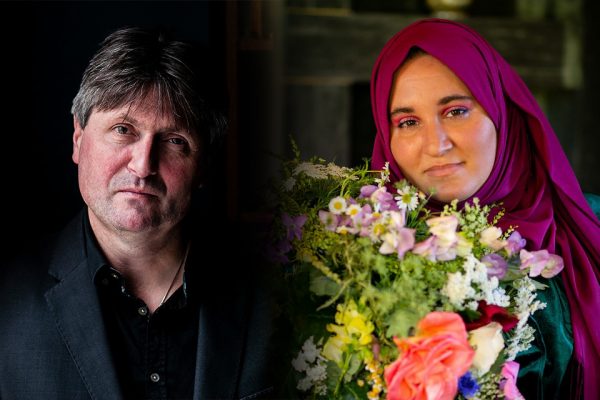 Two internationally renowned poets performed at a Flintshire library last week.
The National Poet of Wales, Hanan Issa, and UK Poet Laureate, Simon Armitage, delivered an hour-long reading at Gladstone's Library in Hawarden on 23 March – both reading a selection of poems touching on themes of home and place.
More than 70 people attended the sold-out event in the Gladstone's Library Reading Rooms.
Hanan Issa is an award-winning, Welsh-Iraqi poet and writer based in Cardiff.
Her publications include her poetry collection My Body Can House Two Hearts (Burning Eye Books, 2019) and Welsh Plural: Essays on the Future of Wales (Repeater Books, 2022).
She stayed at Gladstone's Library, a residential library, before the event, in which she performed poetry mingling English, Welsh and Arabic.
Hanan said: "I managed to do about an evening's work in two hours in the Reading Rooms. It's a place where there's a room for everyone, not just a room of one's own."
Simon Armitage has published more than 30 books of poetry, novels, non-fiction works and drama over a career that has so far spanned four decades.
Simon said: "It has been amazing and just a privilege to go into these places where there's a lot of expectation and lot of preparation.

"It's also a privilege to think that my chosen art form can bring a lot of joy to people."
Andrea Russell, Warden of Gladstone's Library, said she was delighted with the reception the poets received.
She said: "It was wonderful to be part of the Laureate's Library Tour and to welcome Hanan and Simon to Gladstone's Library for the first time – and we hope it's not their last. Our audience was enthralled by the poems which were a mixture of heartfelt, challenging and amusing."