National Poetry Day: Poem by National Poet of Wales celebrated at international festival
Published Thu 5 Oct 2023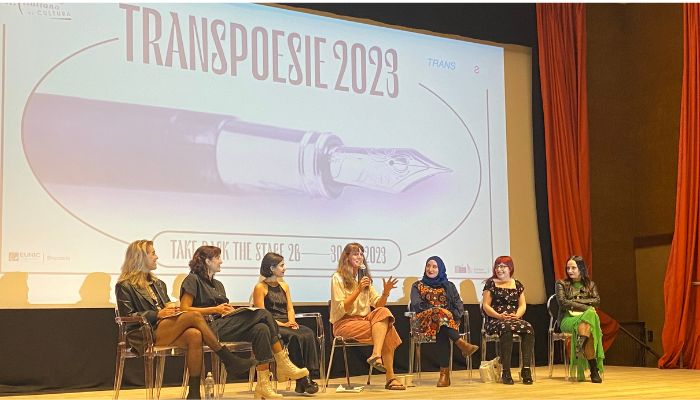 On National Poetry Day we share a poem by
Hanan Issa, National Poet of Wales, which was recently translated to Welsh by Iestyn Tyne as well as French and Dutch and shared at
Transpoesie
Festival, Brussels.
Beauty and Blood along with the translations can be read on Transpoesie's website: http://www.transpoesie.eu/poems/941  
The theme of National Poetry Day 2023 is Refuge, and as Welsh-Iraqi poet, Hanan Issa compares the exploitation of cultural refuges in Iraq and Wales is this poem. Both Hammar marshlands in Nasiriyah, Iraq and Capel Celyn are significant cultural refuges that have been destroyed.  
Beauty and Blood 
The Hammar is a marshland area in Nasiriyah, Iraq. Saddam drained the marshes in order to control the Marsh Arabs. 
Capel Celyn is an area in North Wales that was flooded in 1965 to provide a greater water supply to Liverpool… 
Imagine they drained the Hammar   
to flood Capel Celyn: an exchange of tears, 
people displaced like chess board pawns. 
Part the whispering reeds' soft curls 
and watch smatterings of life drift lost. 
As the little Welsh town fills with water, 
hear the pained goodbyes of women  
who tattoo each other's stories in secret. 
History is always the beauty and blood. 
Hanan Issa, National Poet of Wales 
Hanan joined poets from all over Europe at festival in Brussels to celebrate diversity. Transpoesie literary festival takes part around the European Day of Languages each year. Hanan Issa travelled to Brussels with the support of Wales Arts International and the Welsh Government  
Hanan has enjoyed a busy September, she also visited Querétaro Literature Festival, Mexico as part of her Hay Fellowship earlier this month.  'Beauty and Blood' was originally published in My Body Can House Two Hearts, Hanan Issa (Burning House)