2021 Shortlist
Wales Book of the Year Award 2021 Shortlist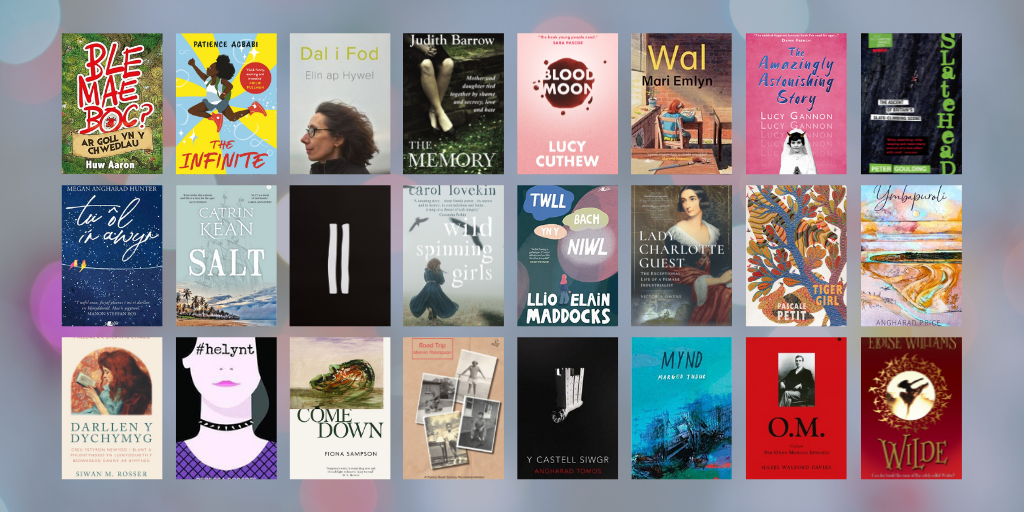 The Rhys Davies Trust Fiction Award
The Memory, Judith Barrow (Honno Press)
I wait by the bed. I move into her line of vision and it's as though we're watching one another, my mother and me; two women – trapped.
Today has been a long time coming. Irene sits at her mother's side waiting for the right moment, for the point at which she will know she is doing the right thing by Rose.
Rose was Irene's little sister, an unwanted embarrassment to their mother Lilian but a treasure to Irene. Rose died thirty years ago, when she was eight, and nobody has talked about the circumstances of her death since. But Irene knows what she saw. Over the course of 24 hours their moving and tragic story is revealed – a story of love and duty, betrayal and loss – as Irene rediscovers the past and finds hope for the future.
***
Judith Barrow grew up in a small village on the edge of the Pennines but has lived in Pembrokeshire for over forty years. She is the author of five novels and has had poetry and short fiction published. Judith has degrees in literature and creative writing and makes regular appearances at literary festivals. She is a creative writing tutor for Pembrokeshire County Council and holds private one-to-one workshops on all genres.
Salt, Catrin Kean (Gwasg Gomer)
Cardiff in the late 1800s is grimy, crowded and grey, and Ellen, a domestic, dreams of escaping her dreary life there for the sea.  When she falls in love with Samuel, a ship's cook from Barbados, she is able to fulfil her fantasy by running away with him on a ship bound for the bright excitement of San Francisco.
Life at sea is brutal and dangerous, but it is a place where they can be free … until circumstances force Ellen home, and the hardships of working-class life and racism begin to poison their lives.
Salt is based on the lives of Kean's great-grandparents, who married in 1878.  It is their love story.
***
Catrin Kean was awarded a place on the Hay Festival Writers at Work scheme for emerging writers from 2016-18. Her short stories have been published in Riptide Journal, Bridge House Anthologies and The Ghastling. She awarded a Literature Wales Writer's Bursary in 2020, to work on her short story collection Fogtime. Salt is her first novel. She lives in Cardiff with her partner and two ridgeback dogs.
Wild Spinning Girls, Carol Lovekin (Honno Press)
If it wasn't haunted before she came to live there, after she died, Ty'r Cwmwl made room for her ghost. She brought magic with her.  And the house, having held its breath for years, knew it.
Ida Llewellyn loses her job and her parents in the space of a few weeks and, thrown completely off course, she sets out for the Welsh house her father has left her. Ty'r Cwmwl is not at all welcoming despite the fact it looks inhabited, as if someone just left…
It is being cared for as a shrine by the daughter of the last tenant. Determined to scare off her old home's new landlord, Heather Esyllt Morgan sides with the birds who terrify Ida and plots to evict her. The two girls battle with suspicion and fear before discovering that the secrets harboured by their thoughtless parents have grown rotten with time. Their broken hearts will only mend once they cast off the house and its history, and let go of the keepsakes that they treasure like childhood dreams.
***
Carol Lovekin has Irish blood and a Welsh heart. She is a writer and a feminist who finds fiction the perfect vehicle for telling women's stories. She believes in the possibility of ghosts. Wild Spinning Girls is her third novel. Ghostbird and Snow Sisters are also published by Honno.
Poetry Award
Tiger Girl, Pascale Petit (Bloodaxe Books)
Pascale Petit's Tiger Girl marks a shift from the Amazonian rainforests of her previous work to explore her grandmother's Indian heritage and the fauna and flora of subcontinental jungles. Tiger Girl is the grandmother, with her tales of wild tigers, but she's also the endangered predators Petit encountered in Central India. In exuberant and tender ecopoems, the saving grace of love in an otherwise bleak childhood is celebrated through spellbinding visions of nature, alongside haunting images of poaching and species extinction.
***
Tiger Girl is Pascale Petit's eighth collection, and her second from Bloodaxe Books, following Mama Amazonica, winner of the Royal Society of Literature's Ondaatje Prize 2018 – the first time a poetry book won this prize for a work of fiction, non-fiction or poetry best evoking the spirit of a place. Four of her earlier collections were shortlisted for the T.S. Eliot Prize.
Come Down, Fiona Sampson (Corsair Poetry)
Questions of humanity, of point of view, are at the heart of Fiona Sampson's new collection, Come Down.
Throughout, Sampson's poems shimmer between the human perspective and what is beyond – some larger, longer-term consciousness. Language runs and dances over the stuff of the human body and the material of the landscape. And yet, despite these radical perspective shifts, the collection keeps in sight, always, the human experience: the act of creation; the way in which childhood memory and family lore impinge on the present.
Come Down ends with a long, eponymous poem, which moves fluidly and brilliantly through different forms of memory.
***
Fiona Sampson has published twenty-nine books, most recently a critically acclaimed biography In Search of Mary Shelley (2018) and received a number of national and international awards for poetry. A Fellow of the Royal Society of Literature, she's received an MBE for services to literature, and been published in thirty-seven languages. She now lives in an old farm in a valley on the Welsh borders.
Road Trip, Marvin Thompson (Peepal Tree Press)
Road Trip is a striking first collection by a poet with illuminating and entertaining stories to tell and an accomplished craft in using both traditional and contemporary forms in telling them. As a poet of Jamaican heritage, born and raised in north London and now working as a teacher, father of mixed race children, living in south Wales, Marvin Thompson brings together all those passages of place and time in fresh and revealing ways. He explores the underbelly of race and empire in uncovering and inventing stories of his father's time in the British army. He writes with feeling of the post-industrial landscape of Wales and wonders whether this is a place he can bring up his children — though one should never assume that any of Thompson's poems are factually true. He uses sonnet, adapted villanelle and sestina sequences to tell utterly contemporary stories. Thompson has a refreshing, curious and honest eye that transforms and illuminates the everyday into something special and unique, but also a convincing vision of possibility and even of the uplifting.
***
Marvin Thompson was born in London to Jamaican parents and now lives in mountainous south Wales. He is the winner of the Poetry Society's National Poetry Competition, 2020. He was the first poet of colour to win since 1981. His debut poetry collection, Road Trip (Peepal Tree Press, 2020), is a Poetry Book Society Recommendation. The Telegraph Newspaper  selected Road Trip as a book of the year, 2020.
Children and Young People Award
The Infinite, Patience Agbabi (Canongate Books)
FIGHT CRIME, ACROSS TIME!
Leaplings, children born on the 29th of February, are very rare. Rarer still are Leaplings with The Gift – the ability to leap through time. Elle Bíbi-Imbelé Ifíè has The Gift, but she's never used it. Until now.
On her twelfth birthday, Elle and her best friend Big Ben travel to the Time Squad Centre in 2048. Elle has received a mysterious warning from the future. Other Leaplings are disappearing in time – and not everyone at the centre can be trusted.
Soon Elle's adventure becomes more than a race through time. It's a race against time. She must fight to save the world as she knows it – before it ceases to exist.
***
Patience Agbabi was born in London in 1965 to Nigerian parents, spent her teenage years living in North Wales and now lives in Kent with her husband and children. She has been writing poetry for over twenty years, The Infinite is her first novel. Like Elle, she loves sprinting, numbers and pepper soup, but, disappointingly, her leaping is less spectacular.
Blood Moon, Lucy Cuthew (Walker Books)
Blood Moon is an extraordinary YA novel in verse about the online shaming of a teenage girl. During astronomy-lover Frankie's first sexual experience with the quiet and lovely Benjamin, she gets her period. It's only blood, they agree. But soon a graphic meme goes viral, turning an innocent, intimate afternoon into something disgusting, mortifying and damaging. As the online shaming takes on a horrifying life of its own, Frankie begins to wonder: is her real life over? Blood Moon is a punchy, vivid and funny story of first-time love, hormone-fuelled sexuality and intense female friendships – whilst addressing, head-on, the ongoing exploitation of young girls online and the horror of going viral. Both shocking and uplifting, it cuts to the heart of what it is to be a teenager today and shows the power of friendship to find joy in even the darkest skies.
***
Blood Moon is Lucy Cuthew's debut novel. She has published over thirty children's books including picture books, educational titles and non-fiction, and she regularly speaks on the subject of children's books for the BBC. She was a children's editor for over ten years, both in-house and freelance, and graduated from the MA in Writing for Young People at Bath Spa in 2019, with an exceptionally high distinction grade. Lucy likes TV written by funny women, science podcasts, mountains and croissants. She lives in Cardiff with her husband and young twins and is currently working on a new YA verse novel about the impact of online pornography on young people.
Wilde, Eloise Williams (Firefly Press)
Being different can be dangerous. Moving to live with her aunt, Wilde is desperate to fit in at her new school. But in a fierce heatwave, during rehearsals for a school play telling the legend of a witch called Winter, 'The Witch' starts leaving pupils frightening letters cursing them. Can Wilde find out what's happening before everyone blames her? Or will she always be the outsider?
***
Eloise Williams grew up in Llantrisant and lives in West Wales, very close to the sea. Having studied Drama, she went on to work as an actor for over ten years before studying for a Masters in Creative Writing at Swansea University. She was chosen to be the first Children's Laureate Wales in September 2019. Wilde is her fourth book with Firefly Press.
Creative Non-Fiction Award
The Amazingly Astonishing Story, Lucy Gannon (Seren Books)
By turns laugh out loud funny and deeply sad, The Amazingly Astonishing Story is Lucy Gannon's childhood memoir, a frank and surprising look into a child's tumultuous mind, a classic story of a working-class girl growing up in the 60s. Her Catholic upbringing, a father torn between daughter and new wife, her irreverent imagination and determination to enjoy life, mean this really is an amazing story (including meeting the Beatles).
***
After leaving the army Lucy Gannon became a social worker and then a nurse before turning to writing. She is the author of 8 plays and 18 TV dramas or series, including The Best of Men, Soldier Soldier, Peak Practice, Bramwell, and Dad. She won the Richard Burton Award for New Playwrights and has been writer in residence at the Royal Shakespeare Company. Gannon is currently developing scripts and mentoring writers for BBC Wales and contemplating two further volumes of memoir. She lives on the coast, in the far west of Ceredigion.
Slatehead: The ascent of Britain's Slate climbing scene, Peter Goulding (New Welsh Review)
Bobby Drury left Liverpool after O-levels, knowing he had f***ed them up. Free now, he hitched to Snowdonia. His mum came crying on the phone, 'You've failed them all.' Bobby knew that. 'No, Mum, I've led Vector.' This was Thatcher's lost generation. The slate quarries were walking distance; they'd have a smoke, a party in an abandoned hut, try and climb something. A small culture emerged of punks, nutters, artists and petty thieves, crawling up abandoned rock, then heading to the disco at the Dolbadarn. These were the Slateheads.
The people in these interleaving worlds – the punk dole dropout star- climbers; the Victorian quarrymen pioneers; the Welsh-speaking grandson of a ropeman, abseiling in to bolt sport climbs like Orangutang Overhang in the Noughties, Lee and his mates slogging west today – all are polished like nuggets in this 360° view over patience, pride, respect, thrill, movement, the competing claims of home and agency, and above all, a belief in second chances.
***
Peter Goulding is a climber from the north of England. He has spent most of his working life in pubs, kitchens and on building sites. He currently works at Center Parcs as an instructor and is an alumnus of the University of East Anglia (UEA)
Lady Charlotte Guest: the exceptional life of a female industrialist, Victoria Owens (Pen & Sword)
When impoverished aristocrat Lady Charlotte Bertie married wealthy Welsh ironmaster John Guest of Dowlais in 1833, her relatives looked on with dismay. Yet despite their vast difference of background and age, over their nineteen-year long marriage, husband and wife enjoyed great happiness and much adventure. There would be ten children and while John built up an immense commercial empire, Charlotte championed Welsh culture.
Crucially, she taught herself John's business from the inside. Over the years, she made the keenest observation of iron production, the fluctuations of the trade and the engineering innovations that touched upon its developments. When John died in 1852, she was therefore uniquely well-placed to succeed him as head of the works – a remarkable position for a Victorian woman. Not only did she endeavour to introduce reforms, but also – rather to her dismay – had to weather a potentially destructive strike.
But success came at a price. With her star to all sight in the ascendant, Lady Charlotte suddenly chose to abandon all, leave Wales and marry her sons' tutor. This book traces the ardent, creative years of her first marriage, explores her determination – widowed – to preserve John's legacy, and observes her growing devotion to the scholarly Charles Schreiber.
***
Winner of the inaugural 2009 Jane Austen Short Story Competition, Victoria Owens is a published writer of fiction and non-fiction. Her novel Drawn to Perfection was published by Hookline in 2013; Amberley Publishing brought out her study James Brindley and the Duke of Bridgewater – Canal Visionaries in 2015; and her Aqueducts and Viaducts of Britain appeared in March 2019.
Being interested in engineering history, Owens' investigation of the industrial heritage of South Wales led her to encounter Lady Charlotte in her role as Iron Master of Dowlais, and she was determined to write about her.
Welsh-language Shortlist
Fiction
Wal – Mari Emlyn (Y Lolfa)
As Siân attempts to write, there is a powercut. In the darkness, she begins to think about her neighbour, Simon Kaltenbach, who has built a great, ugly wall between the two houses. This leads her to recall her upbringing, and the walls that hindered her development as a child.
***
Mari Emlyn was born and raised in Cardiff. After completing her education in Bryntaf and Llanhari schools, she moved to London and graduated in Performing Arts in the Rose Bruford College of Speech and Drama. Mari has followed a career as an actress, scriptwriter, book writer and editor, as well as spending five years as the Artistic Director of Galeri, Caernarfon. She lives in Y Felinheli and has three sons.
tu ôl i'r awyr – Megan Angharad Hunter (Y Lolfa)
A pioneering début novel by Megan Angharad Hunter. It follows the journey of two teenage characters, Deian and Anest, and their amazing relationship through the angst of their lives. A novel that will move you to tears and make you laugh out loud as you wonder at the author's skill in delving deep into the minds of two characters who will remain with you for a long time.
***
Megan Angharad Hunter comes from Dyffryn Nantlle and is currently studying Welsh and Philosophy at Cardiff University. Her work has been published in both Y Stamp and O'r Pedwar Gwynt magazines, and in 2020 she was selected to receive a Literature Wales New Writer's Bursary. tu ôl i'r awyr is her first novel.
Twll Bach yn y Niwl – Llio Elain Maddocks (Y Lolfa)
Lowri has had enough of her village, unemployment, young men, the local pub, and even her friends sometimes. Together with family problems, Lowri's life is dull. But is there a flicker of hope through the mist? A caustic novel about friendship and coming of ag age, about adults behaving as children, with strong language and imagery for adults only.
***
Llio Maddocks comes from Llan Ffestiniog, and now lives in Cardiff. She is a writer, a poet, and a millennial who writes about the experience of being a woman in Wales today, and publishes poems on her @llioelain Instagram account.
Creative Non-Fiction
Ymbapuroli – Angharad Price (Gwasg Carreg Gwalch)
A volume of  essaysby one of the most subtle writers writing in Welsh today, covering various topics such as phonetics, cakes, clearances, and Karl Marx, taking us on trips around Wales and beyond.
***
Angharad Price lives in Caernarfon and is a novelist, academic and Professor of Welsh at Bangor University. Her novel O! Tyn y Gorchudd won the Prose Medal in the 2002 National Eisteddfod in St Davids and the prize of Book of the Year in 2003, and her novel Caersaint was on the Wales Book of the Year shortlist in 2011. She is also the author of academic studies, including Ffarwél i Freiburg, early history of poet, T. H. Parry-Williams, winner of University of Wales Sir Ellis Griffith Prize. Ymbapuroli is her second series of essays.
Darllen y Dychymyg: Creu Ystyron Newydd i Blant a Phlentyndod yn Llenyddiaeth y Bedwaredd Ganrif ar Bymtheg – Siwan M. Rosser (Gwasg Prifysgol Cymru/University of Wales Press)
Children's Books are now among the bestsellers  in the publishing industry and are at the centre of every child's education in Wales. But the history and development of children's literature has received little critical attention in Welsh. This volume addresses the silence in children's literature in our national history, advocating for its social and cultural significance. By detailing the beginnings of children's books and magazines in the nineteenth century, this volume shows that children's literature is vitally important in understanding how ideas and attitudes are transmitted and transformed. The book focuses on attitudes towards children and childhood, tracing how those concepts evolved under the pressure of the economic and cultural transformations of the era. In the light of the critical concepts of Pierre Bourdieu and Michel de Certeau, the factors that conditioned writers to write for children and formed their attitudes towards young readers are explored, thereby laying a foundation for the study of children's literature in Welsh.
***
Dr Siwan Rosser is Lecturer in the School of Welsh at Cardiff University. Her main research interests focus on Welsh literature for children and young adults.
O.M.: Cofiant Syr Owen Morgan Edwards – Hazel Walford Davies (Gwasg Gomer)
Owen Morgan Edwards, from Llanuwchllyn in Gwynedd, was a politician, scholar, writer and publisher of magazines. He is well-known for publishing periodicals for adults and children, as well as writing books and essays about history, politics, and travel. This is the first ever complete biography about the life of O.M. Edwards. It includes 88 black and white photographs.
***
Hazel Walford Davies was raised in the Gwendraeth Valley and educated at both Cardiff and Oxford Universities.  She was a Senior Lecturer at Aberystwyth University and Professor at University of South Wales, and spent periods as Visiting Professor at several Universities in the United States. She was a member of the Arts Council of Wales and served as Chair of the Arts Council of Wales' Literary Board, Chair of the Management Board of the Centre for Welsh Medium Higher Education, now incorporated in the Coleg Cymraeg Cenedlaethol. She was the First Chair of the UK's North America Society for Welsh Culture and History. She was a member of the Welsh Academy's Board, Trustee Board member for the National Library of Wales, and the National Trust's Board in Wales. She was elected a Fellow of the Welsh Academy, the Coleg Cymraeg Cenedlaethol, and The Learned Society of Wales.
Poetry
Dal i Fod – Elin ap Hywel (Cyhoeddiadau Barddas)
A volume of poetry by a female international poet whose work has been translated into numerous languages. Elin ap Hywel is a well-known poet, and this volume comprises all her poems in the Welsh language. They reflect themes of history, family and personal experiences in a style that encompasses the lyrical, provocative, and ironic.
***
Elin ap Hywel is a poet, translator and editor who works in Welsh and English. She was the Royal Literary Fund's first bilingual Fellow at the University of Wales. Formerly a translator for the National Museums and Galleries of Wales, Elin's published work has been widely anthologised and translated into Czech, English, German, Italian and Japanese.
Her publications include Pethau Brau (Y Lolfa, 1982), and she has edited two collections of Welsh women's short stories in English for Honno: Luminous and Forlorn (1994), and Power (1998). Elin's most recent book Ffinau /Borders (Gomer, 2002) is a collection of original poems and translations from the Welsh and is a collaboration with fellow poet Grahame Davies.
Recently, Elin has spoken openly about her experience of living with dementia.
Rhwng dwy lein drên – Llŷr Gwyn Lewis (Self-published)
At the confluence of two railway lines, two lives come together in this second poetry collection by acclaimed author Llŷr Gwyn Lewis. Emerging from the lockdown period, these quietly powerful poems reflect on the human condition as the author explores the evolving, deepening relationship between a young man and his partner, as they await and then experience the dramatic changes that follow the birth of their son. In a series of often-interwoven extended metaphors, the poet reflects on the family microcosm and on his own, and his son's, familial and cultural inheritance, his quarrymen forefathers' skill in fashioning slate with simple manual tools now replaced by the keyboard-bound world of wordsmithing. As new fatherhood coincides with mourning a death in the family, the poet confronts a future where his son, following his own particular path, will face a challenging new world without his parents.
Perfectly married with Dafydd Owain's striking monochrome designs, these thoughtful poems full of love, wisdom and, above all, honesty are breath-taking at first reading but yield ever richer depths on revisiting them, as the poet confirms his status as one of Wales's most outstanding younger writers.
***
Llŷr Gwyn Lewis' latest prose volume is his collection of stories, Fabula (Y Lolfa, 2017). He won the Prose Stool at the National Eisteddfod's Gŵyl Amgen in 2020, and is also a member of Y Ffoaduriaid, a a team of poets featured in BBC Radio Cymru's Talwrn poetry competition , as well as the Bragdy'r Beirdd collective of performance poets.. He published this pamphlet of poems, rhwng dwy lein drên, in June 2020. He lives in Cardiff with Lowri and their son, Math.
Mynd – Marged Tudur (Gwasg Carreg Gwalch)
Mynd is a collection of Poetry for Dafydd Tudur, Marged's brother. The volume deals with loss and grief but above all, it is a collection of poems about love.
***
Marged Tudur comes from Morfa Nefyn, and now lives in Caernarfon. A graduate in Welsh from Aberystwyth University, she received an MA in Creative Writing and was awarded a PhD for her study on reading lyrics from Welsh pop songs from the last fifty years as literature. She works as an editor.
Children & Young People Award
Ble Mae Boc: Ar Goll yn y Chwedlau – Huw Aaron (Y Lolfa)
Boc, the little dragon, is lost again – this time in the imaginary lands of Wales. Go in search of her in theWorld of the Mabinogion, Cantre'r Gwaelod, The Fairy Kingdom, the Monster Zoo… and much more!
***
Huw Aaron lives in Cardiff with his family and is a cartoonist and illustrator. He has illustrated many children's books and comic strips, and is also a regular contributor to Private Eye, The Oldie and The Spectator.
#Helynt – Rebecca Roberts (Gwasg Carreg Gwalch)
Rachel Ross spends much of her time outside school caring for her mother, who suffers from depression, and her younger sister; but the highlights of her week are the drama group sessions she belongs to. She feels safe there … a different experience to school, where she is bullied because of her disability.
***
Rebecca Roberts lives in Prestatyn with her husband and children, Elizabeth and Thomas. She has worked as a teacher, development officer, translator and holds humanist, non-religious ceremonies. Her first adult novel Mudferwi was published by Gwasg Carreg Gwalch in 2019 and was followed in early 2020 by an English novel, Eat. Sleep. Rage. Repeat. (Gomer Press). #helynt is her first novel for young people. In her free time, she likes to walk, read fiction, and like Rachel (#helynt's main character) she loves listening to rock music.
Y Castell Siwgr – Angharad Tomos (Gwasg Carreg Gwalch)
A tortuous historical novel by experienced Welsh novelist. The story takes us to Penrhyn's magnificent castle and to the terrible plantations of Jamaica, as we follow the lives of two young girls, Dorcas and Eboni. This is a novel that attempts to get to grip with this shocking chapter in the history of mankind.
***
Angharad Tomos is a tireless campaigner for the Welsh language, with her roots deep in the Nantlle Valley, as one of five sisters and the granddaughter of the socialist David Thomas. She was Chair of Cymdeithas yr Iaith (the Welsh Language Society) 1982 – 1984 and she was imprisoned on more than one occasion whilst campaigning for the Welsh language. She's a prominent author who has written and illustrated many children's books, including her series Rwdlan, first published in 1983. She has won the Crown at the Urdd Eisteddfod twice, the Prose Medal at the National Eisteddfod twice and the Tir na n-Og prize for children's fiction twice. In 2009 she won the Mary Vaughan Jones Prize for her contribution to Welsh children's literature. She has also written half a dozen novels for adults, and a play which was staged by the Theatr Genedlaethol (Welsh-language National Theatre) in 2012., She has recently written three novels for young people based on historical events. She lives in Penygroes with her husband Ben and son, Hedydd.
Back to Wales Book of the Year