Wales Book of the Year 2021
Wales Book of the Year Winners 2021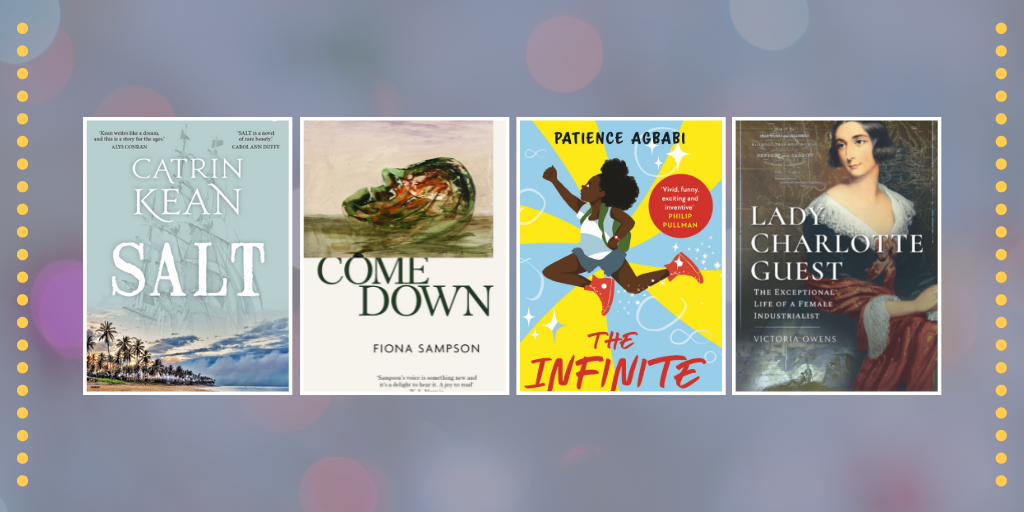 The Rhys Davies Trust Fiction Award, Wales Arts Review People's Choice Award & Main Wales Book of the Year Award Winner
Salt - Catrin Kean (Gwasg Gomer)
Cardiff in the late 1800s is grimy, crowded and grey, and Ellen, a domestic, dreams of escaping her dreary life there for the sea.  When she falls in love with Samuel, a ship's cook from Barbados, she is able to fulfil her fantasy by running away with him on a ship bound for the bright excitement of San Francisco.
Life at sea is brutal and dangerous, but it is a place where they can be free … until circumstances force Ellen home, and the hardships of working-class life and racism begin to poison their lives.
Salt is based on the lives of Kean's great-grandparents, who married in 1878.  It is their love story.
CATRIN KEAN was awarded a place on the Hay Festival Writers at Work scheme for emerging writers from 2016-18. Her short stories have been published in Riptide Journal, Bridge House Anthologies and The Ghastling. She awarded a Literature Wales Writer's Bursary in 2020, to work on her short story collection Fogtime. Salt is her first novel. She lives in Cardiff with her partner and two ridgeback dogs.
Poetry Award Winner
Come Down - Fiona Sampson (Corsair Poetry)
Questions of humanity, of point of view, are at the heart of Fiona Sampson's new collection, Come Down. Throughout, Sampson's poems shimmer between the human perspective and what is beyond – some larger, longer-term consciousness. Language runs and dances over the stuff of the human body and the material of the landscape. And yet, despite these radical perspective shifts, the collection keeps in sight, always, the human experience: the act of creation; the way in which childhood memory and family lore impinge on the present. Come Down ends with a long, eponymous poem, which moves fluidly and brilliantly through different forms of memory.
FIONA SAMPSON has published twenty-nine books, most recently a critically acclaimed biography In Search of Mary Shelley (2018) and received a number of national and international awards for poetry. A Fellow of the Royal Society of Literature, she's received an MBE for services to literature, and been published in thirty-seven languages. She now lives in an old farm in a valley on the Welsh borders.
Children & Young People Award Winner
The Infinite - Patience Agbabi (Canongate Books)
FIGHT CRIME, ACROSS TIME!
Leaplings, children born on the 29th of February, are very rare. Rarer still are Leaplings with The Gift – the ability to leap through time. Elle Bíbi-Imbelé Ifíè has The Gift, but she's never used it. Until now.
On her twelfth birthday, Elle and her best friend Big Ben travel to the Time Squad Centre in 2048. Elle has received a mysterious warning from the future. Other Leaplings are disappearing in time – and not everyone at the centre can be trusted.
Soon Elle's adventure becomes more than a race through time. It's a race against time. She must fight to save the world as she knows it – before it ceases to exist.
PATIENCE AGBABI was born in London in 1965 to Nigerian parents, spent her teenage years living in North Wales and now lives in Kent with her husband and children. She has been writing poetry for over twenty years, The Infinite is her first novel. Like Elle, she loves sprinting, numbers and pepper soup, but, disappointingly, her leaping is less spectacular.
Creative Non-Fiction Award Winner
Lady Charlotte Guest: The Exceptional Life of a Female Industrialist - Victoria Owens (Pen & Sword)
When impoverished aristocrat Lady Charlotte Bertie married wealthy Welsh ironmaster John Guest of Dowlais in 1833, her relatives looked on with dismay. Yet despite their vast difference of background and age, over their nineteen-year long marriage, husband and wife enjoyed great happiness and much adventure. There would be ten children and while John built up an immense commercial empire, Charlotte championed Welsh culture.
Crucially, she taught herself John's business from the inside. Over the years, she made the keenest observation of iron production, the fluctuations of the trade and the engineering innovations that touched upon its developments. When John died in 1852, she was therefore uniquely well-placed to succeed him as head of the works – a remarkable position for a Victorian woman. Not only did she endeavour to introduce reforms, but also – rather to her dismay – had to weather a potentially destructive strike.
But success came at a price. With her star to all sight in the ascendant, Lady Charlotte suddenly chose to abandon all, leave Wales and marry her sons' tutor. This book traces the ardent, creative years of her first marriage, explores her determination – widowed – to preserve John's legacy, and observes her growing devotion to the scholarly Charles Schreiber.
Winner of the inaugural 2009 Jane Austen Short Story Competition, VICTORIA OWENS is a published writer of fiction and non-fiction. Her novel Drawn to Perfection was published by Hookline in 2013; Amberley Publishing brought out her study James Brindley and the Duke of Bridgewater – Canal Visionaries in 2015; and her Aqueducts and Viaducts of Britain appeared in March 2019.
Being interested in engineering history, Owens' investigation of the industrial heritage of South Wales led her to encounter Lady Charlotte in her role as Iron Master of Dowlais, and she was determined to write about her.
Welsh-language Award Winners
Fiction Award & Overall Winner
A pioneering début novel by Megan Angharad Hunter. It follows the journey of two teenage characters, Deian and Anest, and their amazing relationship through the angst of their lives. A novel that will move you to tears and make you laugh out loud as you wonder at the author's skill in delving deep into the minds of two characters who will remain with you for a long time.
MEGAN ANGHARAD HUNTER is from Dyffryn Nantlle and is currently studying Welsh and Philosophy at Cardiff University. Her work has been published in both Y Stamp and O'r Pedwar Gwynt magazines, and in 2020 she was selected to receive a Literature Wales New Writer's Bursary. tu ôl i'r awyr is her first novel.
Creative Non-Fiction Award & Golwg360 People's Choice Award Winner
Owen Morgan Edwards, from Llanuwchllyn in Gwynedd, was a politician, scholar, writer and publisher of magazines. He is well-known for publishing periodicals for adults and children, as well as writing books and essays about history, politics, and travel. This is the first ever complete biography about the life of O.M. Edwards. It includes 88 black and white photographs.
HAZEL WALFORD DAVIES was raised in the Gwendraeth Valley and educated at both Cardiff and Oxford Universities.  She was a Senior Lecturer at Aberystwyth University and Professor at University of South Wales, and spent periods as Visiting Professor at several Universities in the United States. She was a member of the Arts Council of Wales and served as Chair of the Arts Council of Wales' Literary Board, Chair of the Management Board of the Centre for Welsh Medium Higher Education, now incorporated in the Coleg Cymraeg Cenedlaethol. She was the First Chair of the UK's North America Society for Welsh Culture and History. She was a member of the Welsh Academy's Board, Trustee Board member for the National Library of Wales, and the National Trust's Board in Wales. She was elected a Fellow of the Welsh Academy, the Coleg Cymraeg Cenedlaethol, and The Learned Society of Wales.
Poetry Award
Mynd is a collection of Poetry for Dafydd Tudur, Marged's brother. The volume deals with loss and grief but above all, it is a collection of poems about love.
MARGED TUDUR is from Morfa Nefyn, and now lives in Caernarfon. A graduate in Welsh from Aberystwyth University, she received an MA in Creative Writing and was awarded a PhD for her study on reading lyrics from Welsh pop songs from the last fifty years as literature. She works as an editor.
Children & Young People Award
Rachel Ross spends much of her time outside school caring for her mother, who suffers from depression, and her younger sister; but the highlights of her week are the drama group sessions she belongs to. She feels safe there… a different experience to school, where she is bullied because of her disability.
REBECCA ROBERTS lives in Prestatyn with her husband and children, Elizabeth and Thomas. She has worked as a teacher, development officer, translator and holds humanist, non-religious ceremonies. Her first adult novel Mudferwi was published by Gwasg Carreg Gwalch in 2019 and was followed in early 2020 by an English novel, Eat. Sleep. Rage. Repeat. (Gomer Press). #helynt is her first novel for young people. In her free time, she likes to walk, read fiction, and like Rachel (#helynt's main character) she loves listening to rock music.