Celebrating National Poetry Day with Children's Laureate Wales and Bardd Plant Cymru
Published Thu 6 Oct 2022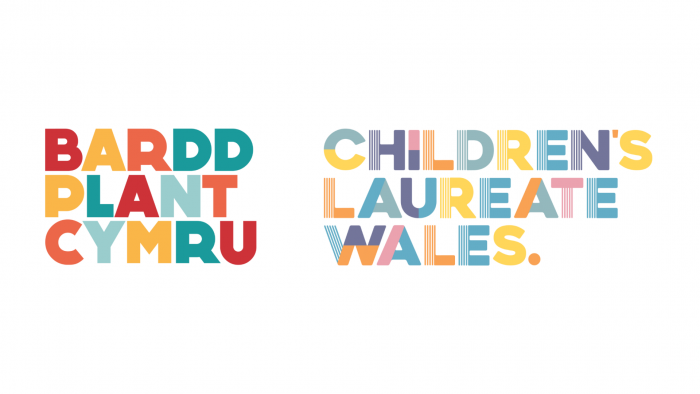 A year ago on National Poetry Day 2021, it was announced that poet and multidisciplinary artist from Newport, Connor Allen, was appointed Children's Laureate Wales 2021-23, and that singer, songwriter and writer from the Bangor area, Casi Wyn, was appointed Bardd Plant Cymru for 2021-2023. A year later and the poets have worked with over 1,700 children and Young people all across Wales, from Anglesey to Port Talbot, from Wrexham to Pembrokeshire.
Their second year started in September, and they have already worked with 12 schools across Wales on a project in partnership with the National Trust, and they have a whole host of activity taking place between now and August 2023. The two projects complement one another, and both Connor and Casi contribute towards nurturing a healthier, more creative, and more diverse generation of readers and writers across Wales. With another year of projects, events, and workshops ahead, the poets look forward to continuing their work of inspiring and setting the imaginations of children alight through poetry.
National Poetry Day is an annual celebration of poetry that encourages us to come together to use our words, stories, and voices, to bridge communities. On the 6 October, the poets join in the 2022 celebrations and note the beginning of their second year as children's laureates. The first week of October is also Libraries Week, and hosting a day of workshops for over 155 pupils from Ceredigion schools at the National Library of Wales in Aberystwyth was a fitting way to celebrate.
TIn the morning, Casi held a Welsh language workshop for Ysgol Talybont, Ysgol y Dderi, and Ysgol Aberaeron.  In the afternoon, Connor led a workshop for the pupils of St Padarn's Primary School and Ysgol Henry Richard. The pupils had an opportunity to write their own poems as individuals and as a group, hear some of the poets' own poems, and ask a whole host of questions during a Q & A – from favourite poems to favourite ice cream flavour!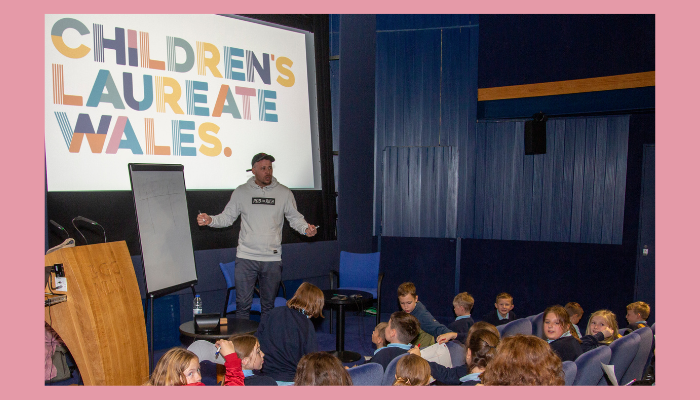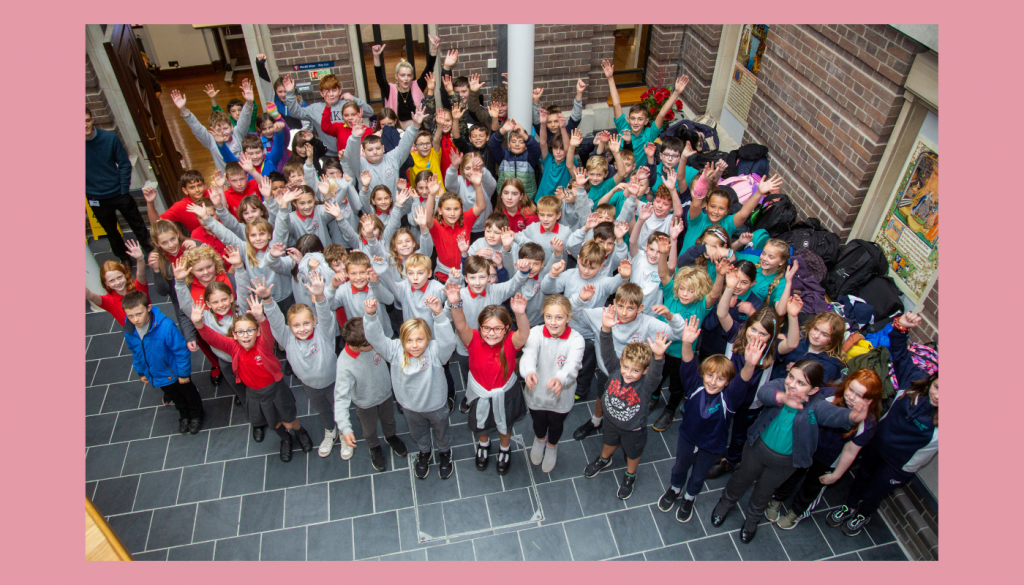 Children's Laureate Wales
Founded by Literature Wales in 2019, Children's Laureate Wales is a national ambassadorial role awarded every two years to a talented and visionary Wales-based writer who is passionate about ensuring more children and young people discover the joy and well-being benefits of participating in literature. Connor works hard towards making poetry accessible, fun, and relevant to children and young people across Wales
Some of the highlights from Connor's time in the role so far include writing a commissioned poem to celebrate the National Trust's #Blossom campaign, working in partnership with the Royal College of Psychiatrists to lead a series of poetry workshops on the topic of the effects of technology on young people's mental health, and leading a series of poetry workshops for Year 7 pupils across Ceredigion's library network.
Bardd Plant Cymru
Through workshops and various activities, the Bardd Plant uses literature to encourage creativity and nurture confidence and communications skills amongst the children of Wales. The project was founded in 2000, and in the last 22 years, Wales has had 16 poets in the role, each of them making the role theirs. The scheme is run by Literature Wales with the support of Welsh Government, S4C, Books Council of Wales and Urdd Gobaith Cymru.
Some of this year's highlights include celebrating Welsh Music Day with Neath and Port Talbot schools, publishing a commissioned poem to commemorate the landmark legislation stating that physically punishing children is illegal in Wales, and composing a song with a group of Year 8 girls from Ceredigion to welcome the Eisteddfod to Tregaron. Casi has been working with children and young people to compose melodies in addition to poems and giving pupils an opportunity to hear their own words in events and on our national media channels.
Head to Literature Wales' project section to learn more about the projects and follow the poets on @laureatewales and @barddplant on Twitter. To make an enquiry, discuss project ideas and collaborations, or to commission a poem please contact childrenslaureate@literaturewales.org or barddplant@literaturewales.org.