Celebrating poetry at the Senedd with the children's poet laureates of Wales
Published Thu 27 Jul 2023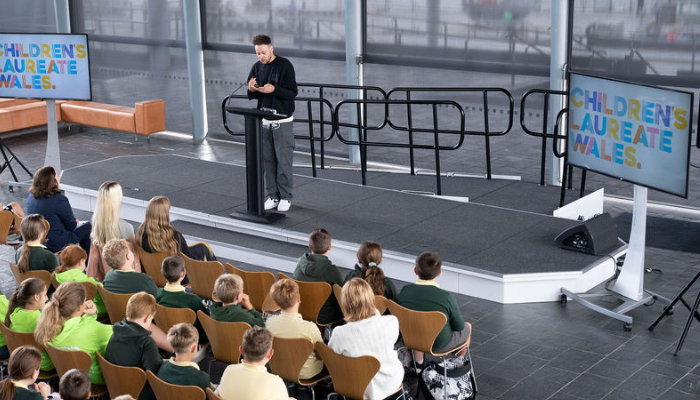 On Thursday the 6 July 2023, over 95 pupils from schools took part in an event led by the Children's Laureate Wales, Connor Allen and Bardd Plant Cymru, Casi Wyn.
A lifelong passion for literature and creative writing can be sparked by intervention early in life. Working within the education system – from early years to university – as well as beyond the classroom, Literature Wales aims to stimulate the interest and curiosity of children and young people in creative writing and reading. Our two flagship projects, the Children's Laureate Wales and Bardd Plant Cymru, advocate for the rights of children and young people as well as supporting them to respond creatively to social issues that are important to them.
This was the third in Literature Wales' Singing the Sun in Flight series – a programme of nine events in the Senedd buildings to celebrate all things poetic, and to raise the profile of poetry and the spoken word in the home of Welsh democracy. The programme is organised by Literature Wales, and this event was sponsored by Dawn Bowden MP, Deputy Minister for Arts, Sport and Tourism.
The first half of the event was led by Bardd Plant Cymru, Casi Wyn. The event was the culmination of workshops held with three schools and was an opportunity for Casi and the children to showcase their work. Pupils from Ysgol Gynradd Gymraeg Hamadryad in Cardiff shared their poems, including one celebrating Beyoncé's visit with the capital. Pupils from Ysgol Pontyberem in Carmarthenshire read their letter to FIFA calling for computer games in Welsh, and in a video, pupils from Abergele's Ysgol Glan Morfa performed a piece of poetry they had written addressing the children of Ukraine. The created work will be shared over the summer on the Bardd Plant Cymru project page and Literature Wales' social media channels. During the event, Casi Wyn also sang her poem Sŵn (Merch y Môr) composed recently with the children of Ysgol T Llew Jones, Llangrannog and read Tu Draw, composed as part of the Llais Dyslecsia project.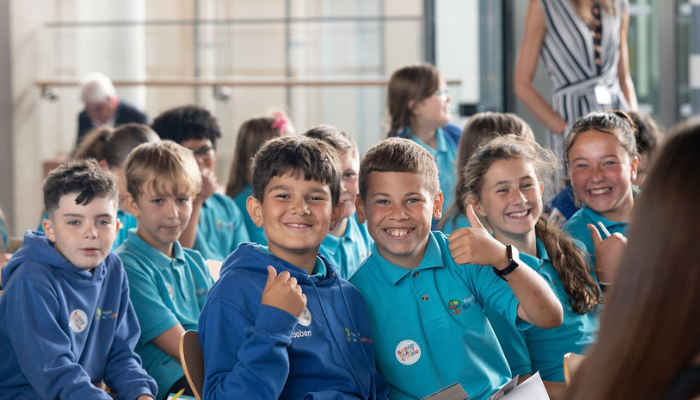 Connor Allen's session focused on the poems written in his new poetry collection, Miracles (Lucent Dreaming). Many of the poems included in the collection have been written during Children's Laureate Wales workshops across Wales. Pupils from Afon y Felin Primary School in Bridgend were invited to the stage to read their poetry on the theme of identity, and one of the pupils of St Albans Catholic Primary School in Cardiff read a poem she'd written, inspired by Connor. During the session Connor shared some of his experiences and observations on being at Children's Laureate Wales, and read his most recent poem.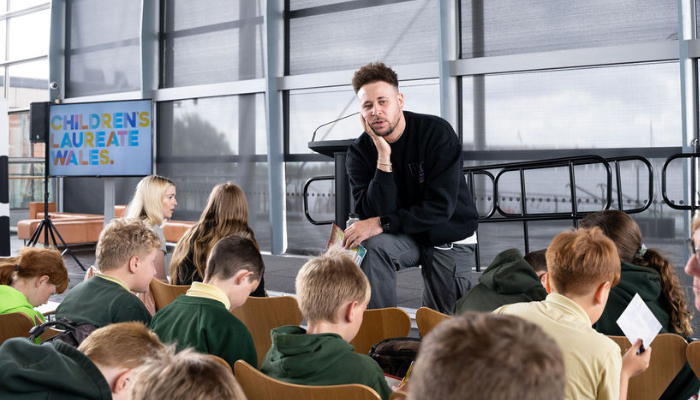 Children's Laureate Wales and Bardd Plant Cymru are two national ambassadorial roles which aim to inspire and fire the imagination of children across Wales through literature. In the case of the Bardd Plant Cymru, the intention of the plan is to inspire creativity through and with the Welsh language.
Each Children's Laureate Wales and Bardd Plant Cymru role lasts two years. Connor and Casi have been in post since September 2021; in September this year, they will pass the reins to Alex Wharton and Nia Morais, respectively.
Literature is a powerful tool to help with children and young people's mental health. Shared reading projects and creative writing for well-being projects help young people process their anxieties and express their hopes for the future.
@connor_allen92 an emotional morning spent with our favourite @Laureate_Wales you brought belief to our words ❤️you brought fire to our imagination @CSC_langlitcomm @CSC_Cymraeg @MaurerMathias @helenbowen1 pic.twitter.com/bGcu0qqYNh

— Afon y Felin Primary (@AYFprimary) July 6, 2023
For more information on the Children's Laureate Wales and Bardd Plant Cymru projects, visit the pages on our website.