Representing Wales: Launching the 2023 programme
Published Tue 18 Apr 2023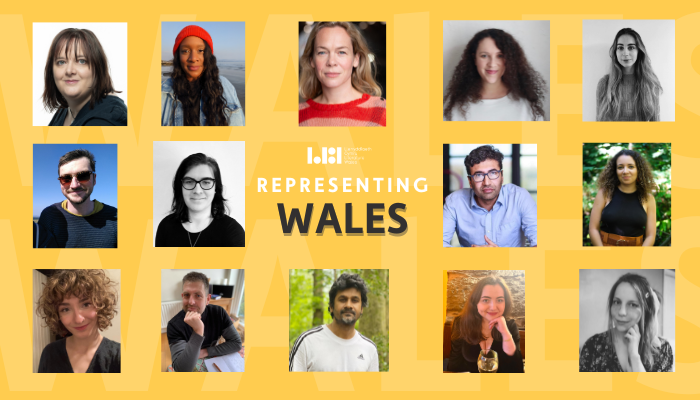 Literature Wales is delighted to announce the launch of the third round of our professional development programme for under-represented writers, this time with particular focus on writing for children and young people.
2023/24 Programme:
Representing Wales is a 12-month programme which provides development opportunities for writers currently under-represented in the literature sector in Wales. This will be the third time for the programme to run, and the first time for the theme of writing for children and young people to be placed at its forefront.
The 12-month programme, funded by the National Lottery through the Arts Council of Wales, provides professional development opportunities to 14 writers from backgrounds currently under-represented in Wales' literary culture and who write for children and young people. The 14 were selected by an independent Assessment Panel, following an open call-out during the autumn of 2022. The programme has been designed in consultation with communities and writers from Literature Wales' extensive networks and builds on the successes and learning points of the previous two rounds.
To hear more about the previous two cohorts' experiences, head to the testimonials section of the Representing Wales project page.
Literature Wales will directly deliver the programme and will support the cohort and help nurture their talent by awarding up to £3,300 to each selected writer and by facilitating one-to-one mentoring sessions with an established author of their choice. During the year, the cohort will also receive 8 online workshops which aim to demystify the writing profession and the publishing industry in Wales and the wider UK. The workshops will also support the writers in developing their skills as school and community workshop facilitators. Further opportunities will be offered through networking opportunities and access to various literature festivals and events. Bespoke creative writing masterclasses with established writers, two of which will take place at Tŷ Newydd Writing Centre, will also be key elements of the programme.
During the year, the cohort will hear from award-winning writers such as Patrice Lawrence, Caryl Lewis, Lee Newbery, Alex Wharton and Sue Cheung. Specialists on children and young people's literature have also been invited to talk with the writers, such as Professor Charlotte Williams, Dr. Siwan Rosser, Dr. Ann Alston, Darren Chetty and representatives from Book Trust Cymru, as well as Wales-based publishers and the multi-award-winning inclusive publisher, Knights Of. They'll also receive training on how to create an authentic author brand, build a freelance career, and work as a community and school practitioner.
A selection of workshops will be made open to the public during the year as a way of offering free instruction and advice to a wide range of aspiring writers across Wales. Previous Representing Wales cohort members will also be invited to take part in certain sessions, both as audience members and speakers, to ensure that connections between the cohorts are formed and to offer ongoing support and opportunities to our writers.
To find out more about the selection of free and public sessions on offer, head to the Get Involved page on our website.
From Mold to Pontypridd, this year's cohort are based across Wales, and write in multiple languages such as Welsh, English and Bangla. They also write in a variety of genres and forms such as fantasy, horror, poetry, and graphic novels and for audiences ranging from 4-18 years old. The 14 of them offer a wide range of perspectives, styles and creative approaches, but all share the same enthusiasm for original ideas and passion for inspiring young audiences. Over the next 12 months, they will be looking to achieve their individual goals which range from completing their manuscript, to developing blueprints for school workshops, to hooking a literary agent and seeing their work published.
Four of the fourteen writers will be developing creative work in Welsh during the year. The other writers will be offered the opportunity to develop and improve their Welsh-language skills alongside the core programme of workshops and events, thanks to our partnership with the National Centre for Learning Welsh, which saw us pilot a successful Welsh-language course for last year's cohort.
An integral part of the programme is the connections formed within the cohort. The writers will be learning from one another over the course of the programme as they experiment with new genres and regularly share work and feedback with one another. The 14 writers will meet face-to-face for the first time for their first residential masterclass held at Tŷ Newydd Writing Centre later this week on 22 April, 2023.
The programme has been co-created with the 14 writers and Literature Wales will continuously listen to feedback and reflect on guidance from the participants. After the 12-month programme comes to an end, continued support will be made available to the cohort to ensure that they have access to the advice, resources, and tools necessary to reach their goals.
Future rounds
The open call-out for the fourth round of Representing Wales will be launched during the summer of 2023, this time welcoming applications from Wales-based writers who come from an under-represented background and who write for adults. Going forward, the programme will alternate its focus between children's and adult literature giving due attention to both forms.
For further information on the programme, and to learn more about each writer, visit the Representing Wales project page.