Announcing the Wales Book of the Year Shortlist 2020
Published Wed 1 Jul 2020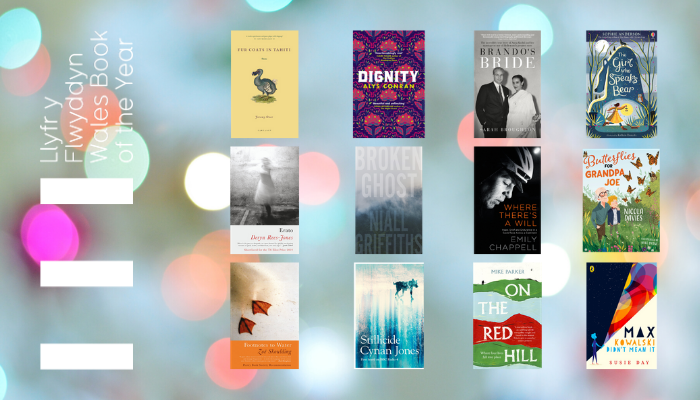 We're pleased to announce the Shortlist for the English-language Wales Book of the Year Awards 2020. The 12 books nominated for this year's Awards were revealed on BBC Radio Wales' Gareth Lewis programme at 6.00pm on 1 July 2020.
Wales Book of the Year is Wales' national book prize, celebrating outstanding literary talent from Wales across various genres in both English and Welsh. There are four categories in each language – Poetry, Fiction, Creative Non-fiction and for the first time this year, Children & Young People. The Welsh-language Shortlist was announced on BBC Radio Cymru later in the evening.
English-language Shortlist 2020:
Poetry Award
Fur Coats in Tahiti, Jeremy Over (Carcanet)
Erato, Deryn Rees-Jones (Seren)
Footnotes to Water, Zoë Skoulding (Seren)
The Rhys Davies Trust Fiction Award
Dignity, Alys Conran (Weidenfeld & Nicolson)
Broken Ghost, Niall Griffiths (Jonathan Cape)
Stillicide, Cynan Jones (Granta)
Creative Non-Fiction Award 
Brando's Bride , Sarah Broughton (Parthian)
Where There's a Will, Emily Chappell (Profile Books)
On the Red Hill, Mike Parker (William Heinemann)
Children & Young People Award        
The Girl Who Speaks Bear, Sophie Anderson (Usborne)
Butterflies for Grandpa Joe, Nicola Davies (Barrington Stoke)
Max Kowalski didn't mean it, Susie Day (Puffin)
To read more about the shortlisted titles and their authors, visit the Wales Book of the Year project page.
Judging the English-language books this year are author and illustrator Ken Wilson-Max; author, teacher and translator Sampurna Chattarji; and Fulbright Scholar, Senior Lecturer and Hay Festival Fellow, Tiffany Murray.
On behalf of the judging panel, Sampurna Chattarji said: "It's been both a joy and a challenge being on the panel for WBOTY 2020. The quality of the poetry was consistently high, with a huge range of voices and concerns, so whittling the list down was quite a task! I'm very happy with the shortlists that we arrived at, across the categories.  The entire process of reading, thinking about and discussing poetry, fiction, non-fiction and children's books with my co-judges has only deepened my long-term relationship with Wales, its literatures, and my appreciation of its commitment to a robust community of writers and readers, in English as well as in Welsh."
On the Welsh-language panel this year are journalist and former Editor of BBC Radio Cymru and BBC Cymru Fyw, Betsan Powys; cartoonist, author and presenter Siôn Tomos Owen; Award-winning poet and Head of Law and Criminology at Aberystwyth University, Emyr Lewis; and singer and composer Casi Wyn.

Welsh-language Shortlist 2020:
Poetry
Hwn ydy'r llais, tybad?, Caryl Bryn (Cyhoeddiadau'r Stamp)
Ar Ben y Lôn, Idris Reynolds (Gwasg Gomer)
Pentre Du, Pentre Gwyn, Myrddin ap Dafydd (Gwasg Carreg Gwalch)
Fiction
Iaith y Nefoedd, Llwyd Owen (Y Lolfa)
Gwirionedd, Elinor Wyn Reynolds (Gwasg y Bwthyn)
Babel, Ifan Morgan Jones (Y Lolfa)
Creative Non-Fiction
Hanes Rhyfeddol Cymry Lerpwl, D Ben Rees (Y Lolfa)
Merched y Chwyldro, Gwenan Gibbard (Cyhoeddiadau Sain)
Byd Gwynn, Cofiant T Gwynn Jones, Alan Llwyd (Cyhoeddiadau Barddas)
Children & Young People
Chwedlau'r Copa Coch: Yr Horwth, Elidir Jones (Atebol Cyf)
Genod Gwych a Merched Medrus, Medi Jones-Jackson (Y Lolfa)
Llyfr Adar Mawr y Plant, Onwy Gower (Y Lolfa)

What happens next?
The winners will be announced on the BBC Radio Wales Arts Show on Friday 31 July from 6.00 pm, where representatives from the judging panel, Literature Wales, and literary pundits will join presenter Nicola Heywood Thomas for this highlight in the Welsh literary calendar. The Welsh-language winners will be announced in a series of programmes on BBC Radio Cymru from 30 July – 1 August as part of the AmGen festival of culture, in partnership with BBC Cymru Wales and the National Eisteddfod of Wales.
Wales Book of the Year has been run by Literature Wales since 2004, during which time some of Wales' most renowned writers have been celebrated alongside brilliant new talents.
Our Chief Executive, Lleucu Siencyn, said: "We're delighted to be collaborating with BBC Cymru Wales on this year's announcements. We may not be able to host our usual glittering award ceremony this summer, but through this partnership we can bring the excitement and the prestige of Wales Book of the Year into the nation's homes.On behalf of Literature Wales, I'd like to extend our sincere congratulations to the immensely talented writers who have reached the 2020 Shortlist. If you haven't done so already, grab your copies, get reading, and let your mind wander across the world and through time with these great books from Wales."
A total prize fund of £14,000 will be distributed to the winning writers. Each category winner will receive a prize of £1,000 and the main award winners will receive a further £3,000. Each winner will also receive an iconic Wales Book of the Year trophy designed by the installation artist and blacksmith Angharad Pearce Jones.
The Wales Arts Review People's Choice and Golwg360 Barn y Bobl votes are now open! They give readers the opportunity to have their say, so cast your vote now:
Wales Arts Review  |  Golwg360.