Call-out: Y Stamp and Literature Wales' Her 24 x 24
Published Mon 21 Sep 2020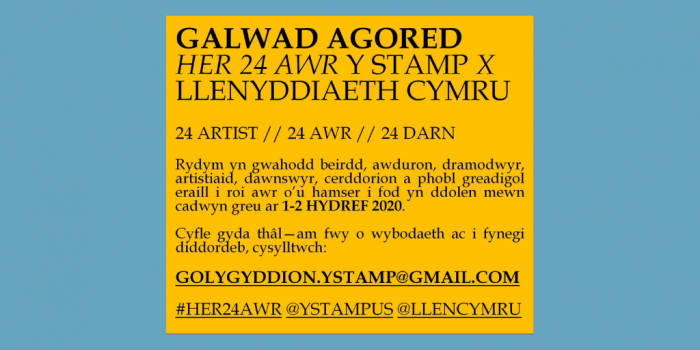 Y Stamp, in partnership with Literature Wales, have launched a Call-Out looking for creative individuals to join the team for a new 24 x 24 challenge
Each year on National Poetry Day, Literature Wales has challenged four poets to compose 100 original poems within 24 hours. The first challenge took place in 2012, and over the years it has offered a poetic snapshot of present-day Wales – our politics, interests, news, and culture. Amongst the 700 poems composed over the past 7 years, there have been romantic or humorous songs; poetical odes to pork pies and a certain brand of beer; good luck messages for new homes, marriages, and half marathons; and even an epic poem depicting a fight between country music duo, John ac Alun, with sibling TV presenters, Y Brodyr Gregory. Her 100 Cerdd has established itself as one of Wales' main literary events, and is an opportunity to celebrate Wales' unique literary culture.
This year, we are delighted to be working with Y Stamp to offer something a little bit different. In the capable hands of Y Stamp's team, HER 24 x 24 will bring together 24 artists for 24 hours. Cylchgrawn Y Stamp is a voluntary cooperative initiative, offering a platform for new and established voices in all creative mediums.
On National Poetry Day, taking place on Thursday 1 October 2020, 24 artists will spend 24 hours creating 24 pieces of work on various forms. The artists will form a creative chain, starting at 12.00 noon on 1 October and finishing at 12.00 noon on 2 October.  Each artist will have an hour's slot to respond to the previous artist's work in any creative form, sharing the finished work on Y Stamp's website. Y Stamp will also be offering a behind the scenes view of the creative process and will be sharing content on their social media channels.
Y Stamp have launched a call-out looking for artists to join the creative team taking on the challenge of filling the day with art and creativity. As well as poets and writers, they are asking visual artists, dancers, and any other creative individuals to express their interest.
The theme for this year's National Poetry Day is Visions, and some aspects of this theme will feature through the creative work.
Any individuals interested in becoming one of the 24 taking on the challenge should contact Y Stamp. For any additional information, and to express an interest contact: golygyddion.ystamp@gmail.com.
Closing Date: 25 September 2020
This is a paid opportunity, and each artist will receive a fee.
Literature Wales is delighted to be working with Y Stamp and is thoroughly looking forward to following the challenge in its new form.