Wales Book of the Year Award 2023
The English-language Shortlist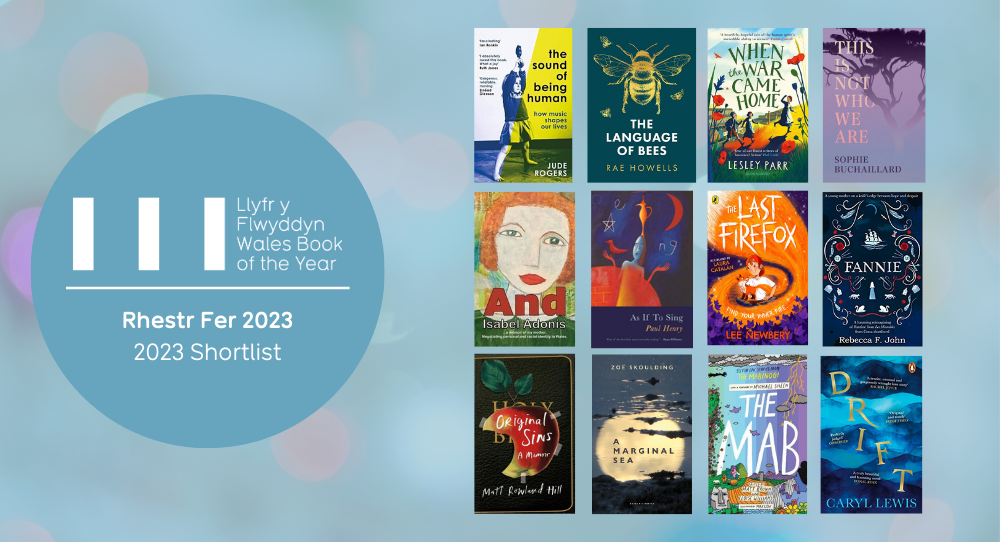 The Poetry Award
As If To Sing, Paul Henry (Seren, Poetry Wales Press Ltd.)
The power of song to sustain the human spirit resonates through As If To Sing. A trapped caver crawls back through songs to the sea; Welsh soldiers pack their hearts into a song on the eve of battle, 'for safe-keeping'; a child crossing a bridge sings 'a song with no beginning or end'… 
Blurring past and present, a 'torchsong' of music and light intensifies in 'The Boys in the Branches', a moving sequence to the poet's sons where three boys scale a tree to manhood, to 'carve their names on the late sun'. The collection's closing cadence includes the long poem 'The Key to Penllain'. Set in the summer of 1969, its apocalyptic dream stages a search for a key which could save the planet. Rich in the musical lyricism admired by readers and fellow poets, As If To Sing is an essential addition to this poet's compelling body of work. 
***
Paul Henry was born in Aberystwyth and came to poetry through songwriting. Since receiving an E.C. Gregory Award he's published eight collections with Seren, including Boy Running and The Brittle Sea: New & Selected Poems. His work has been widely anthologised and translated. Paul has performed his poems and songs at festivals in Europe, Asia and the USA. He's guest-edited Poetry Wales and presented programmes for BBC Radio Wales, Radio 3 and Radio 4. 
The language of bees, Rae Howells (Parthian Books)
How can we have hope in a world that is dying? With a forensic eye, Howells takes us on a journey through ordinary human lives and the extraordinary natural world we are in danger of losing. The carder bee carries the story of a colony, a species, and, ultimately, the fate of all life on earth. The mermaid weaves an almost beautiful tale of a tragic miscarriage. The magpie writes yearning letters to her lost lover. The brilliant kingfisher flits through the mind of a woman with dementia. Through each exacting portrait, we begin to understand something special, a language of bees, and discover for ourselves how intimately we are all connected and what the natural world is trying to tell us. 
***
Rae Howells is a poet, journalist, academic and lavender farmer from Swansea. She's won both the Welsh International and Rialto Nature and Place poetry competitions. Her work has featured in a wide range of journals including Magma, The Rialto, Poetry Wales, New Welsh Review, Acumen, Envoi, Poetry Ireland, Black Bough, Marble and The Cardiff Review, as well as in the Poetry Business anthology, The Result is What You See Today and Arachne Press's anthology A470. Howells' pamphlet 'Bloom and Bones', co-authored with Jean James, was published by the Hedgehog Poetry Press in 2021. The language of bees is her first full collection. 
A Marginal Sea, Zoë Skoulding (Carcanet Press)
A Marginal Sea is written from the vantage point of Ynys Môn/Anglesey, which is both on the edge of Wales and in a marginal sea of the Atlantic Ocean – the island is imagined here as a site of archipelagic connection with other places and histories, where the spaces of dream and digital technology are interwoven with the everyday. Skoulding's poems take their readers into new worlds: we come to terms with the oystercatcher's 'muscle of belonging'; we chart the cross-cultural coordinates of 'Newborough Warren with Map of Havana' ('and it's this way to the Malecón /to look out over the Menai Strait'); elegy and song overlap in moving poems which think through how we remember and misremember: 'it's my voice // deepening with others that won't let themselves / be buried.' ('Anecdote for the Birds'). A Marginal Sea is inventive, exhilarating in its soundscapes and brilliantly awake to otherness, in language, and in the animal and natural world. 
***
Zoë Skoulding is Professor of Poetry and Creative Writing at Bangor University. Her collections of poetry (published by Seren Books) include The Mirror Trade (2004); Remains of a Future City (2008), shortlisted for Wales Book of the Year; The Museum of Disappearing Sounds (2013), shortlisted for Ted Hughes Award for New Work in Poetry; and Footnotes to Water (2019), which was a Poetry Book Society Recommendation and won the Wales Book of the Year Poetry Award 2020. In 2020 she also published The Celestial Set-Up (Oystercatcher) and A Revolutionary Calendar (Shearsman). Her critical work includes two monographs, Contemporary Women's Poetry and Urban Space: Experimental Cities (Palgrave Macmillan, 2013), and Poetry & Listening: The Noise of Lyric (Liverpool University Press, 2020). She received the Cholmondeley Award from the Society of Authors in 2018 for her body of work in poetry and is a Fellow of the Learned Society of Wales.  
The Creative Non-fiction Award
And... a memoir of my mother, Isabel Adonis (Black Bee Books)
Isabel Adonis was born in London in 1951, to Welshwoman Catherine Alice Hughes and renowned Guyanese artist Denis Williams, whose work has been exhibited in the Tate Gallery. 
Growing up in London, Sudan and Wales, with a cold and distant father and an isolated mother, Adonis explores the nature of identity, culture and desire as shaped by her childhood impressions of her parents. 
Simultaneously personal and universal, and told in the rhythms of an oral story, this beautifully musical and multi-layered book examines the divisiveness of colour, alienation, the impact of colonialism on social culture and what it means to be 'mixed'. 
An essential read that portrays an important aspect of the culturally diverse social fabric of Wales and the wider world. 
***
Isabel Adonis is a mother, a writer and an artist. She was born and brought up in London until she was six, when her father began working in Khartoum in Sudan. She lived and went to school there until she was nine when her parents bought a house in Wales. For the next nine years Isabel lived and went to school in Wales and travelled to Africa in the holidays.  
Her work has been published in the New Wales Review, Urban Welsh, Just So You Know and the Journal of Caribbean Literature. She was the winner of the Best Article 2002 in Impact magazine and has four, grown up children.  
The Sound of Being Human: How Music Shapes Our Lives, Jude Rogers (White Rabbit)
Jude Rogers' debut takes the reader from her childhood around the Loughor Estuary to motherhood and mid-life in Monmouthshire.
A book about how music shapes every emotional stage of our lives, from one of the most high-profile female pop writers in the UK today. 
***
Swansea-born arts journalist and writer Jude Rogers started her journalism career at the Llanelli Star as a teenager, she has written about arts and culture for The Guardian, Observer, Sunday Times, New Statesman and many women's magazines since her mid-twenties, and made many acclaimed documentaries for BBC Radio 4, including the 2021 series 'A Life in Music'. She now lives near Abergavenny.
Original Sins, Matt Rowland-Hill (Chatto & Windus)
Matt Rowland Hill grew up the son of a minister in an evangelical Christian church in south Wales and then south-east England. It was a childhood fraught with bitter family conflict and the fear of damnation. 
After a devastating loss of faith in his late teens, Matt began his search for salvation elsewhere, turning to books before developing a growing relationship with alcohol and drugs. He became addicted to crack and heroin in his early 20s, an ordeal that stretched over a decade and culminated in a period of hopeless darkness. 
Recklessly honest, and as funny as it is grave, Original Sins is an extraordinary memoir of faith, family, shame and addiction. But ultimately it is about looking for answers to life's big questions in all the wrong places, how hope can arrive in the most unexpected forms, and how the stories we tell might help us survive. 
***
Matt Rowland Hill was born in 1984 in Pontypridd, south Wales, and grew up in Wales and England. He now lives in London, and Original Sins is his first book. 
The Rhys Davies Trust Fiction Award
Fannie, Rebecca F. John (Honno Ltd.)
A feminist reimagining of the story of Les Miserables' Fantine. 
Montreuil-sur-Mer, 1815. Life is hard for Fannie working at the factory, with only sweet memories of her 'gentleman' and daughter to sustain her. But when she is revealed as an unmarried mother and dismissed, she is forced to take greater and greater risks to earn money for her child. What can she sell? Who can she trust? Has she any escape? A story of desperation, but also of love and the soaring power of hope. 
***
Rebecca F. John was born in Llanelli. Her first novel, The Haunting of Henry Twist (Serpent's Tail, 2017) was shortlisted for the Costa First Novel Award. Her story 'The Glove Maker's Numbers' was shortlisted for the Sunday Times EFG Short Story Award 2015. She won the PEN International New Voices Award 2015 and was the British participant of the 2016 Scritture Giovani project. In 2017, she was on the Hay Festival's 'The Hay 30' list. Her stories have been broadcast on BBC Radio 4 and published in Clown Shoes (Parthian, 2015). Her children's fantasy novel The Shadow Order was published by Firefly Press in 2022. She lives in Swansea.
This Is Not Who We Are, Sophie Buchaillard (Seren, Poetry Wales Press Ltd.)
1994, Iris and Victoria are pen friends. Iris writes about her life with her family in Paris. Victoria is in a refugee camp in Goma having fled the genocide in Rwanda. One day Victoria's letters stop, and Iris is told she's been moved. 
Twenty years later Iris, a new mother, is a journalist in London. As she prepares to return to work, her thoughts turn to Victoria and what might have happened to her. She pitches a story to her editor which sets her on a journey to find her friend. But things emerge that make her question her own past. Was her father, a French government official, somehow involved in the genocide? Are her childhood memories more fiction than fact? Why is she looking for Victoria, really? 
For Victoria, the last twenty years have been ones of migration, to Goma, then to Paris and finally to London. There she starts a new life with her youngest brother Paul and leaves the past behind. Or so she thinks until she is suddenly confronted with the decision to reconnect with her genocide-supporting middle brother Benjamin. 
As the pressure of long-kept family secrets builds, will these two women ever find each other? 
***
Born in Paris, Sophie Buchaillard has widely travelled across Europe, Asia, the United States and Africa and lived in several countries before settling in south Wales two decades ago.
She writes contemporary fiction inspired by movement and travel. Sophie contributed to the travel writing collection edited by Steven Lovatt An Open Door: New Travel Writing for A Precarious Century (Parthian, 2022). Her short stories and essays have appeared in a wide array of literary magazines and newspapers. This Is Not Who We Are is her first novel.
Drift, Caryl Lewis (Doubleday; an imprint of Transworld, Penguin Random House)
Nefyn has always been an enigma, even to her brother Joseph with whom she lives in a small cottage above a blustery cove. Hamza is a Syrian mapmaker, incarcerated in a military base a few miles up the coast. A violent storm will bring these two lost souls together – but other forces will soon try to tear them apart… 
Moving between the wild Welsh coast and war-torn Syria, Drift is a love story with a difference, a hypnotic tale of lost identity, the quest for home and the wondrous resilience of the human spirit. 
***
Caryl Lewis is a multi-award-winning Welsh novelist, children's writer, playwright and screenwriter. Her breakthrough novel Martha, Jac a Sianco (2004) is widely regarded as a modern classic of Welsh literature, and sits on the Welsh curriculum. The film adaptation – with a screenplay by Lewis herself – went on to win six Welsh BAFTAs and the Spirit of the Festival Award at the 2010 Celtic Media Festival. Lewis' other screenwriting work includes BBC/S4C thrillers Hinterland and Hidden. Lewis is a visiting lecturer in Creative Writing at Cardiff University, and lives with her family on a farm near Aberystwyth. Drift is her debut novel in the English language. 
The Children & Young People Award
The Mab, Various Authors (Unbound)
If you think you've heard all the fairy tales out there, think again. Inside this book you will find 11 epic Welsh tales from long ago, but not so far away, that are bound to enchant you. The Mab is a collection full to the brim with brand new versions of really, really old stories from the 'Mabinogi' – maybe the oldest written-down stories in the history of Britain. 
But as well as being really, really old, the stories in The Mab are strange and funny and thrilling. Alive with mystery and magic, they speak of a time when the gates between the Real World and the Otherworld were occasionally left open. And sometimes, just sometimes, it was possible to step through. 
The stories in this illustrated edition have been reimagined by an extraordinary team of writers, and each appears alongside a Welsh-language translation. 
***
Sophie Anderson was born in Swansea and has always been inspired by the stories of her Welsh and Slavic ancestors. Across her bestselling novels The House with Chicken Legs, The Girl Who Speaks Bear, The Castle of Tangled Magic, and The Thief Who Sang Storms, Sophie has won many awards, including the Independent Bookshop Book of the Year Award and the Wales Book of the Year, and has been twice shortlisted for the Carnegie Medal. 
P.G. Bell is a native of south Wales, where he was raised on a diet of Greek mythology, ghost stories and Doctor Who. He's had all sorts of jobs over the years, from lifeguard to rollercoaster operator, but all he ever really wanted to do is write stories for a living. And now he does! His bestselling children's novel, The Train to Impossible Places, was nominated for the Waterstones Children's Book Prize and the Branford Boaze Award and was selected for the Summer Reading Challenge 2019. He lives in Cardiff with his wife Anna and their two children.  
Zillah Bethell was born in Papua New Guinea and currently lives in south Wales.  
Matt Brown is a broadcaster who has presented some of the UK's most popular TV programmes, as well as radio shows on Capital, Heart and Magic. He is also the award-winning author of two children's book series: Compton Valance and Dreary Inkling School. 
Darren Chetty was born in Swansea and currently lives in London. He is a lecturer at University College, London. He taught in primary schools for 20 years. In 2022, he co-edited Welsh (Plural): Essays on the Future of Wales (Repeater) and a special issue of Wasafiri entitled 'Reimaging Education'. He is a contributor to the bestselling book, The Good Immigrant (Unbound). Darren is co-author of What Is Masculinity? Why Does It Matter? And Other Big Questions (Wayland) and How To Disagree: Negotiating Difference in a Divided World (Quarto) and co-editor of Critical Philosophy of Race and Education (Routledge). Darren writes, with Karen Sands O'Connor, a regular column for Books for Keeps examining racially minorised characters in children's literature, entitled Beyond the Secret Garden.  
Nicola Davies is the author of more than 80 books for children and young people, including poetry, non-fiction, picture books and novels. Her work has been published in more than 10 languages and won awards in the UK, US, Europe and Asia. In addition to many books about the natural world, Nicola has written about disability, grief, human migration and children's rights. Her picture books The King of the Sky (with Laura Carlin) and The Day War Came (with Rebecca Cobb) are endorsed by Amnesty UK; the latter sparked an online campaign, '3000 chairs', in support of unaccompanied child refugees. Her recent YA novel The Song that Sings Us has been nominated for the Yoto Carnegie Award and her poetry collection Choose Love (with Petr Horáček) is helping to raise funds for the refugee charity of the same name and has been shortlisted for the CLiPPA Poetry Award 2023. 
Claire Fayers is an award-winning children's author and champion of Welsh stories. Her own book of Welsh fairy tales, myths and legends was shortlisted for the Tir na n-Og Award and nominated for the Carnegie medal. Her next book, Tapper Watson and the Quest for the Nemo Machine, will be launching from Firefly Press in late 2023.
Hanan Issa is a Welsh-Iraqi poet, filmmaker and artist. Her publications include her poetry collection My Body Can House Two Hearts and Welsh Plural: Essays on the Future of Wales. Her winning monologue With Her Back Straight was performed at the Bush Theatre as part of the Hijabi Monologues. She is the current National Poet of Wales and 2022-23 Hay International Fellow. 
Rhian Tracey was born in Swansea and grew up on the Welsh borders. She got her first publishing deal at 26. Rhian teaches several days a week in an SEN department, working with students who have dyslexia, dyspraxia, autism, ADD and other additional learning needs. She also volunteers with Medical Detection Dogs, helping to train puppies who will go on to be assistance dogs. Rhian's debut middle grade book, I, Spy: a Bletchley Park mystery, was published in March 2023.
Alex Wharton is an award-winning writer and performer of poetry for adults and children. His first book of poetry for children, Daydreams and Jellybeans, was shortlisted for the Wales Book of the Year award 2022, The North Somerset Teacher's Book Awards, The Laugh Out Loud Book Awards and was named as a National Poetry Day Recommended Read. In 2021 Alex was commissioned by Hay Festival to create a poem with primary students to be read to Her Royal Highness, Queen Consort at a ceremony held in Hay-On-Wye. Alex's second and third collections of poetry, Poems for Brilliant Brains and Red Sky at Night: A Poet's Delight will be published with Firefly Press in 2023 and 2024, respectively.
Eloise Williams was the inaugural Children's Laureate Wales 2019–2021. She has published four books for young people: Elen's Island, Gaslight, Seaglass and Wilde. In 2019, Seaglass was shortlisted for the prestigious Tir na n-Og awards. 
When The War Came Home, Lesley Parr (Bloomsbury Children's Books)
The First World War has ended, but it hasn't gone away. 
When Natty has to move to a new village, she meets two young soldiers who are still battling the effects of war. Huw can't forget the terrible things he's seen, but Johnny doesn't even remember who he is. 
As Natty tries to keep a secret and unravel a mystery, she finds her own way to fight for what she believes in – and learns that some things should never be forgotten… 
***
Lesley Parr grew up in south Wales and now lives in England with her husband. She shares her time between writing stories, teaching at a primary school and tutoring adults. Lesley graduated with distinction from Bath Spa University's MA in Writing for Young People. 
The Last Firefox, Lee Newbery (Penguin Random House Children's)
Between bullies at school and changes at home, Charlie Challinor finds life a bit scary. And when he's made guardian of a furry fox cub called Cadno, things get a whole lot scarier. Because Cadno isn't just any fox: he's a firefox – the only one of his kind – and a sinister hunter from another world is on his trail. 
Swept up into an unexpected adventure to protect his flammable friend, Charlie's going to need to find the bravery he never thought he had, if he's going to save the last firefox…
***
Lee Newbery lives with his husband, son and two dogs in a seaside town in west Wales. By day, he helps vulnerable people look for jobs and gain new skills, and by night, he sits down at his laptop to write. 
The Welsh-language Shortlist
Poetry
Tosturi – Menna Elfyn (Barddas Publications) 
A new collection of poetry from Menna Elfyn with impressive illustrations by artist Meinir Mathias. A major theme that ties the work together is women; from those who are prominent today to historical figures, from Catrin Glyndŵr, Princess Gwenllïan, Ann Griffiths, Elaine Morgan, to members of her own family. There are poems of grief for the loss of a sister, and some memories of her mother and grandmother. 
The volume also contains poems about the natural world, about the effect of the lockdown in 2020 in lyrical poems often with an element of humour attached to them. It is a book that crosses the boundaries between prose and poetry, including monologues, occasionally dialogic in tone. 
***
Menna Elfyn is a Welsh poet, author and playwright who has already published 14 volumes of Welsh and bilingual poetry. Her latest book is Bondo (2017) from Bloodaxe press and her previous bilingual book Murmur (Bloodaxe, 2012) won acclaim with the approval of the Poetry Books Association and was the first book ever to be selected in Welsh/English. Her work has been translated into 20 languages including Chinese, Spanish, Italian, Lithuanian and Catalan. Her poetry has taken her around the globe for readings and residencies. She has won several awards such as Wales Book of the Year 1990, and the distinguished International Anima Instraza Award in Sardinia for her contribution to European poetry. She was made Bardd Plant Cymru in 2002. She has previously published with Barddas in 2018 when her biography, Cennad, was published.
Y Lôn Hir Iawn – Osian Wyn Owen, (Barddas Publications) 
This is the ninth collection of poems by new poets in the exciting series, Cyfres Tonfedd Heddiw. It is a fresh and energetic collection from a poet who has gained his footing as a mature, talented poet, and in this special collection, he sets out to combine the profound and the humorous using a variety of measures. There are strict poems, free poems and poems in verse and rhyme on subjects such as politics, the environment, the poet's interests and habitat and general social singing that will surely appeal to everyone.  
***
Osian Wyn Owen is a recognised poet who is quickly making a name for himself. In 2018, he was the Chief Bard of the Brycheiniog and Radnor Urdd Eisteddfod, and he also won the double – the Chair and the Crown – at the Lampeter Intercollegiate Eisteddfod in 2018. He also won the Eisteddfod-T main poetry prize in 2020. He writes in strict metre and in 2019 he received funding from Barddas to attend a course on cynghanedd at Tŷ Newydd Writing Centre. Since then, he has been perfecting his craft by attending cynghanedd lessons in Caernarfon under the guidance of the Poet Rhys Iorwerth, and now teaches poetry himself. He is a very productive poet, competing on the Talwrn radio programme with the Chwe Mil team, and regularly contributes poems to various magazines. Originally from Felinheli, Osian went to University in Bangor to study Welsh and now lives in Caernarfon running his own Public Relations company called Ar Goedd. 
Anwyddoldeb – Elinor Wyn Reynolds (Barddas Publications) 
Anwyddoldeb (a word made up by the poet!) is the first volume of Elinor Wyn Reynolds's poetry. In this volume, her talent for depicting emotion in words is mainly highlighted in her creative writing; that writing is subtle and suggestive. As well as writing profoundly, she also has the unique talent to deliver bubbly poems, full of energy and humour. As such, this volume is a distinct collection of both – the profound and the humorous. Many of her poems are based on personal experiences, characters and society and the challenges of the big world around us. 
These are free poems – some of them short poems and others longer poems, or a chain of poems. 
***
Elinor Wyn Reynolds is a poet, editor and writer. Born in the Rhondda, she grew up in Carmarthen and has now returned to live in Carmarthenshire. She has curated several collections of poems and stories, such as Llyfr Bach Priodas (Gomer) and Llyfr Bach Nadolig (Barddas), and in 2019 she published her first novel, Gwirionedd (Gwasg y Bwthyn). 
Creative Non-fiction
Cerdded y Caeau – Rhian Parry (Y Lolfa) 
Rhian Parry takes us for a walk through the fields to reveal the history hidden in their names. 
This beautiful volume is full of colour photos and maps that are part of the author's doctoral research. The names of the farms and fields of the old Ardudwy commote are analysed, showing what they reveal about the landscape and ancient communities. Some examples beyond Ardudwy, also part of our national heritage, are included too. 
Names of all kinds are trembling under the threat of social changes, without a law to protect them. This book offers a pattern to other areas by showing a new way of looking at minor names, one that can take us back to ancient times. An impressive volume to be enjoyed by all who are interested in the character and identity of a locality. 
***
Rhian Parry grew up in Chester and then in Penmon. Following a career in education and the senior civil service, she undertook research under the direction of Professor Gwyn Thomas in Bangor. After gaining her doctorate, she used her research to share her knowledge with the public. She designed and facilitated projects funded by the Heritage Lottery Fund, firstly for the Merionethshire History and Records Society and then for the Welsh Place Names Association. She was responsible for the research for two series of Caeau Cymru on S4C and co-presented it. She recently returned to Anglesey. 
Sgen I'm Syniad – Snogs, Secs, Sens – Gwenllian Ellis (Y Lolfa) 
Gwenllian Ellis has no idea about a lot of things: how to change a fuse, how to make a meringue that is hard on the outside and fluffy on the inside, how it feels to go on holiday with a boyfriend for the first time. Sometimes she has no idea why she does the things she does. 
This is a book that explores friends, family, feeling like you're being left behind, snogging, sex, Pwllheli Spar, food, boys, drunken nights, being too much but not enough at the same time, the lessons you learn on the road and the people who carry you when you don't even know you need to be carried. 
Drawing on personal experiences and telling truths about the society in which we live, this is an honest book about finding meaning when you haven't a clue. 
***
Originally from Pwllheli, Gwenllian Ellis now lives and works in London.  
Cylchu Cymru – Gareth Evans-Jones (Y Lolfa)
This is a book that maps Wales through legend and picture. 
There are lyrical and impressive stories inspired by specific scenes during the author's trip around Wales – along its coast and Offa's Dyke. There is elegance and intensity as well as a distinctive attentiveness. This is an intimate book that will grab you gently and motivate you to take a step into the extraordinary places that are the basis of the stories and pictures. 
***
Gareth Evans-Jones comes from Traeth Bychan near Marian-glas, Anglesey. He published his first novel, Eira Llwyd, in 2018, and won the Drama Medal at the National Eisteddfod twice (in 2019 and 2021). He is a lecturer in Philosophy and Religion at Bangor University. This is his first volume of micro stories. 
Fiction
Pridd – Llŷr Titus (Gwasg y Bwthyn)
This novella offers a carnivorous but fascinating picture of an Old Man's life in the countryside of Llŷn. Through the four seasons of the year, past and present, sadness and joy and all the messiness of living flow into each other. Over in the fields the big old stones speak their wisdom. 
And the Fox howls. 
***
Llŷr Titus comes from Bryn Mawr near Sarn in the Llŷn Peninsula, and now lives in Caernarfon. He won the Urdd Eisteddfod Crown in 2011, and the Drama Medal the following year. His first book, a science fiction novel for young people, Gwalia, won the Tir na n-Og Award in 2016. Llŷr is also a playwright; his play Drych was staged by Frân Wen in 2015 and he is one of the founders of Cwmni drama'r Tebot. He also jointly founded Y Stamp magazine and the Stamp Publications press. 
Pumed Gainc y Mabinogi – Peredur Glyn (Y Lolfa) 
In the Blue Book you will find the truth about Rhiannon, about Llŷr, about Efnisien – if you dare to open it… 
Ancient forces beyond understanding reach out their claws at you from the shadows. Your little Wales will never be the same again. You've never read anything like this before. 
***
Peredur Glyn comes from Anglesey. He developed his interest in medieval literature while studying at Cambridge University and is now a lecturer in Linguistics at Bangor University. This is his first fiction book. 
Rhyngom – Sioned Erin Hughes (Y Lolfa) 
There is some animal urge inside all of us, and that urge makes us always want to escape from something. But some ties are too tight to try to untie them – a relationship between mother and daughter, between a man and his homeland, a woman and her illness – and more often than not, it's impossible to break free. Here are eight stories that show us the value of freedom, and that experiencing life without borders is a privilege, not a right.  
***
Sioned Erin Hughes lives in Boduan, near Pwllheli. She graduated in Sociology and Welsh at Bangor University, before following a Master's course in Creative Writing. She won the Crown at the Urdd Eisteddfod 2018 and came second for the Drama Medal at the Urdd Eisteddfod 2022. She was the editor and curator of the book Byw yn fy Nghroen, which won the Tir na n-Og Award in 2020. She wrote a book for children, Y Goeden Hud, at the beginning of the first big lockdown in 2020. This is her first book for adults – a book that won her the Prose Medal in Ceredigion this year.  
Children & Young People
Byd Bach Dy Hun – Sioned Medi Evans (Y Lolfa) 
What is special about your little world? What kind of creatures and wonders are there? Come and see a world with flowers, trees and sea and animals of all kinds, and people who are ready to lend a hand and work together to maintain and preserve our little world. Come and see what is similar and different in everyone's little world! A picture and story book that raises important questions in the world of children, by an author/illustrator at the top of her game. 
***
Originally from Pen Llŷn, Sioned Medi Evans now lives and works as a freelance designer in Cardiff. She feels passionate about drawing, telling a story and portraying everyday life in her work, and tries to add a little colour and positivity to the world. 
Powell – Manon Steffan Ros (Y Lolfa) 
Being a Powell is a privilege in Trefair, and Elis Powell, aged 15, is proud of his ancestors who built so much of the town. But when Elis and his grandfather go on a trip to the United States to gather genealogy, they find out a lot more about their family's history, and being a Powell suddenly feels like a burden… 
A novel about family, friendship and the importance of recognising all the facts.  
***
Manon Steffan Ros is an author and playwright who has won numerous awards for her books for children and young people. Llyfr Glas Nebo was the Book of the Year 2019 and she won five Tir na n-Og Awards for Trwy'r Tonnau, Prism, Pluen, Fi a Joe Allen and Pobol Drws Nesaf. She is originally from Rhiwlas, Dyffryn Ogwen, but now lives in Tywyn. 
Dwi Eisiau Bod yn Ddeinosor – Luned Aaron and Huw Aaron (Atebol) 
"Dwi eisiau bod yn ddeinosor  
Ond dwi fymryn yn rhy fach.  
Dwi eisiau bod yn sombi hyll  
Ond mae gen i groen reit iach."  
A playful, imaginative book about accepting who you really are – someone amazing! 
***
Luned Aaron is a writer and visual artist. Over the past few years, she has created a number of books for children, including Mae'r Cyfan i Ti, Mira a'r Dant and her Byd Natur series. In 2017, she won the Tir na n-Og award for her first book, ABC Byd Natur. She co-runs Llyfrau Broga press with her husband, Huw Aaron. 
Huw Aaron is a cartoonist and author of a number of popular books for children (including A am Anghenfil, Seren a Sparc, Ble Mae Boc? and Gwil Garw a'r Carchar Crisial). He was the founder of the comic Mellten, and he lives in Cardiff with his family.
Back to Wales Book of the Year