Residency at Bassaleg High School – Duke Al Durham
Published Wed 27 Sep 2023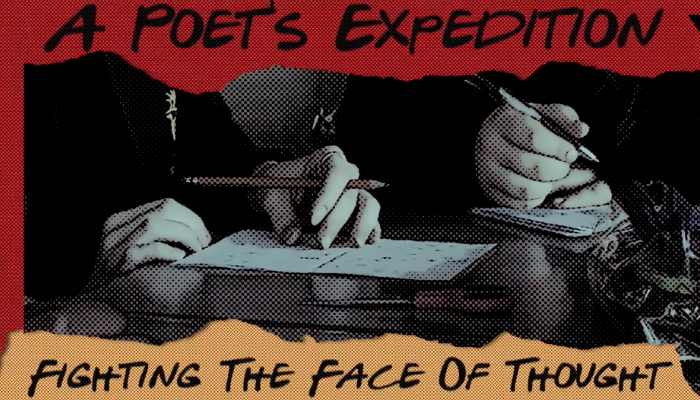 There is nothing more courageous than talking about how you feel, to convey your emotions onto a page, and then read your creative thoughts out aloud for all to hear.
I was fortunate enough to be asked by Literature Wales, to lead a project as part of Piece-by-Piece, a Comic Relief-funded partnership project with Newport Mind and Community Youth supporting families and young people with mental health issues. The aim was to encourage pupils at Bassaleg High School, Newport to talk about their mental health and use creative writing, specifically poetry, alongside another art form as a way of creatively expressing themselves.
After a successful first project with Year 10 pupils and based on the young people's feedback that they longed for continuity of support, I became poet in residence at Bassaleg for 6 months. I worked with groups from year 7 and year 9, as well as pupils on a 1-1 basis. Please join me on the journey of this inspiring residency.
A Poet's Expedition – Fighting The Face of Thought
The first project engaged year 10 pupils in 7 workshops using poetry and art.  Initial workshops focused on breaking down the barriers to poetry, so the pupils felt they could pick up the pen and have the confidence to write. I performed a selection of my spoken word poetry and shared my story, a battle with obsessive compulsive disorder (OCD) a heavily stigmatised and misunderstood mental health condition, so I could be relatable and build a rapport with the group.  
I was joined by multi-faceted  Bill Taylor-Beales who encouraged the pupils to  use art to express themselves. The combination of art and poetry saw a balance between both art forms, it allowed the young people to stay engaged as we went from task to task. Bill was a huge support within the group and made everybody feel at ease with his very caring nature. Leah Williams from Newport Mind also joined us and provided support and knowledge for the pupil's mental health. 
After the introductory sessions, the workshops went into depth about young people and mental health. There was an interesting discussion about youth services and what the young people wished for from them. The pupils safely explored real-life experiences with mental health, writing about how they felt, what happened and who with from  different perspectives – their own, their confidant and a personification of their feelings. The work created led to an array of new discoveries and an impressive standard of writing.  
At the sharing session, the pupils created an open mic within the classroom, with their own title and  banner A Poet's Expedition Fighting the Face of Thought. The pupils bravely got up in front of their peers and performed their poetry. They all wrote a verse of a song  about what the young people wanted to see improved in youth services, which was set to music and filmed by Bill. Overall, this was such an emotive, inspiring experience and I am so proud of all the pupils involved for their bravery, rawness, and commitment to the project. 
Masking Our Fears Away
The following project saw a group of year 7 pupils take part in the workshops, although they didn't know each other very well the four pupils developed a community early on. I feel this was due to them relating so much to each other. The pupils explored the imagination and wrote a poem about their passions and what they enjoyed doing most.  
I worked with Amy Moody on this project,  a talented illustrator and artist. Amy led a workshop on drawing a tree of emotions, which started a conversation around mental health. The aim of the project was to create a small booklet of the pupil's work using the concept of a mask – the mask we present to the world and what we feel underneath. Videographer Ryan Evans, filmed behind the scenes footage, interviews and the pupils sharing their work, then created a powerful short video with the footage.    
Life is Life
The final project was the most challenging for me in terms of trying to encourage the young people to share anything about themselves. At the beginning it was apparent that the pupils were self-conscious and  reluctant to  talk about their weekend or even things they enjoyed doing. I performed a poem of my own and shared my journey with mental health, in the hope to encourage them in a safe environment. Over the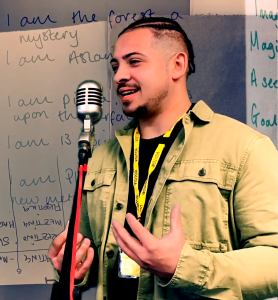 project, the group slowly began to relax and open up more. They began exploring whether they cared what others thought of them. – a hot topic as they had so much to say. Some were self-conscious  and concerned about being judged by friends, trying to keep up cool appearances and not doing anything to make themselves feel silly or embarrassed. Others  had such a laid-back attitude, they seemed not to care about what anybody thought of them. Social media played a great part in the group dynamic,  pupils were constantly checking their phones and began to talk about its negative impact. They did not want to be seen on social media doing anything that could make them the laughing stock of the school. 
For this project, I brought in an incredibly talented musician named 
Maddie Jones. Initially  she played the group a song and shared  her journey with music. We  created two songs based around the theme of 'do you care about what others think of you' and Life is Life became a catchy title, created by one of the pupils.  
The pupils wrote and recorded their verses creating songs which were powerful and raw.  This group, although the most challenging to begin with, saw a community develop within it, they really pushed themselves out of their comfort zones and brought the best out of each other, by supporting each other.
The 1-1 Basis
I also met pupils on a 1-1 basis, the majority from the first year 10 project. These sessions varied from pupil to pupil. I spoke with young male pupils, where I had more of a male role model and mentorship role, trying to encourage them to work hard in school and guide them into wanting the best out of their future. This at times was challenging due to difficult home situations.   
The most successful 1-1 sessions were with two friends, who were also in the first project. These two pupils presented a natural ability to express themselves using poetry and creative writing. Although they both had different goals, they had the sessions together as they wanted to support each other.  
Final Reflections
This residency has been rewarding, meaningful, emotive and a positive learning experience. I have learned the importance of perseverance when working with young people in a group, understanding that they need time to gain confidence enough to contribute effectively. It has taught me that not all workshops need to be planned in detail, it is often better to be flexible depending on the group and be guided by what the group want to do or explore. It is evident to me that many pupils might be experiencing similar issues or struggle with mental health, even if their situation is different. It is important for schools, such as Bassaleg to provide support when necessary and teach pupils about  mental health and what they can do to get support. 
Collaborating with three other artists has also been an adventure. It was interesting to see the varied approaches and how different artforms can come together. It was a valuable experience working at Bassaleg and I will take so much away from it. I want to thank Literature Wales for believing in me, Bassaleg High School and Emma Gray for all her support, Newport Mind and Leah Williams for her knowledge and support, Bill Taylor-Beales, Amy Moody, Ryan Evans, Maddie Jones for their talent and passion shown to this project, they really made difference and finally Comic Relief for the funding.