Literature Wales in 2021
Published Mon 10 Jan 2022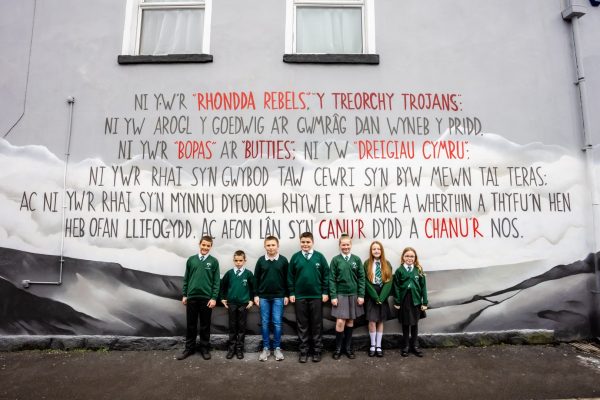 2021 was another year of disruption, change and worry accross the sector here in Wales. But, it was also a year where we all proved the power of literature and found comfort in a good book, creative writing workshops, online book launches and digital talks.

Here we share a glimpse of Literature Wales' activity during the past 12 months and shows how in 2021, despite the difficult conditions, Literature Wales has helped inspire future generations, develop more diverse literary voices and created cultural and economic capital for us all.
The Case for the Power of Literature – Mid-Term Report 2019-2022
Back in January 2021, Literature Wales published its Mid-Term Report 2019-2022, showcasing our growth and impact since publishing our 2019-2022 Strategic Plan.
Following a year of challenge and change, we are pleased to share the Mid-Term Report of our 2019-22 Strategic Plan. This report demonstrates how we continue to reach our targets and achieve the goals outlined in our ambitious Strategic Plan, launched in May 2019.
2021 marked ten years since Literature Wales was formed, and we look forward to continuing to inspire communities, developing writers and celebrating Wales' literary culture with our partners and the wider literary sector, advocating for the power of literature.
To read our Mid-Term Report, visit: www.literaturewales.org
Representing Wales: Developing Writers of Colour
Developed to improve representation within the sector, Representing Wales is an important step in Literature Wales' efforts to transform the country's literary culture into one that is truly reflective of Wales' diverse communities, to demystify the writing profession, and to establish a pipeline of diverse Welsh talent that will be recognised across the UK and beyond. Representing Wales is funded by the National Lottery through the Arts Council of Wales.
The programme includes a financial award of up to £3,500 to help writers take time out to write, attend training sessions and literary events and to support travel expenses. Also included are one-to-one mentoring; monthly workshops and talks; a free subscription to The Society of Authors for 1 year; as well as opportunities to network, make new contacts and build relationships with other writers. During the year there will be opportunities to meet experts in the literature and publishing industry in Wales and beyond.
The 2021-2022 cohort were announced in 2021 and are now half way through their year-long programme. In 2022, we will announce the names of the 2022-2023 cohort. The focus on the next round of Representing Wales is writers from low income backgrounds.
For further information, visit: www.literaturewales.org
Earth Hour Mural Project: Literature Wales x WWF Cymru
Three walls on buildings in three towns across Wales have been transformed into works of art over the past few months, thanks to a poetry and street art project between local schoolchildren, WWF Cymru and Literature Wales in the lead-up to Earth Hour.
Literature Wales and the environmental charity WWF Cymru have been working with year six pupils at Ysgol Gynradd Dewi Sant, Rhyl; Ysgol Gynradd Aberteifi, Cardigan and Ysgol Gynradd Gymraeg Ynyswen, Treorchy to write poems, which have been transformed into three inspiring works of public art by street artist Bryce Davies of Peaceful Progress. The poetry workshops were facilitated by Bardd Plant Cymru 2019-2021, Gruffudd Owen.
For further information, visit: www.literaturewales.org
Connor Allen is the Children's Laureate Wales for 2021-2023
Over the next two years, poetry and performance will set the imaginations of children alight as the poet and multidisciplinary artist from Newport, Connor Allen, takes on the role of Children's Laureate Wales for 2021-2023.
Connor Allen was appointed as Children's Laureate Wales following a successful call-out in May 2021, and Literature Wales is thrilled to welcome such a talented, dynamic, and visionary artist to this ambassadorial post.
Connor's appointment was announced on National Poetry Day 2021, an annual UK-wide celebration that encourages all to enjoy, discover and share poetry. The celebration's goals happily reflect Connor's vision for the next two years, as he works towards making poetry accessible, fun, and relevant to children and young people across Wales.
For further information, visit: www.literaturewales.org
Casi Wyn is the new Bardd Plant Cymru for 2021-2023
Two years of poetry, music and creativity are in store for children across Wales as singer, songwriter and writer from the Bangor area, Casi Wyn, is appointed Bardd Plant Cymru for 2021-2023.
Casi was appointed to the role following a successful open call in May 2021. The Children's Poet Laureate project is managed by Literature Wales with the support of the Welsh Government, S4C, the Welsh Books Council and Urdd Gobaith Cymru.
The news was announced on 7 October 2021, which is National Poetry Day – an annual celebration of poetry and all things poetic. It has also been announced that writer and actor, Connor Allen has been appointed to Children's Laureate Wales 2021-2023. The two projects run in parallel, with the poets contributing to nurturing a generation of more creative, diverse and healthy writers and readers. They work mainly with children aged 5-13 years.
For further information, visit: www.literaturewales.org
Literature Wales and the Royal College of Psychiatrists in Wales award £10,000 to writers for digital commissions
Literature Wales, in partnership with the Royal College of Psychiatrists in Wales, was pleased to announce the names of five writers who would receive a share of a £10,000 commission pot. Focusing on literature and well-being, the content and activities of these five projects would go on to benefit writers, readers, and creative audiences during this unsettling time – in particular, individuals on low incomes.
The successful writers were Seren Haf Grime, Rufus Mufasa, clare e. potter, Dominika Rau and Hammad Rind. The commissions included workshops for individuals from Black, Asian and minority ethnic communities in Grangetown who are experiencing poor mental health; working with mothers in Carmarthenshire to capture their stories and experiences during the pandemic; workshops with young adults living with secondary cancer; a project to support homeless young people and young mothers across Wales; and a project with asylum seekers and refugees supported by the Congolese Development Project.
To read the full story, visit: www.literaturewales.org
Tŷ Newydd Virtual Courses
In 2020, we launched our first ever programme of Tŷ Newydd digital creative writing courses. The programme included a combination of short taster courses which were held over lunchtime, and week-long retreats. The latest programme for early 2022 has just been announced, featuring taster courses with Rosalind Hudis, Hammad Rind, Horatio Clare and Matthew Haigh.
For further information, visit: www.literaturewales.org
Wales Book of the Year 2021
In a series of programmes broadcasted on BBC Radio Cymru and BBC Radio Wales in July and August, it was announced that Catrin Clarke was the overall winner of Wales Book of the Year 2021 with her debut novel Salt (Gomer). Catrin also went on to receive the 2021 Wales Arts Review People's Choice Award, chosen by the reading public. Megan Angharad Hunter won the Overall Welsh-language Award with her debut novel tu ôl i'r awyr (Y Lolfa) with Hazel Walford Davies claiming the Golwg360 Gwobr Barn y Bobl for O.M.: Cofiant Syr Owen Morgan Edwards (Gomer).
For further information, visit: www.literaturewales.org
Winners of the Cymru Euro 2020 Poetry Competition announced
In celebration of Cymru qualifying for their first consecutive Euro finals tournament, the Football Association of Wales and Literature Wales joined to launch an exclusive Cymru Euro 2020 Poetry Competition back in April 2021. The competition invited the children of Wales to submit poems on the theme of identity for a chance to win a host of fantastic prizes.
The competition attracted 495 entries in total, and the Football Association of Wales and Literature Wales were thrilled to announce the two winning poets as Nansi Bennett and Martha Appleby.
To read their poems, visit: www.literaturewales.org
Writers of Wales Database
In November, Literature Wales launched the Writers of Wales Database, an online directory of a wide range of Wales' writers. It is a central part of Literature Wales' digital network, which aims to showcase literary talent from Wales and beyond. The Database is an evolution of a previous directory, and is a free service for both writers and users.
Anyone can submit their profile to the Database, if they're an emerging writer or a more experienced writer, as well as literary and creative facilitators. We invite event organisers, publishers, readers and creative audiences alike to visit the Writers of Wales Database to browse Wales' multitude of creative talents.
To view the database, visit: www.literaturewales.org
The Inspiring Communities Fund
Literature Wales' Inspiring Communities Fund funding scheme (a development of the former Writers on Tour scheme) offers financial support of up to 50% of the fees paid to writers for events including talks, lectures, creative writing workshops and more. These events can take place anywhere in Wales, in community halls, pubs, libraries, schools, youth clubs – and even on virtual platforms for groups who are meeting online. The scheme is supported by the National Lottery through the Arts Council of Wales.
Literature Wales wants to enable more people in Wales to discover the joys of actively participating in literature. We believe that literature, in its great variety, has the power to connect communities and bring comfort, inspiration and hope to those who need it most.
For closing dates, eligibility criteria and the application form, visit: www.literaturewales.org
Eloise Williams starts a year-long residency at Tonyrefail Community School
Eloise Williams, award-winning children's writer and the first ever Children's Laureate Wales has started an exciting new adventure as a year-long writer-in-residence at Tonyrefail Community School in Rhondda Cynon Taf. During this academic year, Eloise will visit the school every week of term to run workshops with pupils and inspire them to read and to write their own creative stories.
The project, which is called Do You Get Me? is run in partnership between Literature Wales and First Campus, a Cardiff University programme aimed at engaging young people in south east Wales and reducing barriers to higher education. Eloise will work with every Year 8 student at Tonyrefail Community School, as well as groups of young people from other years including pupils who are in care or who are young carers.
For further information, visit: www.literaturewales.org
New poet in residence for the Future Generations Commissioner for Wales
As the world marks Earth Day 2021, the Future Generations Commissioner Sophie Howe, in collaboration with Literature Wales and Wales Arts International, announced that Taylor Edmonds is their new poet in residence.
Taylor, from Penarth, is the commissioner's second poet-in-residence, in collaboration with Literature Wales and Wales Arts International, after Rufus Mufasa completed her post in 2019.
Her year-long collaboration with the Future Generations Commissioner will see the young poet finding new ways to communicate the goals of the Act, one of which is a Wales with a vibrant culture and thriving Welsh language, and some of its work. The theme for this year is 'Wales to the World' – highlighting the importance of the Well-being of Future Generations Act's vision and Wales' role in the world.
For further information, visit: www.literaturewales.org
Celebrating the opening of the Sixth Senedd with a new poem by the children of Wales
During the summer school term of 2021 poets and writers Anni Llŷn, Taylor Edmonds, Gruffudd Owen and Eloise Williams held creative writing workshops with pupils from 24 primary schools across Wales to create a special poem for the Official Opening of the Sixth Senedd.
Literature Wales received a commission from Senedd Cymru to co-ordinate the Dy Lais – Your Voice project with children and young people as part of celebrations for the Official Opening of the Sixth Senedd. The poem, created as part of the project, will be read for the first time by former members of the Welsh Youth Parliament as part of the Official Opening of the Sixth Senedd on Thursday 14 October in Cardiff Bay.
To read the poem, visit: www.literaturewales.org
Postbox Honour for Children's Laureate Wales, Eloise Williams
To mark World Book Day 2021 (Thursday 4 March), Royal Mail unveiled five special postboxes across the UK, honouring authors and illustrators who have been doing wonderful work using literature to help keep children entertained during lockdown – one of which was our own Children's Laureate Wales 2019-2021, Eloise Williams.
For further information, visit: www.literaturewales.org
Plethu/Weave
Plethu/Weave is a poetry and dance cross art-form collaboration, in partnership with National Dance Company Wales. The project sees dancers from NDCWales and the independent sector partnered with Literature Wales' commissioned poets to create short solo performances. These very moving films have given us a chance to reflect on some of the important themes and ideas which have emerged in Wales and the world during the past year. The project has created opportunities for the poets and dancers to work within an entirely different medium, and has celebrated Wales' literary culture in new and exciting ways. Further Plethu/Weave films have been commissioned during 2021, with three of those commissioned by the Welsh Government as part of its Wales in Germany Year 2021.
To view all the Plethu/Weave films, visit: www.literaturewales.org
In 2022, Literature Wales looks forward to:
– Books for All: Writing Characters of Colour for Children course at Tŷ Newydd, which you can apply for a fully-funded place on, here)
– Launching our new 2022-2025 Strategic Plan
– Searching for and announcing the next National Poet of Wales
– Re-opening physical courses and retreats at Tŷ Newydd Writing Centre
– Announcing the next cohort for our Representing Wales programme
– Announcing the shortlisted writers, and in due course the winners, of Wales Book of the Year 2022
– Providing further opportunities