Representing Wales 2020: Developing Writers of Colour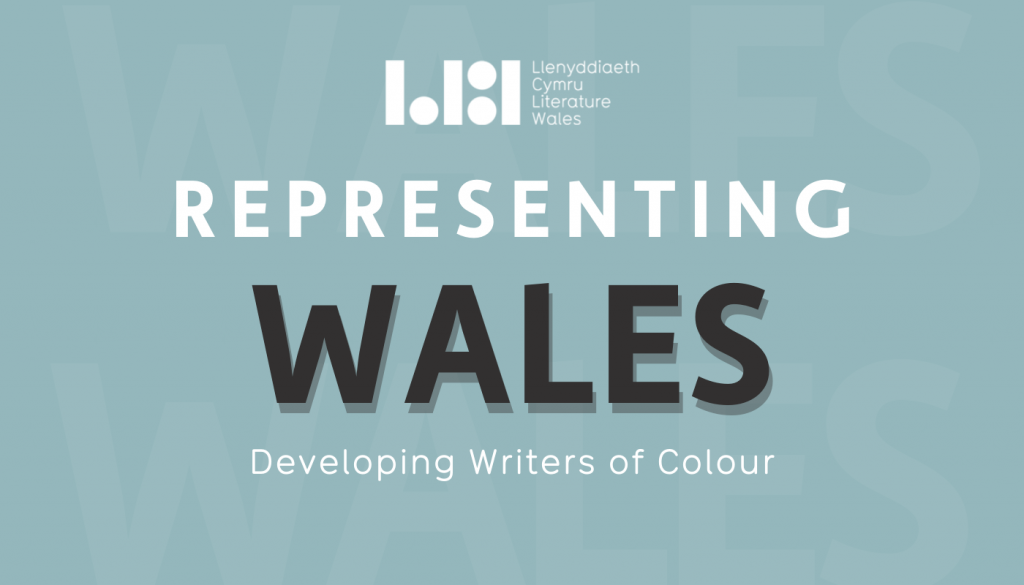 ---
A 12 month programme, funded by the National Lottery through the Arts Council of Wales, to provide development opportunities for writers of colour who write across literature, playwriting and screenwriting.
The Programme
Developed to improve representation within the sector, Representing Wales: Developing Writers of Colour is an important step in Literature Wales' efforts to transform the country's literary culture into one that is truly reflective of Wales' diverse communities and to establish a pipeline of diverse Welsh talent that will be recognised across the UK and beyond.
Representing Wales: Developing Writers of Colour has been designed in consultation with communities, writers and consultants from Literature Wales' extensive networks to address existing barriers within the sector. It will initially support 12 writers in developing their work through financial assistance and mentoring, as well as by demystifying the writing profession and providing networking opportunities and masterclasses with established writers and commissioners.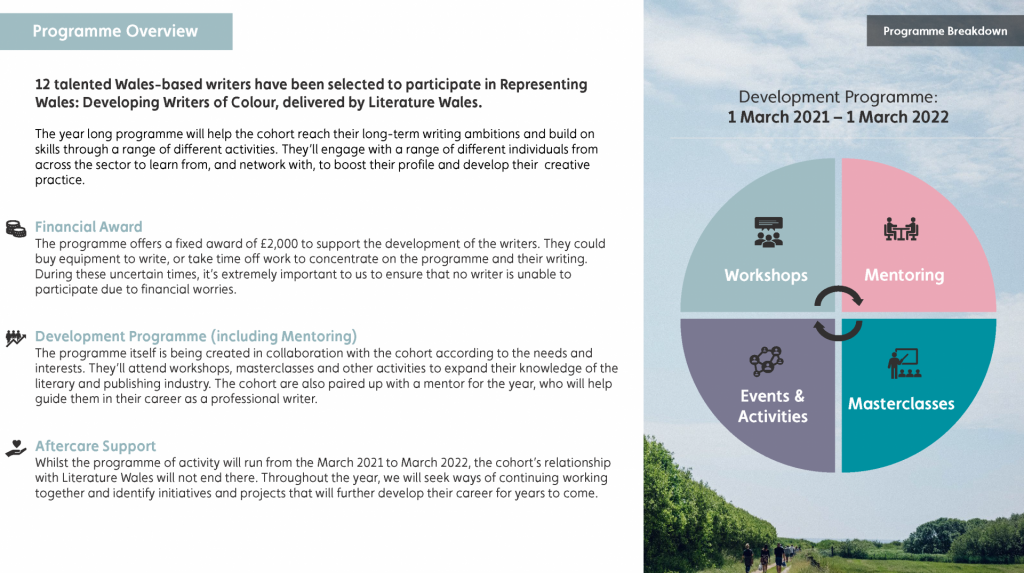 Representation & Equality
Our Strategic Plan for 2019-2022 outlines Representation and Equality as one of Literature Wales' main priorities. We believe that every person, regardless of their background, should feel included and free to navigate, contribute and take ownership of the literature scene in Wales.
Lleucu Siencyn, Chief Executive of Literature Wales said:
"For too long the teaching and advancement of our literary culture, in both languages, has been homogeneous and not truly reflective of the range of voices and experiences within Wales.  Amazing individuals and grass-roots organisations in Wales have worked extremely hard to ensure real progress in recent years, but we must do more to platform and promote the exciting diverse talent we have so we can be proud of a vibrant writing culture that flies the flag for Wales' varied communities. We are very fortunate to have a rich variety of writers in Wales, telling our own stories in our own languages. The historic lack of representation is changing. This important new programme will shine a light on exceptional, diverse voices representing the best of modern Welsh culture, and each one has the potential to transform our culture for the next generation."
The Cohort
12 successful writers have been selected to participate in the programme. Discover more about their projects below.
Mentors
13 Mentors have been paired with the 12 writers. Discover more about each Mentor, and their Mentee, below.