Earth Hour Mural Project: Literature Wales x WWF Cymru
Published Thu 25 Mar 2021
Three walls on buildings in three towns across Wales have been transformed into works of art over the past few weeks, thanks to a poetry and street art project between local schoolchildren, WWF Cymru and Literature Wales in the lead-up to Earth Hour, which takes place at 8.30 pm on Saturday 27 March.
Literature Wales and the environmental charity WWF Cymru have been working with year six pupils at Ysgol Gynradd Dewi Sant, Rhyl; Ysgol Gynradd Aberteifi, Cardigan and Ysgol Gynradd Gymraeg Ynyswen, Treorchy to write poems, which have been transformed into three inspiring works of public art by street artist Bryce Davies of Peaceful Progress. The poetry workshops were facilitated by Bardd Plant Cymru, Gruffudd Owen.
All three poems created are unique and reflect the local areas and the children's desires for a brighter future for Welsh nature and tackling climate change. The murals include striking paintings of nature including seagulls, wildflowers, bees, otters, herons, and even a fierce dragon.
Rhian Brewster of WWF Cymru said:

"Earth Hour is a moment when millions around the world come together for nature and people, to call for change. We wanted to use this opportunity to give the children, our future generations in Wales a voice, ask them what they wanted to see. Their words will not only be immortalised as a stunning mural in their local town but will also be taken to world leaders as they decide the next steps towards action for climate change at the COP26 Conference in Glasgow later this year.

We would like to thank the pupils and teachers at all three schools for being part of this exciting project, as well as the building owners who kindly offered their walls for the murals and Rhondda Cynon Taf, Ceredigion, and Denbighshire County Councils for their continuous support in ensuring its success."
Some of the pupils from Ysgol Gynradd Aberteifi in front of the mural in Cardigan (photo by Julie John Photography)
Lleucu Siencyn, Chief Executive of Literature Wales said:

"Inspiring communities, developing writers and celebrating Wales' literary culture is at the heart of our work, and it has been such a pleasure to be part of this collaboration through our Bardd Plant Cymru initiative. Creative writing and poetry projects such as this empower children to express themselves and to have fun with words, which can have such a positive impact on their well-being."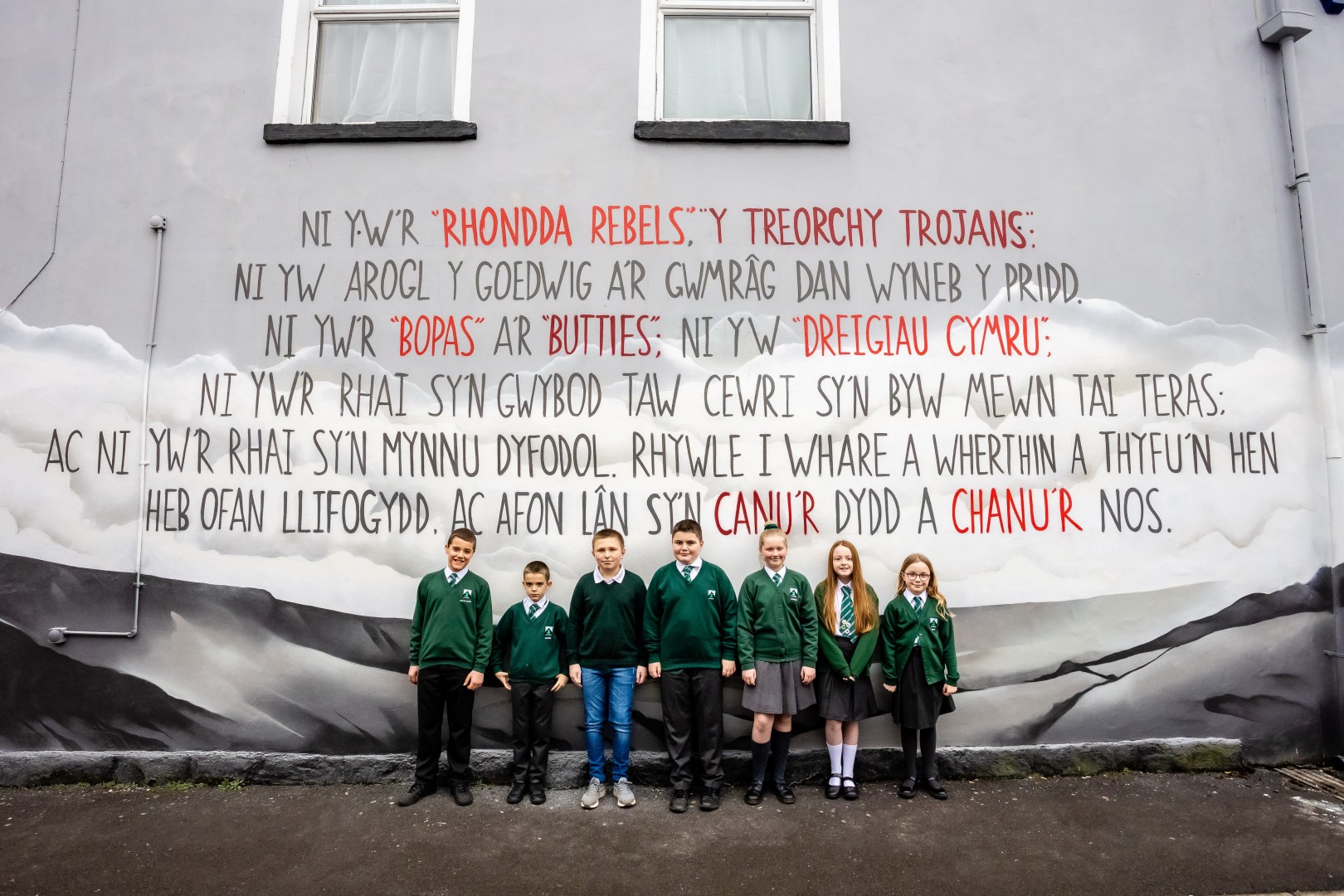 Some of the pupils from Ysgol Gynradd Gymraeg Ynyswen in front of the mural in Treorchy (photo by The Loft Studio)
Alec, a pupil at Ysgol Gynradd Aberteifi said:

"I really enjoyed learning and creating the poem with the Bardd Plant Cymru, Gruff during the live sessions. I enjoyed discussing WWF Cymru's work and I'm excited to see how the mural looks. Hopefully it shows how much we want to protect our climate and the nature of the area."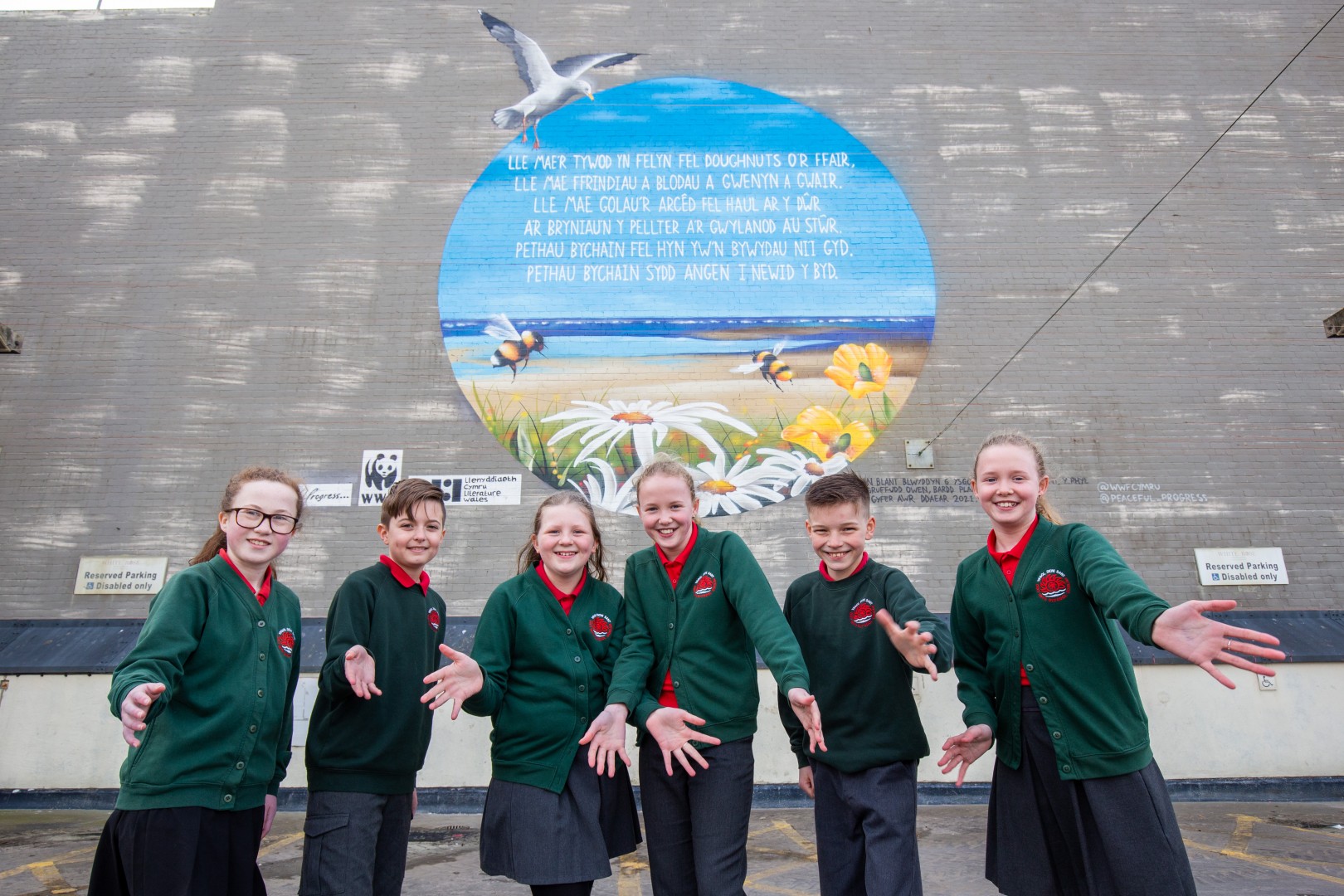 Some of the pupils from Ysgol Gynradd Dewi Sant in front of the mural in Rhyl (photo by Ginger Pixie Photography)
Mia, a pupil at Ysgol Gymraeg Dewi Sant said:

"I loved having this experience, something so different. I look forward to seeing it and it will remind me of my time at Ysgol Dewi Sant and make me feel proud of it. Caring for our world is a good thing to do and so important, we hope our poem helps people understand that. Our area is so beautiful!"
The murals can be found at the following locations:
Cardigan – on Priory Street, next to Finch Square Café
Rhyl – on the rear wall of the B&M Bargains shop overlooking the White Rose Centre Car Park on West Parade
Treorchy – on the side wall of The Lion Pub, Bute Street