Literature Wales seeks additional Trustees and a Deputy Chair to join its Management Board
Published Wed 23 Nov 2022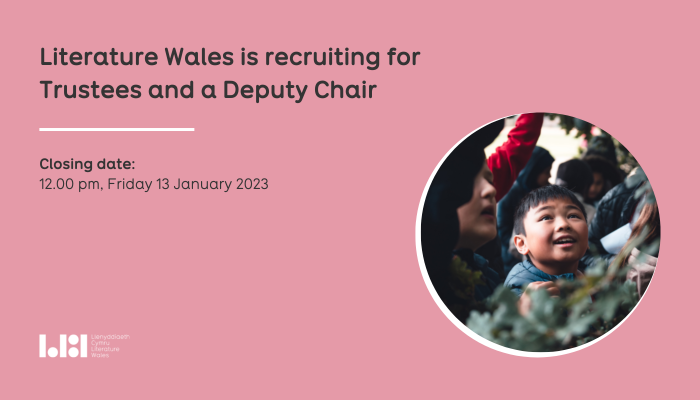 Literature Wales is looking for additional Trustees and a Deputy Chair to join its Management Board, to actively contribute to the organisation's culture, vision, and strategy.

Applications to join our Board of Trustees are now closed [12.00pm, 13 January 2023]. Keep an eye on our website as there will be further opportunities to join our board during the year.
Our Management Baard currently consists of eight Trustees, and is led by Chair, Cathryn Charnell-White.
Are you passionate about the arts and the transformative possibilities of literature? Are you committed to values of inclusion and fairness, and do you believe that culture in all its forms can bring about positive change to society? Do you have the knowledge and skills to support good governance, develop strategy and inspire positive change? If so, you might want to consider applying for this exciting role.
Who we're looking for:
We are looking to appoint a number of dynamic, committed, and creative individuals to our Management Board of Trustees, who can lead the organisation as we continue to re-imagine and shape our contemporary literary landscape, while remaining true to our mission and values.
We are looking for strong advocates who share the vision and values of the organisation and who will work with fellow Trustees and staff to ensure high standards of governance, transparency, and accessibility.
We encourage applications by people from a range of backgrounds and experiences, from within the literature sector and beyond. What is important to us will be your commitment and passion for our values and our mission to empower, improve and brighten lives through literature.
Many of our key programmes and initiatives are aimed at tackling under-representation and inequalities within the sector. Our ambition is to nurture a national literary culture which is representative of the whole of Wales.
At Literature Wales we work with writers, storytellers, and artists of all genres as well as creative practitioners, and we encourage individuals with those skills and experiences to apply for this role. However, we would like to be transparent about how this affects working with us in a wider capacity. Understandably, Charity Law states that Trustees cannot benefit from their charity, therefore during an individual's tenure they will not be eligible for any funding or opportunities that arise from Literature Wales activity.
A recent blog written by one of our Trustees, Christina Thatcher, provides an insight into the Trustee experience, the challenges and highlights. Click here to read more.
Questions about the role:
This position is a voluntary role, however Literature Wales believes that people should not be prevented from becoming a Trustee due to financial constraints. If you are unsure whether you would be able to commit the time required to act as a Trustee for financial reasons, please get in touch to discuss any concerns you may have.
If you have any questions at all or would like to have an informal conversation to discuss the role before applying, please get in touch with Alys Lewin, Company Secretary: alys@literaturewales.org
Key dates:
The deadline for applications is 12.00 noon, Friday 13 January 2023, with interviews taking place during the week commencing 23 January. The new Trustees will be invited to join the Board in its 21 February or 23 May 2023 meetings.
Applications can be made in written or video format. Details on how to apply, including our Recruitment Pledge can be found in the recruitment pack below.
If you would like to access this application in another format, please let us know. We are dedicated to meeting access requirements; just let us know what you need. ​
Please contact us at post@liteaturewales.org or by calling 029 2047 2266