Hay Festival Writers at Work 2023: Applications Now Open
Published Tue 4 Apr 2023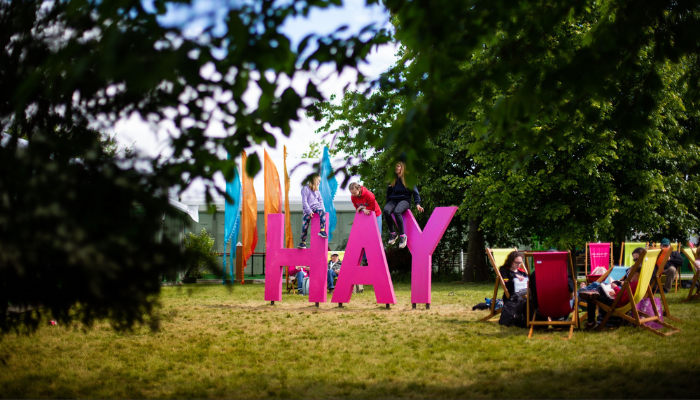 Appliations are now open for Hay Festival Writers Work, a creative development programme for emerging Welsh talent, supported by Literature Wales and funded by the Arts Council of Wales.
Relaunched today, 4 April 2023, Writers at Work offers a fully-programmed week of creative development opportunities, allowing selected writers to engage in the main Hay Festival events, to attend masterclasses and workshops with publishers, agents and, crucially, with established international artists. Hay Festival is the world's leading festival of ideas, bringing readers and writers together in sustainable events to inspire, examine and entertain on the edge of the Brecon Beacons National Park between 25 May – 4 June.
Open to writers working in English and Welsh across genres – fiction, non-fiction, creative non-fiction and poetry, Writers at Work is a Hay Festival project supported by Literature Wales and run by writer Tiffany Murray. Participants to date have achieved a spread of award wins and shortlistings, including Wales Book of the Year, the International Dylan Thomas Prize, The New Welsh Writing Award, the Wasafiri New Writing Prize, Wales Media Award, Welsh Rising Star Award, and Creative Wales Award. Established in 2016 to nurture Welsh talent writing in both languages, Writers at Work was paused during the Covid-19 pandemic. 2023 will mark its fifth year.
Literature Wales Artistic Director Leusa Llewelyn said:
"It's a pleasure to be working with the Hay Festival again on this important writer development programme. It has nurtured and inspired so many great Welsh writers who are now firmly established within our literary culture. Beyond developing the skills and knowledge of individual writers, it brings together a magical mix of creative minds from all parts of the country. Previous programmes have led to the creation of new networks and collaborations that have played an important part in transforming Wales' literature into a more representative, enterprising, and forward-thinking artform."
Hay Festival CEO Julie Finch said:
"Hay Festival is a convener of writers, readers and – crucially – creative opportunities. As one of Wales' largest cultural institutions we are proud of our Welsh roots and take our responsibility to the cultural landscape of Wales seriously. We are delighted to bring Writers of Work back for 2023 and update the format to meet the challenges Wales' emerging creatives face today, guarding and growing our creative impact for the future."
Writer and former participant Darren Chetty said:
"Being part of Writers at Work 2019 was a superb experience. I got to hear from leading writers and be part of a supportive community of Welsh writers. Three of us who met as Writers at Work went on to co-edit Welsh (Plural): Essays on the Future of Wales."
Find out more about the Writers of Work programme, and how to apply, on the project page.