Connor Allen is the Children's Laureate Wales for 2021-2023
Published Thu 7 Oct 2021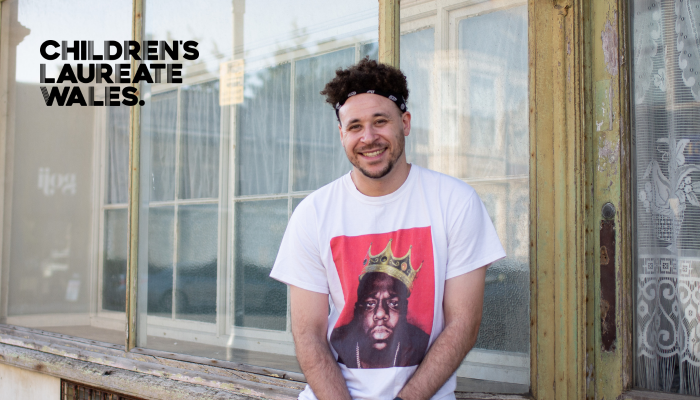 Over the next two years, poetry and performance will set the imaginations of children alight as the poet and multidisciplinary artist from Newport, Connor Allen, takes on the role of Children's Laureate Wales for 2021-2023.
Connor Allen was appointed as Children's Laureate Wales following a successful call-out in May 2021, and Literature Wales is thrilled to welcome such a talented, dynamic, and visionary artist to this ambassadorial post.
Connor's appointment was announced on National Poetry Day 2021, an annual UK-wide celebration that encourages all to enjoy, discover and share poetry. The celebration's goals happily reflect Connor's vision for the next two years, as he works towards making poetry accessible, fun, and relevant to children and young people across Wales.
Connor Allen said: "I grew up on a Council Estate in Newport, and poetry and the arts were always seen as a big, giant mammoth high above us… The opportunity to demystify poetry and present it as a simple expression of how you feel is one of the key reasons I wanted to be Children's Laureate Wales."
It was also announced that the poet and singer, Casi Wyn has been appointed as Bardd Plant Cymru 2021-2023. The two projects complement one another, and over the next two years both Connor and Casi will contribute towards nurturing a healthier, more creative, and more diverse generation of readers and writers across Wales. They will primarily work with young people aged 5-13 years.
Lleucu Siencyn, Chief Executive of Literature Wales said: "When children have the opportunity to meet an author, whether in the classroom, at a festival or on Zoom, they're introduced to to a world of creativity, which offers a wealth of personal benefits. As well as being excellent writers, Connor Allen and Casi Wyn are both natural performers, and I'm certain they'll draw on their many talents to inspire the children and young people of Wales to explore their creative voices. Our younger generations have so many important things to say, and I for one can't wait to hear them."

Deputy Minister for Arts and Sport, Dawn Bowden said: "I'm delighted that Connor Allen and Casi Wyn have been appointed to these influential roles. Every child deserves to have their voice heard, and to see their experiences reflected in Wales' cultural figures.  Engaging in creative writing and reading activities can transform lives, unlocking children's potential and opening new doors – and it's very exciting to see how they will share their stories and find confidence in their voices with inspiration from Connor and Casi."
The Poet
With several awards, publications and plays to his name, Connor is already a familiar face to many in Wales and beyond. Most recently, he was shortlisted for Triforce's Dave & UKTV Writerslam 2021, and was a Jerwood Live Work Fund recipient in 2021. His cross-genre work, which blends poetry, spoken word and theatre, often centres on themes such as grief, love, masculinity, identity, and ethnicity. Connor's priority as Children's Laureate Wales will be to empower children and young people to tell their own unique stories through poetry.
Connor says: "Children and young people have so much to say, especially today in 2021, and offering them an outlet to express how they feel about the world and themselves is just beautiful."
The Project
Founded by Literature Wales in 2019, Children's Laureate Wales is a national ambassadorial role awarded every two years to a talented and visionary Wales-based writer who is passionate about ensuring more children and young people discover the joy and well-being benefits of participating in literature.
Connor is the second to be appointed to the role, and will follow in Pembrokeshire-based children's author, Eloise Williams' footsteps.
During her two years as Children's Laureate Wales, Eloise took the new project from strength to strength. Despite the challenges and disruption caused by the COVID-19 pandemic, she continued to inspire the children and young people of Wales by stepping up to the challenge of digital activity. From designing weekly writing challenges, to encouraging children to write letters of kindness to themselves, to building a vibrant digital network of young readers, Eloise entertained and encouraged the children of Wales throughout her two-year tenure.
You can read more about her incredible achievements and listen to her farewell speech here.

Coming Up:
"Empowerment is the greatest creative tool we can offer to young people." – Connor Allen
Empowering his young audiences through creative expression will be Connor's priority over the next two years. By introducing poetry as an accessible creative outlet, he hopes to help children and young people unlock their potential, better understand their place in the world, and ultimately take ownership of their futures.
Working closely with children and young people from marginalised and under-represented groups will be a key aspect of his tenure. He's passionate about giving every child a voice and knowing first-hand the effect an unrepresentative and inaccessible literary culture can have on an individual, he'll be looking to champion a diverse range of young voices.
On top of school visits, Connor will deliver a variety of community, national and international projects and will pen official poems to mark special occasions and campaigns which are of interest to or affect children and young people. With the aim of reaching a wide range of young participants, Connor plans to adopt a hybrid approach to his projects by combing in-person and digital workshops.
It's set to be a busy two years, and you can follow all our Children Laureate Wales news over on Twitter at @Laureate_Wales and on our website, literaturewales.org.
Schools and organisations who wish to arrange a visit from the Children's Laureate are invited to contact Literature Wales directly through this contact page.
To make an enquiry, discuss project ideas and collaborations, or to commission a poem please contact childrenslaureate@literaturewales.org