Writer Spotlight: Hammad Rind on Writing, Creative Communities, and his Journey to Publication
Published Wed 13 Oct 2021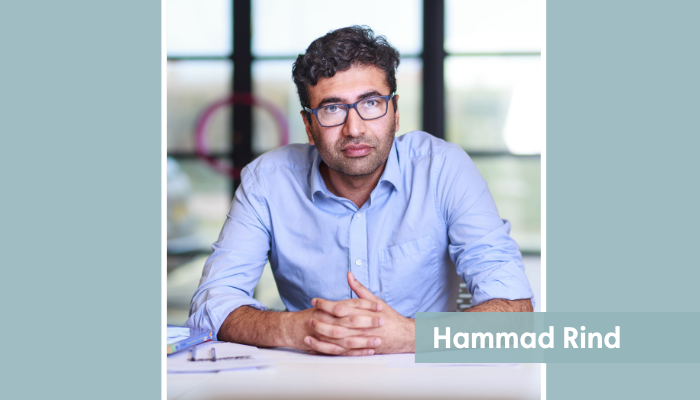 Hammad Rind is about to publish his first book, Four Dervishes (Seren Books), a novel described by Jon Gower as:
"Easily the most remarkable work of fiction to come out of Wales in a thousand moons."
Seven years ago, however, he still described himself as a creative writing novice.
Pinpointing his move to Cardiff as the motivation he needed to first put pen to paper, Hammad has since developed a startling and brilliant voice, blending genres and languages in his work, and all the while shedding light on social injustices.
Hammad Rind: Writer, Linguist, Social Commentator
Hammad Rind was born in Punjab, Pakistan, and currently lives in Cardiff, Wales. His stories and articles have appeared in a number of UK and international magazines including The Madras Courier, James Joyce Broadsheet and Y Stamp. He's a regular community and online workshop lead, predominantly running sessions on storytelling and Eastern literature.
His first novel, Four Dervishes, out on October 1, 2021, is a social satire based on a dastan by Persian poet, Amir Khosrow, and incorporates elements of magic realism. Not one to shy away from controversial issues, the novel challenges religious bigotry, the denial of women's rights, and class division.
With nine languages under his belt, including Urdu, Punjabi, Hindi, Persian, Turkish, Italian, and French, he adds singularity and authenticity to his work by incorporating elements of these different languages and literary cultures in his writing.
Literature Wales: Sparking Imaginations and Boosting Confidence
Over the years, Hammad has engaged in many of Literature Wales' writer development programmes, and we are proud to have supported such a talented writer as he refines his creative voice.
Hammad says:
"Literature Wales is a supportive organisation which has gone above and beyond in sharing opportunities and resources and encouraging me along the way."
Back in 2019, Hammad attended a trip to Hay Festival, arranged by Literature Wales in partnership with Hay for members of the 'Where I'm Coming From' open mic platform. The trip was an opportunity to connect with other Wales-based writers and for Hammad, resulted in a growth in confidence and increased investment in his writing.
Creativity Comes with Community:
Hammad initially started to write Four Dervishes in isolation but soon realised that contact with other writers and readers was key to his creative process. Off the back of his experience at the Hay Festival, he gained enough confidence to run various creative writing workshops. He has since enjoyed the opportunity of running creative sessions as part of Literature Wales' Platforming Under-represented Writers project and our Writer Commissions Project. These interactions proved to be valuable not only to the participants present but also in honing his own writing skills.
Keen to address social issues in practice as well on the page, his creative writing sessions focus on marginalised communities and aim to empower the participants.
You can read more about the worthwhile projects Hammad ran for Literature Wales  here and here.
We're always looking to discover and develop emerging writers and facilitate projects with community impact. This autumn, we will be launching the next edition of our flagship Representing Wales programme amongst other exciting projects. If you have any questions about these opportunities or about getting involved in Literature Wales activity, don't hesitate to get in touch on post@literaturewales.org.
Journey to Publication
Hammad says on his experience with Seren Books:
"They have made the whole process smooth and enjoyable."
Delighted to have secured a book deal with Seren Books after they initially approached him to run an Eastern poetry workshop for the Seren Poetry Festival, Hammad recalls that unfortunately before this experience, the journey to publication as an under-represented writer was far from easy.
Literature Wales is keenly aware that the Welsh and UK-wide publishing industry remain homogenous and persistently inaccessible to certain groups and communities. Representation and equality are strategic priorities for Literature Wales, and we are committed to creating a rich, diverse, and representative Welsh literary culture by addressing historical and structural barriers. You can read more about our work on representation and equality within Wales' literary culture here.
On the Horizon
Hammad is already busy working on his second novel and has several short stories in the pipeline. On top of this, he's also working on a couple of community projects, and will be delivering a new course on Eastern literature in the new year.
Four Dervishes is out on October 1st, and you can read more about it and order your copy here.