National Dance Company Wales and Literature Wales collaborate to produce three more short films
Published Thu 21 Oct 2021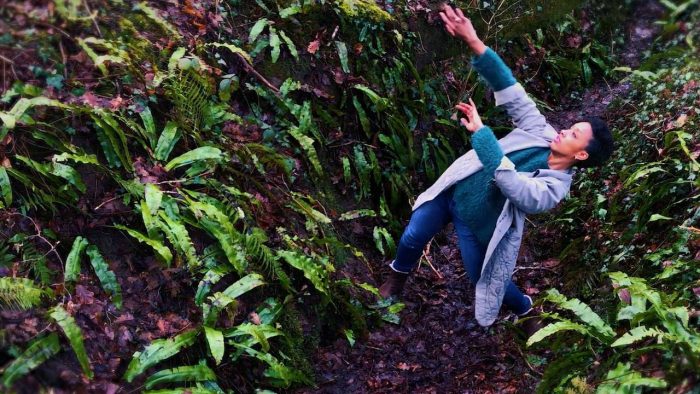 National Dance Company Wales and Literature Wales are joining forces once again to produce three short films featuring dance artists, poets and spoken word artists in Wales.
Plethu/Weave is a cross-artform bilingual collaboration which weaves poetry and dance together to create original short films. A truly collaborative process from the beginning, each short film reflects the experiences, fears, and hopes of the dance and literature artists, and offers the viewers a glimpse into Wales and the world at that moment in time.
In October half term, young dancers from the National Dance Company Wales' Associates Programme, which offers high-level contemporary dance training to young dancers aged 14-19 years old, will work with Jaffrin Khan (writer from Literature Wales' Representing Wales: Developing Writers of Colour Programme), choreographer Richard Chappell and dancer Kai Tomioka to produce a short poetry dance film.
Multidisciplinary performance artist Ffion Campbell-Davies and poet Marged Tudur (Winner of the Wales Book of the Year Welsh-language Poetry Award with her debut collection Mynd (Gwasg Carreg Gwalch) will collaborate on a new short film and in December, dance artist Yvette Halfhide & musician Helen Woods will work with Welsh poet and playwright Patrick Jones to produce a short film. Yvette and Helen deliver Dance for Parkinson's classes for National Dance Company Wales in four locations across Wales and online, delivered in partnership with English National Ballet. For more information and to book a class visit ndcwales.co.uk
National Dance Company Wales will also be producing five short films in a new partnership with Tŷ Cerdd. The affricerdd project is a new cultural collaboration between Tŷ Cerdd (Music Centre Wales) and Sub-Sahara Advisory Panel. The five films will bring together music artists of African descent paired with dance artists based in Wales. So far, the Plethu/Weave project has produced 15 films. Visit ndcwales.co.uk and click on the digital hub to watch the films that have been produced so far and discover more about the collaborating artists.
Matthew Robinson, Artistic Director of NDCWales said: "I am delighted that we are continuing to facilitate the creation of these inspiring cross art form films in collaboration with Literature Wales. The next series includes one film created with our Young Associates, a programme that nurtures young dance passion and is at the heart of NDCWales' Learning & Participation work. I am excited to see what emerges from all of the artistic collaborations in progress."

Lleucu Siencyn, Chief Executive of Literature Wales said: "It has been a joy to see the beautiful and inspiring results of the Plethu/Weave creative collaborations. Poetry and dance are both excellent forms of self-expression, and this project has demonstrated how they can intertwine to create stand-alone pieces of art. We're excited to see this collaboration continue and can't wait to see the work composed by these artists very soon."
For further information about Plethu/Weave, and each collaboration, click here.