Children's Laureate Wales: Children's Mental Health Week 2023
Published Wed 5 Apr 2023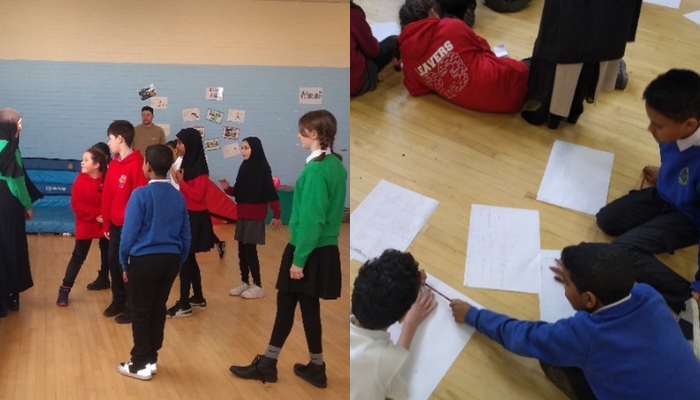 Over the course of Children's Mental Health Week, 2023 the Children's Laureate Wales, Connor Allen and poet and spoken word performer, Duke al Durham teamed up to lead a series of poetry workshops exploring the themes of community, connection, and identity.
"An inspirational, enlightening and engaging experience." 
–Kitchener Primary School Teacher 
The four days of workshops were held at Fitzalan High with Year. 6 pupils from surrounding primary schools. The workshops were organised in partnership between Literature Wales and the Cardiff Commitment Curriculum Team. The participating schools included St Paul's C. W. Primary School, Kitchener Primary, Ninian Park Primary, Lansdowne Primary, Radnor Primary, Grangetown Primary, St Mary the Virgin Primary, Mount Stuart Primary, Severn Primary and Fitzalan High School. Over 60 children took part and each child enjoyed two full days of workshops during which they were able to delve into different themes and create a gallery of their own creative pieces. 
"It was a very inclusive, fun, interesting and harmonious environment… the children will remember the memories they made in the workshop for years to come." 
– St Mary Church in Wales Staff Member 
Thanks @LitWales for this inspiring opportunity. @Laureate_Wales and @DukeAlDurham are having such an impact. @WG_Education @childcomwales @FitzalanHigh#literaturewales #letsconnect #childrensmentalhealthwales pic.twitter.com/QLKy1ncPrP

— Cardiff Commitment | Curriculum Team (@CdfCuric) February 8, 2023
Young people's mental health has been a key focus during Connor Allen's tenure as Children's Laureate Wales. Previous projects include working with the Royal College of Psychiatrists on a series of poetry workshops about the effects of technology on young people's mental health. You can find out more about the project in this news story.   
"The workshops empowered the children to think about and consider their mental health in a supportive and creative environment." 
– Ninian Park Primary School Year 6 Teacher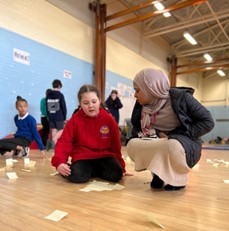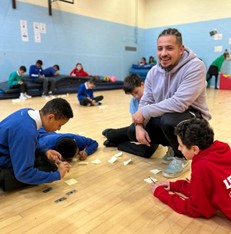 The poems created during the workshops will be used to create a mural at Fitzalan High School's new building in time for the opening in September 2023. The mural will be created by the artist collective, Unify who also attended the poetry workshops to ensure that the children's voices would be directly translated into the artwork. 
Health and well-being is one of Literature Wales' priorities. Our mission is to help use the healing power of literature to work towards a healthier Wales. You can find out more about Literature Wales' Health and Well-Being work in our 2022-2025 strategic plan. 
To find out more about the Children's Laureate Wales project visit our project page.