Our History of Wales: a new film by pupils from Cwmbran High School
Published Mon 15 Nov 2021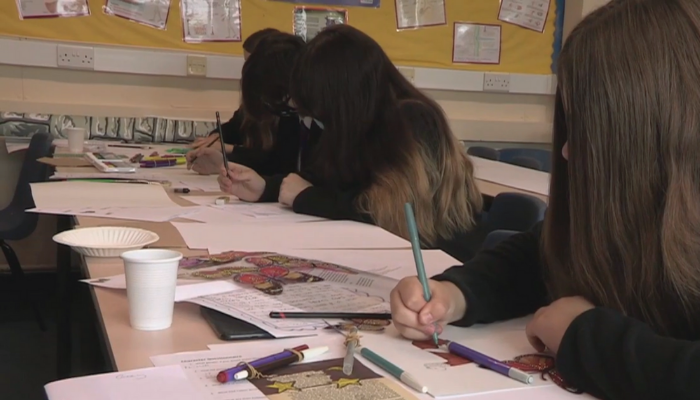 Literature Wales is delighted to share a new film, created with pupils from Cwmbran High School as part of our Llên Pawb | Lit Reach project in Torfaen.
Seven pupils took part in face-to-face workshops during June and July 2021, exploring film making and using words creatively to produce this captivating film, titled Our History of Wales.
The project was coordinated by Literature Wales as part of Llên Pawb | Lit Reach, a project funded by Literature Wales and Torfaen County Council, and in partnership with Inspire. The workshops were led by poet Jodie Bond and filmmakers Tracy Pallant and Amy Peckham.
Participation in literature is one of Literature Wales's three activity pillars and main areas of work. We aim to increase the accessibility and impact of creative writing for participants in Wales in order to inspire some of our most marginalised individuals and communities through active participation in literature.
Filmmaker Tracy Pallant said: "The young women had so many imaginative ideas as to how to illustrate their poems and creative writing on film. They made a great film together."

Poet Jodie Bond said: "I was delighted to be offered the opportunity to work with pupils at Cwmbran High School. I was wholeheartedly inspired by the creativity of the pupils. Over three sessions we worked together to craft poetry on the theme of Wales. We explored all aspects of life here, from the pride of sporting events, to our history, to everyday shopping trips. We designed a new animal for the flag of Wales and the pupils produced some beautiful illustrations to accompany their writing. Our sessions involved found poems, storytelling and prose writing. It's a wonderful feeling to witness children producing such astounding work and recognising their own achievements. I left every session beaming."

Huw Watkins from Inspire said: "The young people loved the workshops and produced some very creative, high quality and individualistic pieces of work. It was a pleasure to see them grow in confidence as the weeks progressed. The tutors were brilliant and brought the very best out of the young people, giving them the support and skills needed to flourish. I think the young people should feel very proud of themselves."

One of the young people who took part in these sessions said: "I enjoyed the sessions. My favourite parts were creating the Welsh poems and having the experience of filming. I definitely feel more comfortable speaking in front of people. It was nice to do something different and the tutors were lovely."
For further information on Llên Pawb | Lit Reach projects, and Literature Wales' wider participation work, visit: https://www.literaturewales.org/our-projects/llen-pawb-lit-reach/