National Poet of Wales Selection Panel announced
Published Fri 11 Mar 2022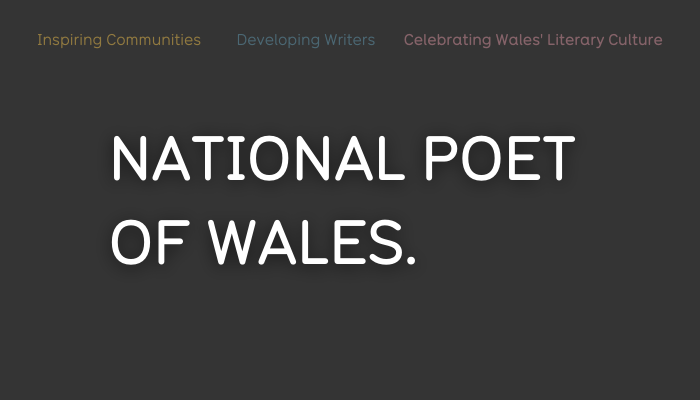 Nominations have been flooding in for the National Poet of Wales 2022 – 2025 since we announced a call for nominations on 20 January. As we enter the final stages of the nomination window, we are proud to reveal members of the Selection Panel for this important role.
On the panel are Natalie Jerome, the literary agent and Deputy Chair of Literature Wales; former Bardd Plant Cymru (Welsh-language Children's Poet Laureate) and author Casia Wiliam; Agent for Change at the Arts Council of Wales, Andrew Ogun; and Ashok Ahir, Director of Communications and President of the Court and Chair of the Board of the National Eisteddfod of Wales.
Andrew said, "I'm really excited and honoured to be a part of the panel for appointing a new National Poet of Wales. This is an incredible opportunity to platform and champion an exciting new voice that will be able to capture the beauty and breadth of the Welsh identity with their poetry, reflecting the journey that we are on and will continue to be on as a nation."
There are two ways to nominate. You can either nominate yourself for the role, or you can nominate somebody else. You can do this as an individual, or on behalf of an organisation, charity, or other business you work for. Please use this simple form. Further information about the process can be found here. Literature Wales is accepting nominations until 5.00 pm, 14 March 2022.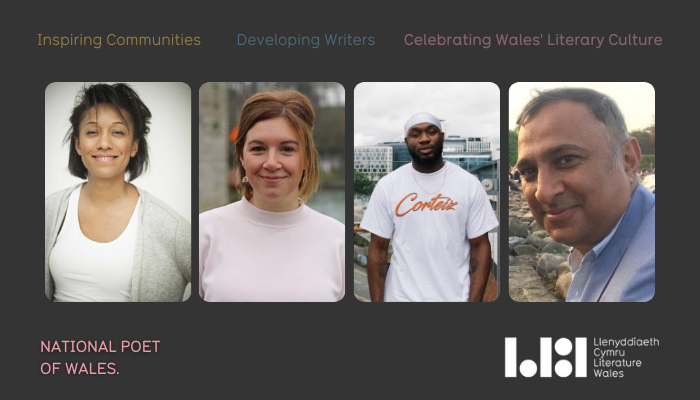 Ashok Ahir
Ashok Ahir is the elected President of the National Eisteddfod Court and Chair of the Eisteddfod Management Board. He was the Chair of the Organising Committee for the National Eisteddfod in Cardiff in 2018, an event that has been praised for its inclusiveness and openness. He is Director of Communications and Engagement for Qualifications Wales.He brings a wealth of business and management experience to the role having previously co-founded the communications agency, Mela, and as former head of politics at BBC Cymru Wales.He is a board member at Sport Wales and sits on the British Council's Wales Advisory Committee.Originally from Wolverhampton, Ashok grew up in a Punjabi-speaking household, but has since learnt Welsh fluently, and reached the final of the Welsh Learner of the Year Award in 2012.
Natalie Jerome
Natalie Jerome has worked as a Publisher and Acquiring Editor for some of the UK's most prominent publishing houses including Penguin Random House, Pan Macmillan, Bonnier Books and HarperCollins where she was a commissioner for ten years before making the move across to literary agenting for Aevitas Creative Management, a leading transatlantic independent literary agency. Included in the 2018 publishing trade magazine The Bookseller's Industry top 100, she was described as a 'brand publishing wizard' having acquired and published books that have sold, during the course of her career to date, six million copies driving revenue of £30m. Natalie specialises in commercial Non-Fiction and has commissioned and published books by a host of high profile names including the multi-million copy-selling One Direction titles as well as books from George Best, Alan Carr, Chris Evans, JLS, Little Mix, Gary Barlow and Rochelle Humes. As a literary agent, her clients include the actor David Harewood and Sir Lenny Henry.
As one of the few black Publishers in the UK, Natalie has worked to improve diversity within the industry. She is a board member for Literature Wales and is a founding trustee and board member for Creative Access, a mentoring and graduate trainee scheme for black and minority ethnic candidates looking for paid internships across the media sector. In her first 12 months as an agent she was shortlisted as Literary Agent of the Year at the 2021 British Book Awards and in 2016 Natalie was highly commended for her work at the National Business in the Community Race Equality Awards. Natalie is Deputy Chair of Literature Wales.
Andrew Ogun
Andrew Ogun is a 24 year old musician, writer, creative director and community organiser from Newport, Wales who's currently based in Cardiff. He is the main organiser for the Black Lives Matter movement in Gwent and is the Agent for Change at the Arts Council of Wales.
Casia Wiliam
Casia Wiliam is a poet, author and communications officer. Casia published her first volume of poetry for adults, Eilio ac Einioes during the summer of the pandemic, in 2020. She won the Tir Na Nog Award in 2021 for her children's novel, Sw Sara Mai, and the sequel, Sara Mai a Lleidr y Neidr is on Shortlist of the 2022 Tir Na Nog Award.As well as publishing her original work, Casia has adapted many well-known novels from English into Welsh, and in her day-to-day work is the Community Communications Officer for a climate change action organization called GwyrddNi.Casia was Bardd Plant Cymru 2017-2019 and was a member of the BBC Radio Cymru Talwrn y Beirdd team, y Ffoaduriaid for a decade before moving from Cardiff.She now lives in Caernarfon with her husband Tom, and their sons Caio and Deri.