Literature Wales and NDCWales release four videos from its dance and poetry collaboration online
Published Thu 17 Sep 2020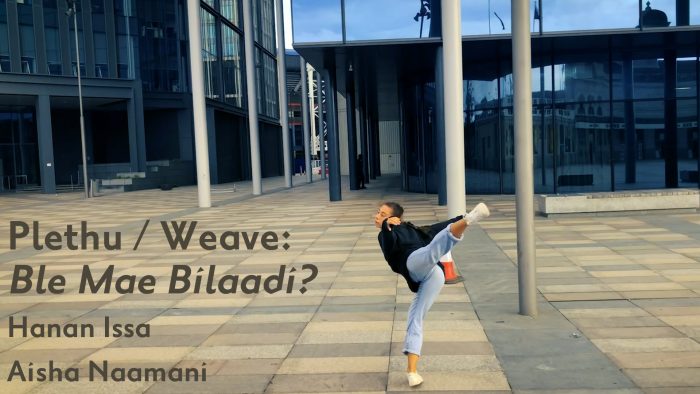 National Dance Company Wales (NDCWales) and Literature Wales' new digital cross-art form collaboration,
Plethu/Weave
has been capturing the voices of contemporary Wales through short videos.
Over the last few weeks four dancers from NDCWales and four independent artists have been paired with eight Wales based poets to create eight short films for audiences online. Inspired by their own stories, location, heritage and connection with Wales, the poets and dancers have been creating unique videos about what it means to be part of contemporary Wales.
So far four films have been released, with the most recent film released on Thursday 17 September. The first short film, Hirddydd by poet Mererid Hopwood and NDCWales dancer Tim Volleman was inspired by the words from the poem Daw'r Wennol yn ôl i'w nyth', ('The Swallow returns to its nest') by Waldo Williams and how the people of South Pembrokeshire lost their homes in similar circumstances to the families of Epynt near Brecon.
Ust by the National Poet for Wales, Ifor ap Glyn and NDCWales dancer Faye Tan explores the idea of complete harmony between words and movement. Both Ust and Hirddydd premiered as part of the National Eisteddfod's online festival, Gŵyl Amgen, before broadcasting on NDCWales and Literature Wales' social media channels in early August.
The third video release, Triptych Part I was created by Wales based Black Poet Marvin Thompson, and NDCWales dancer, Ed Myhill who is of British White heritage, and considers Wales's relationship with the Trans-Atlantic slave trade.
Poet Marvin Thompson said:
"Ed Myhill and myself have created a film inspired by my poem 'Triptych.' This poem is a response to a plaque in Brecon that commemorated a slave trader. Ed Myhill took the first section of 'Triptych,' an open message to Brecon Town Council, and remixed it over a soundscape that he composed. The film incorporates images of cornfields, the sea and the movement of our bodies to amplify themes of ecological destruction and enslavement."
The fourth video release Ble Mae Bilaadi? by poet Hanan Issa and Aisha Naamani has been inspired by their own mixed heritage connections and disconnection with Wales. Ble Mae Bilaadi? captures the juxtapositions between being a female, mixed race White / Arab living in Wales.
NDCWales dancer Aisha Naamani said:
"What was interesting about this project is that we could both relate on the grounds that both countries where we have our mixed heritage from, Hanan – Iraq and myself – Lebanon, have political climates that do not allow us to freely go and spend time there as much as we long to. These parts of us can become conflicted, as however much we want to go to these places, there never seems to be an appropriate time, and even if we do go, it is tense and fast paced due to the conflict and chaos that lives within its history.

Hanan has done a beautiful job of cultivating such a powerful poem; she captures the essence of feeling as though we belong here, but also long for somewhere else which is very different, and was not fully understood whilst growing up and perhaps something that we do not always understand for ourselves."
The remaining four videos are still in development for Plethu/Weave and are due to be released in October and November. NDCWales has appointed four independent artists: Shakeera Ahmun,  Jodi Ann Nicholson, Joe Powell-Main and Jo Shapland, who will work alongside the remaining four poets Connor Allen, clare e. potter, Aneirin Karadog and Elan Grug Muse.
NDCWales Associate Director, Lee Johnston said:
"The Plethu/Weave project offers the poets and dance artists the opportunity to connect via mutual concerns and curiosities – and in doing so create works that illuminate new questions, lived experiences and stories. I have found the first four films compelling, enlightening and nourishing, and it is heartening that these important films are in existence and can be shared widely."
Lleucu Siencyn, CEO of Literature Wales, said:
"Literature Wales is delighted to be part of this wonderful project with National Dance Company Wales. The first two cross-art videos created by Ifor & Faye and Mererid & Tim are wonderfully captivating, and we look forward to seeing the other works which will emerge from these additional artistic pairings. Celebrating Wales' literary culture is a key focus for Literature Wales, and what better way to do so than by supporting this series of collaborative content celebrating Wales' talented contemporary artists which will entertain, challenge and touch new and existing audiences of literature and dance."
The four Plethu/Weave videos are available to watch online through NDCWales and Literature Wales' Facebook, Instagram, Youtube and website channels. The remaining four videos will be broadcast every fortnight online as part of KiN:Connected, NDCWales' digital programme in October and November. NDCWales has been showing many of its productions online for the first time for audiences to watch for free as part of its online programme KiN:Connected, including Dream (Christopher Bruce CBE), Rygbi: Annwyl i mi/ Dear To Me (Fearghus Ó Conchúir) as well as a live streamed Zoom version of Ed Mpyhill's Clapping.
Hanan Issa
Hanan Issa is a Welsh-Iraqi poet and writer. She has been featured on both ITV Wales and BBC Radio Wales and worked in partnership with National Museum Wales, Artes Mundi, Warwick University, Swansea Fringe, StAnza festival, Wales Arts International and Seren Books. Her work has been published in Banat Collective, Hedgehog Press, Wales Arts Review, Sukoon mag, 4 Journal, Poetry Wales, Parthian, Y Stamp, sister-hood magazine and MuslimGirl.com. Her winning monologue was featured at Bush Theatre's Hijabi Monologues. She is the co-founder of Wales' first BAME open mic series 'Where I'm Coming From'. She was a 2018-2019 Hay Festival Writer at Work. Her debut poetry pamphlet My Body Can House Two Hearts was published by BurningEye Books in October 2019.
Aisha Naamani
Before training at London Contemporary Dance School, Aisha grew up in South Wales and was an associate of National Dance Company Wales from 2012-2015. Since moving to London, she has performed works by Richard Alston, Wayne Parsons (Rafael Bonachela), James Cousins and Hofesh Shechter amongst others. Aisha has had some of her own choreographic works shown at The Place and was a scholar of the Peggy Hawkins Scholarship Fund. Aisha joined NDCWales as an apprentice dancer in summer 2018, performing works by Matteo Marfoglia, Mario Bermudez-Gil and Caroline Finn before becoming a company dancer the following year.