Just so You Know: Essays of Experience – Online Book Launch
Published Thu 11 Jun 2020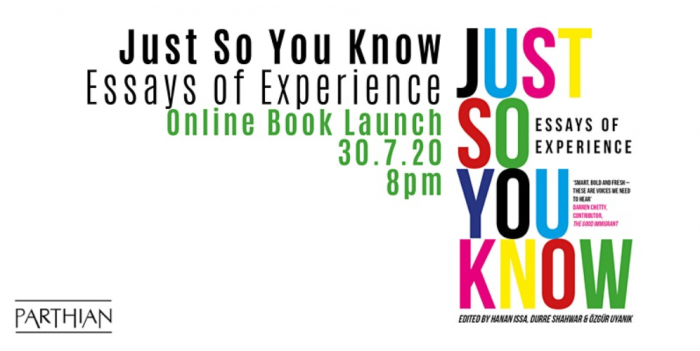 Parthian Books
are delighted to announce that they will be launching a collection of essays from marginalised voices,
Just so You Know: Essays of Experience
, on
30 July 2020
, in an
online event.
Including exclusive peeks inside this exciting project, readings from contributors and a Q&A with editors Hanan Issa, Durre Shahwar and Özgür Uyanık, the event will be continually available to stream on the Parthian website from the aforementioned date. Tickets are free and are already available via Eventbrite at the link here.
Just So You Know seeks to explore distinct and absorbing topics from an extensive array of compelling viewpoints such as self-identity, erasure of heritage, language and culture, the immigrant experience as well as problematic notions of the other by BAME, LGBTQ+, neurodivergent and disabled writers confronting heteronormative and neurotypical ideals – issues all rarely addressed through a Welsh lens.
'In these pages, stories, issues and lives that have all too often been swept under the carpet are brought into the light. It is writing that is carefully crafted, always resisting the temptation to simplify and clean-up difficult topics. Wales is a constant – as home, as a point of arrival and departure – but these personal narratives challenge us to think anew.'
Darren Chetty, Contributor, The Good Immigrant
Just so You Know features contributions from: Isabel Adonis, Kate Cleaver, Taylor Edmonds, Dylan Huw, Ruqaya Izzidien, Bethan Jones-Arthur, Derwen Morfayel, Grug Muse, Dafydd C Reeves, Ranjit Saimbi, Nasia Sarwar-Skuse, Ricky Stevenson, Kandace Siobhan Walker, Josh Weeks, Sarah Younan. 
Parthian was set up by Richard Davies, Gillian Griffiths and Ravi Pawar in 1993. All three are still with company and Ravi Pawar is Chair of the board. It was initially established to publish Richard Lewis Davies's first novel, Work, Sex and Rugby, but quickly developed into a leading independent publisher based in Wales with a focus on Welsh writers working in English while also assembling a carnival of voices from many languages and cultures. Parthian received the inaugural Bookseller Small Publisher of the Year Award for Wales.
Just so You Know: Essays of Experience is released in the UK on Saturday 1 August 2020.
*The above article is shared on behalf of Parthian Books