Swyn-gân / Summoning | Plethu/Weave Film #8
Published Thu 19 Nov 2020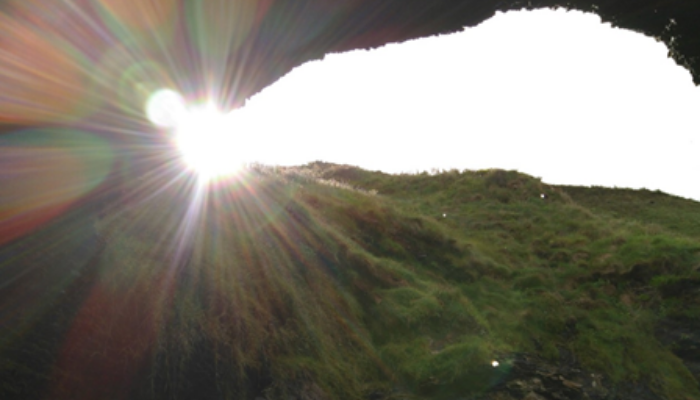 This is a blog written by clare e.potter who collaborated with Jo Shapland to create Swyn-gân / Summoning, as a part of Plethu/Weave, a digital cross-artform project by Literature Wales and National Dance Company Wales.
Cynghanedd is complex. As a second language Welsh speaker, I'm in awe and fear of it. I know some of my English poetry has elements of this complex harmonising, but it's more by instinct than an understanding of the rules. What I wanted to do in my poem for this Plethu project, was not to try to find how to write in cynghanedd, but to be open to harmony, to be receptive to my collaborative partner, to 'co-translate' this form into another form in order to better understand it.
When I met Jo Shapland, it was via email before we spoke. She had a pretty tight schedule and already had a strong sense that she wanted to film in Pwll y Wrach, near to her home in Llandudoch, Pembrokeshire. I was caught a bit off guard as I've never been to that place; how could I write an authentic poem about a landscape I'd never visited. I'd wanted to write something about language, about the relationship between Welsh and English. How would this fit in to a very specific place? But, I looked it up and was drawn in immediately. The place itself, is complex, full of mystery. As soon as I spoke to Jo who explained her almost 'primal pull' to this collapsed cave, I got it. She shared how she communicates as a dancer, 'body words' she said, and I was entranced by the way she spoke about the pre-verbal, about the words that come out from deep within when she moves. Attention to internal rhymes and rhythms, then. We settled on that as core.
I studied images of Pwll y Wrach online and from the beautiful photos that Jo had shared with me from her recce (the one here, revealing a face in the rock), and I watched (over and over) videos of people approaching Pwll y Wrach from the sea, in kayaks. I felt that if I couldn't visit, I had to gain access somehow. I was struck by the labyrinths into the witches' cauldron, the shapes in rocks like mouths, releasing sounds, from gentle lapping to venomous spitting. I was trying to do what Jo said she does, I was 'going in,' to the physical space and to what was happening to me as I did, to the space that was not words.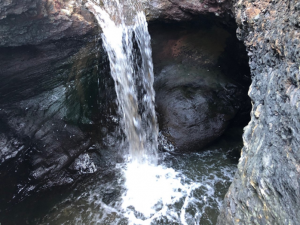 I wanted to know more about witches. Had witches been active in this area? I contacted Efa Lois an illustrator who knows a lot about Welsh witches; this got me on a research trail revealing that witches in Wales were less persecuted than elsewhere, perhaps—it's been suggested—because of their 'strange' language and because they were regarded as healers. I read too about the witches' marks made on rock as protection. I began to think of the marks on the rocks in Pwll Y Wrach, maybe they weren't made by witches but by the language under the sea bed, in the very making bowl of words, etched on rocks 'the sea's graffiti. ' I instinctively used the line 'yr iaith gaeth ar y traeth' in Welsh, it's a nod to strict rules on language, but also showing how words held back are healed on the shore, released and heard.
I sent Jo the poem in text but also as an audio file as I appreciated that she might react to sounds in another way to words. She said 'The sound recording became a cradle of form for my filmdance.' Thinking more on movement, Jo wondered:
How could I go beyond illustrating the poem? How could the movement and edit have its own language? How could this edited interaction with place take on its own story that resonated with the sense of place, the genius loci and invite a deepened sense of the words of this rich and beautiful poem? How could I intuitively dance with cynghanedd?
And perhaps the most important of Jo's questions: 'What does the place want me to do?' I think we both knew that on some level, that place, the spirit of it was already speaking and we both became the translators of that. Jo said she 'worked with the rhythms of rock shapes and currents' as much as the words. During the whole process, Jo said a seal 'punctuated the beginning and the end of the visits to Pwll y Wrach for the project' and that both she and Anita Kolaczynska (who filmed Jo dancing) were very moved by this witness.
I was astounded by the film she made. In the same way Jo said my poem captured the essence of what she felt of the place, her dance and film did the same for me. I love the sea in her eyes and her hands in the gap. I love the slowing down and speeding up, the silent murmuring. This whole thing has a magical quality to it, abundant with metaphor (and the synchronicities that happened during filming, like the seal, the face in the rock and the doves taking off).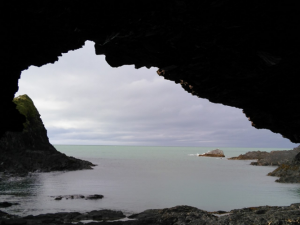 We called the piece Swyn-gân / Summoning, and as much as we were hearing and making an incantation, there was, too, the release of that. In Jo's words:
[I had] an intuitive vision of blue fabric as being the final image… an urge to dance on the chin of rock with blue silk and to encourage the capturing of it in the wind… Why? It just made sense, beyond words, but with the poem's words, with the cynghanedd.
clare e. potter