Poems from the Mothertongues poets
Published Thu 30 Apr 2020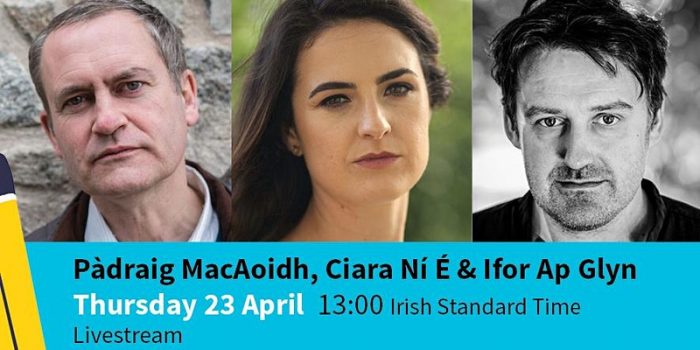 To celebrate
Poetry Day Ireland 2020
, we're delighted to share the poems read aloud by Ciara Ní É, Ifor ap Glyn and Pàdraig MacAoidh from the Mothertongues event, for
Cuirt Festival
, Galway last week.
Read and revel in the poems below and to hear them in their mother tongue watch the video
here
Ciara Ní É is DCU Writer in Residence 2020. She is the founder of REIC, a monthly multilingual spoken word and open mic night that features poetry, music, storytelling and rap. She has performed internationally in New York, London, Brussels, Sweden, and across Ireland, and she is an Irish Writers Centre ambassador. Her work has been published in a variety of journals including Icarus and Comhar and her first poetry collection is forthcoming.
National Poet of Wales Ifor ap Glyn was born and bred in London to Welsh parents. He is a multi-award-winning poet, presenter, director and producer. A prolific writer, Ifor has twice won the Crown at the National Eisteddfod – one of the festival's most prestigious prizes. Ifor has represented Welsh poetry around the world in both the Welsh and English language, most recently in Cameroon, Lithuania, China, Belgium, Germany, and Ireland.
A native Gaelic speaker from the Isle of Lewis, Pàdraig MacAoidh is an academic, writer and broadcaster whose work is influenced by the diverse linguistic heritage of his birthplace. Padraig has worked at the Seamus Heaney Centre for Poetry, Queen's University Belfast; Trinity College Dublin and University College Dublin; and at Sabhal Mòr Ostaig, where he was writer in residence. He is the author of a monograph on the work of Sorley MacLean (RIISS, 2010), and has co-edited collections of essays on modern Irish and Scottish poetry and on Scottish Gaelic literature.