O'r Lludw | Plethu/Weave Film #7
Published Thu 5 Nov 2020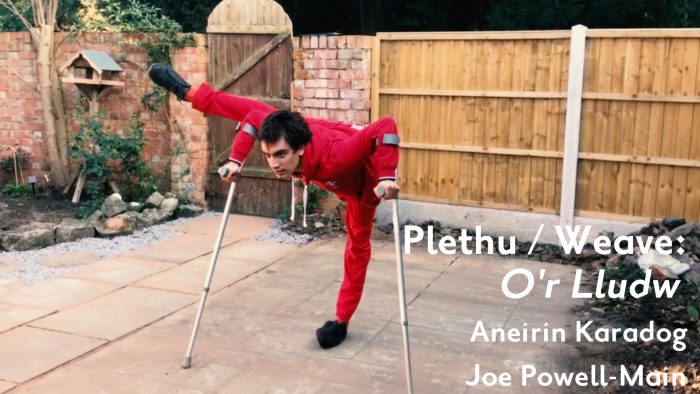 This is a blog written by Aneirin Karadog and Joe Powell-Main who collaborated to create O'r Lludw, as a part of Plethu/Weave, a digital cross-artform project by Literature Wales and National Dance Company Wales.
'Flight Like Phoenix'
The process of combining dance with a poem is an unusual one. I have previously performed to a spoken word soundtrack, but almost always the spoken word component has been created as a separate entity that I have then decided to use for my work.
The appealing factor for this project for me was the fact that two art forms, dance and poetry would be coming together and especially in these unprecedented times that we face, connections, albeit virtually, are even more rare.
When I create movement, I tend to work in a specific way and use the music as the starting point. I know that some choreographers work differently, but to me I like the movement to have a correlation to either the sound score or the music. I was intrigued as to whether I would work this way with the poem or whether I would create the movement first before finding the sound score. As it happened I used this process of creation again and after speaking with the poet, Aneirin, we decided that having music underneath the poetry would allow rhythmic quality to shine though both the movement and the poetry.
It was interesting to see the other collaborations produced by some of the other poets and company dancers at NDC Wales. I found watching these creations incredibly informative as to how the collaborations had worked and it was interesting to see the subject matter that was the driving force for each creation. Some focused on deeply personal subject matter and within that there was also a crossover into how these subject matters are viewed in the modern world we live in.
I really wanted to highlight the fact that it is important that as we enter the post Covid-19 world that disabled artists are not forgotten and that we continue to strive for inclusivity across all art forms. I truly believe that the world would be a much less creative place if we didn't celebrate the obstacles that we can sometimes face, that make us stronger and more willing to create. The #weshallnotberemoved campaign really ignited a fire in me to hopefully show, as much as I can, that inclusion in dance is absolutely possible. With that being said the idea behind our film was to represent a renaissance of sorts, to show that disability and inclusion may not have been so prominent in the past but that is changing and to be on the cusp of doing something positive, different and new is exciting.
I really enjoyed working with Aneirin. From the moment we had our first zoom meeting I really felt that we were on the same page.
The challenge I found with working remotely is that sometimes it delayed the creative process, due to us not being able to be in the same place at one time. If this project had been conceived before the current situation, I think that I would have probably invited Aneirin to be present in the studio during the creation period. I do however think that because we both were so passionate about showcasing that obstacles do not hold us back but can change the way things are done, we were able to work together really cohesively.
I would really to thank Aneirin for writing such a beautiful poem O'r Lludw (From the Ashes) and I am so glad the Welsh language was embraced in this poem.
If I have taken one thing away from this project, is that the arts are incredibly versatile and adaptable. This project has certainly given me hope for the future of the arts and I hope it has to others too!
Joe Powell-Main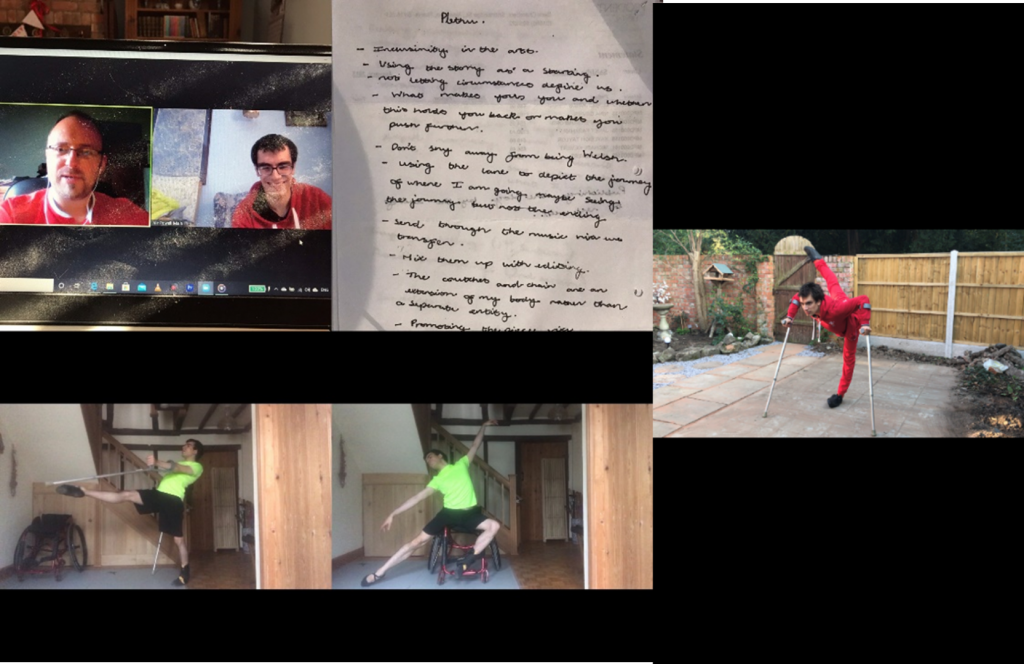 As Joe Powell-Main notes in his blog entry, the idea of ​​integrating dance and poetry is unique and to my mind, very exciting. I know of similar projects that have explored the similarities between elements such as cynghanedd and kathak dancing from Uttar Pradesh province in northern India. There is no doubt that many different aspects of poetry and dance can be interrelated and indeed watching the masterpieces of the other poets and dancers in the Plethu project series has been an inspiration.
With a degree of nervousness, as is natural when meeting someone for the first time, I was introduced to my dance partner in this project, Joe Powell-Main from Powys. From the very beginning we were singing from the same copy of the hymn book, agreeing on a vision of how to create a dance to an accompaniment of poetry, or indeed a poem to the accompaniment of dance. The power of Joe's story was clear from the outset – how he developed a disability at an early age at the start of his dancing career, and how he has overcome, and continues to overcome his disability for the good to express himself by dancing, whether using a wheelchair or crutches. This inspirational story that Joe lives offers itself as the basis for the poem's content.
With that in mind, it was important to me that the work was underpinned by Joe and his dancing. Despite the fact that we were some distance apart, thanks to technology, I was able to watch several clips of Joe dancing in his home and beyond, and what a privilege that was! I like to think I can handle words fairly well, but Joe's use of his body and energy to convey emotion takes your breath away. At times, it challenges gravity! Watching Joe dance and put together a sequence of movements inspired the imagery used in the poem and the shapes we see Joe create. Joe also offered the poem's title 'From the Ashes', based on the idea of the phoenix rising from the ashes that not only allows one to experience renaissance after formative experience but also to fly gracefully as a phoenix.
Aneirin Karadog