Watch all eight NDCWales & Literature Wales' Plethu / Weave cross-art form short films online
Published Thu 12 Nov 2020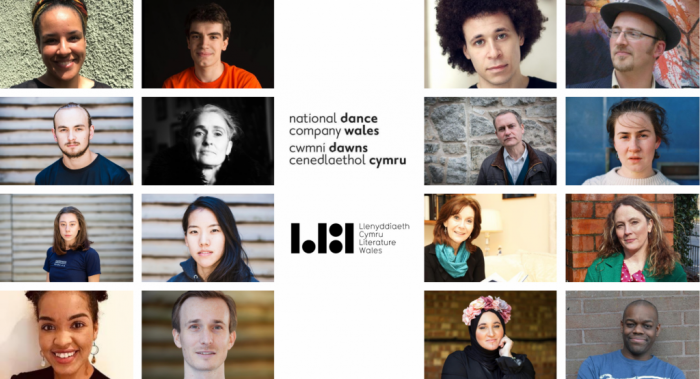 All eight short films from National Dance Company Wales (NDCWales) and Literature Wales' cross-art form digital poetry dance collaboration, Plethu/Weave are now available to watch online and also through Chapter Arts Centre's monthly Movie Maker screening in December.
Since August, eight NDCWales dancers and independent artists have been paired with eight Wales based poets to create eight short films for audiences online. Inspired by their own stories, location, heritage and connection with Wales, poets and dancers have been creating unique videos about what it means to be part of contemporary Wales.
Last month, Poet Connor Allen and independent dance artist Jodi Ann Nicholson's Plethu/Weave video The Branches of Me was broadcast and was inspired by their mixed race identities and the Black Lives Matter movement.
Jodi Ann Nicholson said:
"The Branches of Me was born out of conversations around our mixed race identities, the Black Lives Matter movement and what this means in relation to us. The Branches of Me begins to look at how we find a sense of harmony within a mixed identity in a society that often talks in terms of being 'White' or 'Black."
The seventh Plethu/Weave video release by dancer Joe Powell-Main and Welsh language Poet Aneirin Karadog stemmed from the #weshallnotberemoved social media campaign.
Joe said:
"O'r Lludw recognises and celebrates the contribution that disabled artists make to the arts community as whole. I really wanted to highlight the fact that it is important that as we enter the post Covid-19 world that disabled artists are not forgotten and that we continue to strive for inclusivity across all art forms. The #weshallnotberemoved campaign really ignited a fire in me to hopefully show, as much as I can,  that inclusion in dance is absolutely possible. With that being said the idea behind my film was to represent a renaissance of sorts to show that disability and inclusion may not have been so prominent in the past but that is changing and to be on the cusp of doing something positive, different and new is exciting."
The last Plethu/Weave video to be released on 12 November is the 90 second video Swyn Gân (Summoning) by independent dance artist Jo Shapland and Welsh poet clare e. potter is inspired by mystical aspects of communication, how the body, land and nature speak.
Poet claire e. Potter said:
"I'd wanted to write about language, about the relationship between Welsh and English. Jo has an almost 'primal pull' to the collapsed cave of Pwll y Wrach in Pembrokeshire and I got this. She shared how she communicates as a dancer, 'body words' she said, and I was entranced by the way she spoke about the pre-verbal, about the words that come out from deep within when she moves. Attention to internal rhymes and rhythms, then. We settled on that as core."
The last three videos are now available to watch all online along with previous five short videos via NDCWales and Literature Wales' social media channels, website and AM channels.
From the 7 December all eight short Plethu/Weave films will be available to watch as part of  Chapter Arts Centre's Movie Maker online channel on https://chapter.vhx.tv/
NDCWales Associate Director, Lee Johnston said:
"The Plethu/Weave project has enabled 16 artists to express timely and valuable reflections on this important moment in time for humanity.

The expressive power of dance and poetry combined is potent, as all eight films soar around the landscapes and languages of Wales and dive into the contemporary feeling of Wales' people. All eight films have been inspiring, authentic and courageous."
Lleucu Siencyn, CEO of Literature Wales, said:
 "These very moving films, created as part of the Plethu/Weave dance and poetry collaborations, have given us a chance to reflect on some of the important themes and ideas which have emerged in Wales and the world during this year. The project has created opportunities for the poets to work within an entirely different medium, and has celebrated Wales' literary culture in new and exciting ways. Literature Wales is thrilled with the outcomes; these works have been fascinating and has made us think again about the deeper purpose of poetry and dance and the role that culture plays in our society."