Literature Wales announces the 13 writers who will provide mentoring for the Representing Wales: Developing Writers of Colour programme cohort
Published Tue 22 Jun 2021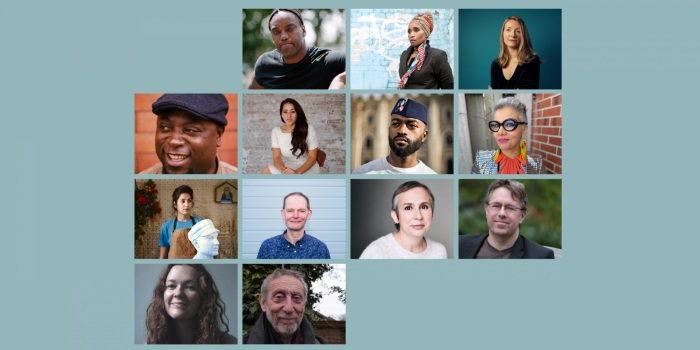 Literature Wales has today announced the names of the 13 Mentors appointed as part of the Representing Wales: Developing Writers of Colour programme.
The Mentors, who are some of the most exciting and high-profile writers in their field, are Ishmahil Blagrove, Malika Booker, Zoë Brigley, Eric Ngalle Charles, Salma el Wardany, Inua Ellams, Mona Eltahawy, Jasleen Kaur, Daniel Morden, Abi Morgan, Alastair Reynolds, Manon Steffan Ros, and Michael Rosen.
Representing Wales: Developing Writers of Colour is a flagship programme by Literature Wales. The aim is to transform the Wales' literary culture into one that is truly reflective of its diverse voices, and to establish a pipeline of diverse Welsh talent that will be recognised across the UK and beyond. You can find out more about the programme here.
The mentors are some of the most exciting and successful names in literature, and each one offers a wealth of accolades, genres, and experiences. From a Welsh Sci-Fi author to a BAFTA-winning screenwriter, to one of Britain's best loved writers and performance poets for children, the Mentors' input will have a direct impact on the individual writers' trajectories and projects, and in turn, on the wider literary sector.
Mona Eltahawy, one of the programme Mentors said: "One of the biggest challenges to being a writer of colour is that you often feel you're the only one, with few examples of how to proceed in a white publishing industry. The mentoring scheme can help the mentee by pairing them with writers further along in their career who can offer advice and solidarity."
The Representing Wales programme runs for 12 months, and one-to-one mentoring is an integral part of each writer's creative and professional development. The mentors will help the writers build confidence in their writing, develop their profile in the literary world in Wales and beyond, as well as broaden their knowledge of the wider publishing sector and networks.
The Mentors were each selected in consultation with the cohort of writers on the programme. Over the course of the year, the Mentors and writers will discuss and develop literary specialisms and genres, as well as share personal experiences of their respective writing journeys.
Lleucu Siencyn, Chief Executive of Literature Wales said: "The historic lack of representation in our literary culture is slowly changing. Mentoring is a central part of the Representing Wales programme, nurturing the exceptional, diverse voices of Wales and developing each writer's potential to transform our literary culture for the next generation. We look forward to following each mentor and mentee's journey over the next few months."
Each pair will meet several times during the year, with sessions covering a range of topics and themes, from editing creative work, to exploring professional opportunities. The sessions are designed to be as bespoke as possible, with each partnership working towards achieving the writers' individual aims. You can find out more about the programme's cohort of writers and their aims here.
Zoë Brigley, another programme Mentor said: "The fact is that it isn't a level playing field, and not all of us have the same access to resources and advice. It's so important to ensure that there is not just equality but equity, lifting up those who need support to fully realize their voices and potential."
For further information on the programme, and to learn more about each Mentor, visit the Representing Wales project page.