Literature Wales and Firefly's Rising Stars 2021
Published Wed 20 Jan 2021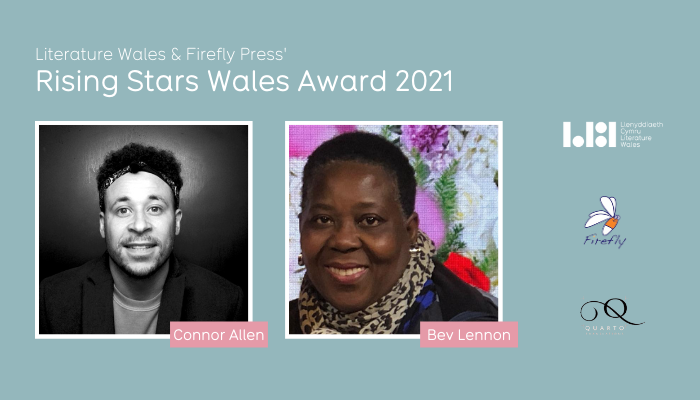 Literature Wales and Firefly Press invest in emerging children's poets from Black, Asian and Minority Ethnic backgrounds based in Wales.
The Rising Stars Wales Award, held in partnership between Literature Wales and Firefly Press, gives Children's Poets from Black, Asian and Minority Ethnic backgrounds based in Wales the opportunity to further-develop their skills and writing for children. In this second round of the initiative, following a successful first round in 2020, Literature Wales and Firefly Press are extremely pleased to announce that two poets who show exceptional promise have been selected to receive a 2021 Rising Stars Wales Award.
The poets are Connor Allen and Bev Lennon.
Both poets will receive a cash prize of £100 each, sponsored by Quarto Translations, and writer development opportunities from both Literature Wales and Firefly Press, with the view to featuring their work alongside that of three previous Rising Stars Wales Award winners in a forthcoming anthology. The poets will also receive a mentoring session with the winner of the 2020 Rising Stars Wales Award, Alex Wharton, whose debut poetry collection for children Daydreams and Jellybeans is published this month by Firefly Press.
Literature Wales' Strategic Plan 2019-2022 identifies Representation and Equality as one of its three tactical priorities for the forthcoming years. Children's literature has historically not been representative of a diverse range of voices and stories, and Literature Wales acknowledges that there is still much work to be done to address this. Reflecting Realities, a report published by the Center for Literacy in Primary Education, revealed the stark statistics that only 7% of the children's books published in the UK over the last 3 years (2017, 2018, 2019) feature characters from a Black, Asian or minority ethnic background.
The Rising Stars project is one of many new initiatives announced by Literature Wales to address under-representation in the literature and publishing sector in Wales. Following a callout last year, Literature Wales will also announce the cohort selected for the first Professional Development Programme for Writers of Colour in the coming weeks.
At Literature Wales and Firefly Press, we believe that Wales' writers should comprise of a range of ages, socio-economic backgrounds, ethnicities, genders, regions and languages and not be typified by certain limited demographic profiles. Investing in authors from Black, Asian and Minority Ethnic backgrounds is a crucial step towards ensuring that there are no barriers in literature.
Connor Allen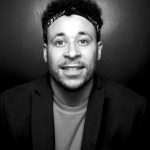 Since graduating from Trinity Saint David as an Actor, Connor Allen has worked with companies such as The Torch Theatre, Sherman Theatre, Tin Shed Theatre and National Theatre Wales. He is a member of National Youth Theatre of Great Britain and was also the winner of Triforces Cardiff Monologue Slam, representing Wales at the London winners edition. As a writer he has written for Dirty Protest, Sherman and BBC Wales. He has worked in Parc Prison running a creative writing and self-empowerment project called Prison Headz and he's had an Arts Council Wales funded debut play and a Literature Wales commission called 27. He's also part of the BBC Wales Welsh Voices 19/20 and The Welsh Royal Court Writers Group.
Bev Lennon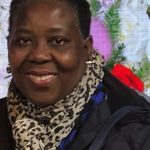 Bev Lennon hails from south London and moved to Barry in 1987. She started learning Welsh in early 1990.  Radio credits include: Learning Welsh on BBC Catchphrase and having her own show Bev.  By 1997, she gained her BA Ed. Her debut TV Comedy sketch was commissioned by The Real McCoy (BBC). She features in The Joke's On Us by Pandora Press. Her poem The Consultation is in an anthology Allan o'r Golwg (Disability Arts Cymru). Bev was honoured with the Gwisg Las in the National Eisteddfod 2019. Bev practices Mindfulness and enjoys creative writing. She is a Supply Teacher of Welsh.
Firefly Publisher Penny Thomas said: "We're absolutely delighted to be a part of Rising Stars 2021 and are very much looking forward to working with the winners and other emerging writers from diverse backgrounds over the coming months with a view to a possible children's poetry anthology."

Robin Bennett, Founder and Managing Director of Quarto Translation said: "We are very happy to be sponsoring the Rising Stars Wales award again. Diversity in publishing is key: the wider we throw the net, the more chance we have of capturing the imaginations of children from all backgrounds."

Lleucu Siencyn, Chief Executive of Literature Wales said: "Literature Wales is thrilled to work in partnership with Firefly Press once again this year on this important award, which helps to platform more diverse voices within children's writing in Wales. We have already seen how this award can have a significant impact on a writer's career, with Firefly Press signing a poetry collection for children by Alex Wharton for 2021. It's an exciting time for Wales' literary culture."
For further information about writer development opportunities from Literature Wales, visit our website.
For further information about Firefly Press and upcoming publications, click here.
About Literature Wales
Literature Wales is the national company for the development of literature. Our vision is a Wales where literature empowers, improves and brightens lives. Our Strategic Plan for 2019-2022 outlines Representation and Equality as one of Literature Wales' main tactical priorities. We believe that every person, regardless of their background, should feel included and free to navigate, contribute and take ownership of the literature scene in Wales.
About Firefly Press
Firefly Press is an award-winning independent children's and YA publisher based in Cardiff and Aberystwyth. Set up in 2013, Firefly is the only dedicated children's publisher in Wales, publishing quality fiction in all genres for 5-19 year olds. They aim to publish books by great authors and illustrators wherever they are from. Successes include The Clockwork Crow by Catherine Fisher, shortlisted for the Blue Peter Book Awards and winner of the Tir na N'og Children's book Prize, and Aubrey and the Terrible Yoot by Horatio Clare, which won the Branford Boase first children's novel award.