Independent Dance Artists and Poets announced for NDCWales & Literature Wales Plethu/Weave film collaboration.
Published Fri 24 Jul 2020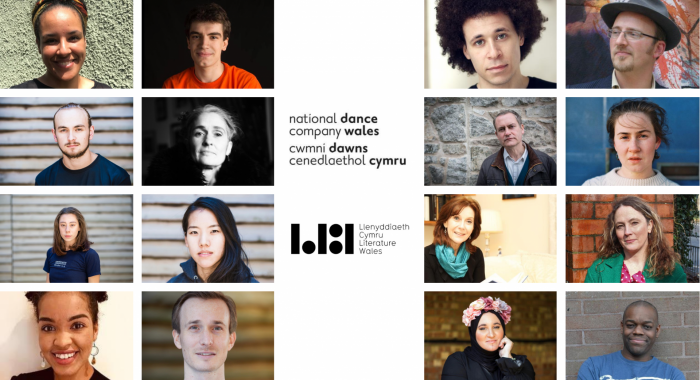 National Dance Company Wales (NDCWales) and Literature Wales have confirmed the independent dance artists and poets who will be joining NDCWales' dancers as part of their online collaborative project, Plethu/Weave to create 8 short cross–artform films. The first two films will Premiere as part of the National Eisteddfod's Online Digital Festival at the beginning of August.
The new digital film project, Plethu/Weave sees dancers from NDCWales and the independent sector, partnered with some of Literature Wales' commissioned poets to create short solo film performances during lockdown.
Following a call out last month, NDCWales has appointed four independent artists: Shakeera Ahmun,  Jodi Ann Nicholson, Joe Powell-Main and Jo Shapland, who will work alongside four NDCWales dancers and the eight poets.
The eight dancers will be paired with some of the most exciting poets working in Wales. They are Connor Allen, Marvin Thompson, Hanan Issa, clare e. potter, Aneirin Karadog and Elan Grug Muse, as well as National Poet of Wales, Ifor Ap Glyn and Mererid Hopwood who have created the first two cross-art videos with NDCWales dancers, which will Premiere as part of the National Eisteddfod's Online digital festival.
NDCWales Associate Director, Lee Johnston said, "We were really excited with the range of independent dancers across Wales who applied to be a part of this special project. The four artists joining Plethu/Weave enrich the breadth of artistic contribution through practices that incorporate styles such as hip hop, Butoh, ballet and ballroom, and an enhanced application of what choreography is, involving objects, textiles and embroidery. I'm looking forward to seeing how the dancers and poets weave the two art forms together and create powerful works full of movement and insight."
Hirddydd by Mererid Hopwood and Tim Volleman will premiere on Monday 3 August 1pm and Ust by Ifor Ap Glyn and Faye Tan on Friday 7 August 1.30pm on the National Eisteddfod's Facebook page, website, YouTube and AM Channels. Both videos will then be available the following day to watch on NDCWales and Literature Wales' Facebook, YouTube and AM Channels from the 4 and 8 August 2020.
Betsan Moses, Chief Executive at the National Eisteddfod, said, "We are delighted to work with National Dance Company Wales again. Dance is an integral part of the Eisteddfod and we are pleased to provide a platform for this premiere as part of this year's 'alternative' festival. Mererid and Ifor are both, of course, former major winners at the Eisteddfod, and we have worked closely with Literature Wales for many years on a wide range of projects. I very much hope to see our work with NDCWales further develop in the future."

Lleucu Siencyn, CEO of Literature Wales, said, "Literature Wales is delighted to be part of this wonderful project with National Dance Company Wales. The first two cross-art videos created by Ifor & Fay and Mererid & Tim are wonderfully captivating, and we look forward to seeing the other works which will emerge from these additional artistic pairings. Celebrating Wales' literary culture is a key focus for Literature Wales, and what better way to do so than by supporting this series of collaborative content celebrating Wales' talented contemporary artists which will entertain, challenge and touch new and existing audiences of literature and dance."
Following the online premiere at the Eisteddfod, the six other short films from Plethu/Weave will be broadcast every fortnight online as part of KiN:Connected, NDCWales' digital programme. NDCWales has been showing many of its productions online for the first time for audiences to watch for free as part of its online programme KiN:Connected, including Dream (Christopher Bruce CBE), Rygbi: Annwyl i mi/ Dear To Me (Fearghus Ó Conchúir) as well as a live streamed Zoom version of Ed Myhill's Clapping.
Full details of KiN:Connected can be found at ndcwales.co.uk and on social media channels over the next week @NDCWales
/
Dance Artists
Shakera Ahmun
Shakeera Ahmun is a freelance dance artist and improv enthusiast based in Cardiff. She is inspired by music and the nuances of melody and rhythm, that drives her physicality and continuously sculpts her movement language. She has also recently experienced working with physical theatre, which has deeply informed her artistic practice.
Jodi Ann Nicholson
Jodi Ann Nicholson is a dance artist based in South Wales. Since training at Laban and studying Fine Art at Cardiff School of Art and Design her creative work interrogates the construction of the self and identity. Exploring these ideas through an autobiographical narrative as an adoptee. Movement, embroidery and textile installations give structure to her ongoing interrogation of the question: what makes up our identity? More recent work has led Jodi into deeper explorations between text/language and dance, linking this work into her ongoing enquiries as an artist. Jodi has become fascinated with the rhythmical structures in the two disciplines, exploring the relationship between the two.
Joe Powell-Main
Joe Powell-Main is twenty-two years old and is from Mid-Wales. Joe was a junior associate with the Royal Ballet School for three years and attended Saturday classes weekly in Birmingham. Whilst on the Junior associate programme, Joe performed with Birmingham Royal Ballet in The Nutcracker and Sylvia (UK tour). Joe also worked with Elmhurst Ballet School for one year, through the pre-vocational programme. Joe successfully auditioned for the Royal Ballet School, Lower School at White Lodge in Richmond and trained there for four years. Joe stopped dancing for three years due to injury and being involved in a serious car accident, which led him to acquiring his disability which affects his left leg and foot. Joe rediscovered his love for dance and began wheelchair ballroom and Latin dance, he is currently the UK National Para Dance Champion in Solo and combi freestyle. Joe has also recently graduated with a First-Class Honours degree in Dance and Performance through the Arden School of theatre in Manchester. Joe began an apprenticeship with Ballet Cymru through the pre-professional programme last September. Joe was featured on S4C Christmas adverts with dancers from Ballet Cymru and across Wales. Joe joined Ballet Cymru this year as a company dancer and is looking forward to working with the company on the new production of Giselle in 2021.
Jo Shapland
Jo Shapland's work is dance, whether through the flow of change in materials and objects, film imagery or the body moving through space. Fundamentally concerned with relating and responding to nature and a desire to witness through the body, her site-specific projects range from ruined farm-buildings to traditional proscenium theatres, from natural wilderness to urban architectural interiors. Originally trained as a Contemporary Dancer, she now practices Asian martial/meditation arts, aerial circus and improvisation, and continues to explore inner dance and its effect on presence and creativity. This January Jo performed 'Told by the Wind'; (co-created with the Llanarth Group) at ITFOK, India. Other highlights of her career include winning a Creative Wales Major Award with 'Being in Place', and celebrating the expansion of Mostyn, Llandudno, with '[in]scape'.
NDCWales Dancers

Ed Myhill
Originally from London, Ed grew up in Leeds and trained at Hammond Secondary School in Chester, followed by three years at Rambert School of Ballet and Contemporary Dance. He joined NDCWales as an apprentice in Autumn 2015 and am now a full time dancer with the Company. Ed has toured extensively across the UK and abroad including works from Alexander Ekman, Roy Assaf and Marcos Morau.
Aisha Naamani
Before training at London Contemporary Dance School, Aisha grew up in South Wales and was an associate of National Dance Company Wales from 2012-2015. Since moving to London, she has performed works by Richard Alston, Wayne Parsons (Rafael Bonachela), James Cousins and Hofesh Shechter amongst others. Aisha has had some of her own choreographic works shown at The Place and was a scholar of the Peggy Hawkins Scholarship Fund. Aisha joined NDCWales as an apprentice dancer in summer 2018, performing works by Matteo Marfoglia, Mario Bermudez-Gil and Caroline Finn before becoming a company dancer the following year.
Faye Tan
Faye was born in Singapore and trained at the Singapore Ballet Academy and School of The Arts before graduating from the Rambert School in London. She then joined Verve, the postgraduate company of the Northern School of Contemporary Dance in Leeds, performing in works by Anton Lachky, Athina Vahla and Efrosini Protopapa. Faye joined Frontier Danceland (Singapore) in 2016, working with choreographers such as Shahar Binyamini, Thomas Lebrun, Edouard Hue, I-Fen Tung, Annie Vigier and Franck Apertet, amongst a varied pool of other makers. The work Faye did in Singapore also included outreach programmes, coordinating Frontier Danceland's youth dance training programme, teaching, choreographing, digital marketing, videography and photography. In May 2019 Faye worked with Richard Chappell Dance (UK) on Silence Between Waves, performing and working with local residents of various ages and abilities in Devon, before joining NDCWales for Rygbi: Annwyl I mi / Dear to me and subsequently as a company dancer in December 2019.
Tim Volleman
Tim was born in the Netherlands, where he started dancing at the age of three. At the age of ten he started my pre-education at Fontys (Tilburg) and continued to my bachelor degree program at Codarts, Rotterdam Dance Academy. As a professional dancer, Tim has worked with companies such as Cathy Sharp Dance Ensamble, Internationaal Dans Theater, Nederlands Dans Theater II and de Stilte before Tim joined NDCWales in December 2017. His freelance career includes working with independent artists Jagoda Bobrowska, Heidi Vierthaler and Juanjo Arques.
Poets
Connor Allen
Since graduating from Trinity Saint David as an Actor, Connor Allen has worked with companies such as The Torch Theatre, Sherman Theatre, Tin Shed Theatre and National Theatre Wales. He is a member of National Youth Theatre of Great Britain and was also the winner of Triforces Cardiff MonologueSlam, representing Wales at the London winner's edition. As a writer he has written for Dirty Protest, Sherman and BBC Wales. He's had an ACW funded debut play and a Literature Wales commission. He's also part of the BBC Wales Welsh Voices 19/20 and The Welsh Royal Court Writers Group.
Ifor ap Glyn
National Poet of Wales Ifor ap Glyn was born and bred in London to Welsh parents. He is a multi-award-winning poet, presenter, director and producer. A prolific writer, Ifor has twice won the Crown at the National Eisteddfod – one of the festival's most prestigious prizes. As a television director and presenter, he has won several BAFTA Cymru awards for his work including the Lleisiau'r Rhyfel Mawr and Popeth yn Gymraeg series. Ifor has represented Welsh poetry around the world in both the Welsh and English language, most recently in Cameroon, Lithuania, China, Belgium, Germany, and Ireland. The National Poet of Wales scheme was established in 2005 and is managed by Literature Wales. It is a cultural ambassador role which honours some of the most innovative and highly regarded writers.
Mererid Hopwood
Mererid Hopwood won the Chair, Crown and Medal for Prose in Eisteddfod Genedlaethol. She was the Welsh-Language Children's Laureate in 2018, and in the same year won Tir na n-Og Prize for her novel for children, Miss Prydderch a'r Carped Hud (Gwasg Gomer). She won the poetry award Book of the Year in 2016 with her collection of poetry, Nes Draw (Gwasg Gomer, 2015). She collaborated with musicians including Karl Jenkins, Eric Jones, Gareth Glyn, Christopher Tin and Robat Arwyn and participated in literary festivals in Europe, Asia and South America. She is a Fellow of Cymdeithas Ddysgedig, and the chairman of the Fellowship of Reconciliation and honorary president of the Waldo Williams society. She is a Professor at University of Wales Trinity Saint David.
Hanan Issa
Hanan Issa is a Welsh-Iraqi poet and writer. She has been featured on both ITV Wales and BBC Radio Wales and worked in partnership with National Museum Wales, Artes Mundi, Warwick University, Swansea Fringe, StAnza festival, Wales Arts International and Seren Books. Her work has been published in Banat Collective, Hedgehog Press, Wales Arts Review, Sukoon mag, 4 Journal, Poetry Wales, Parthian, Y Stamp, sister-hood magazine and MuslimGirl.com. Her winning monologue was featured at Bush Theatre's Hijabi Monologues. She is the co-founder of Wales' first BAME open mic series 'Where I'm Coming From'. She was a 2018-2019 Hay Festival Writer at Work. Her debut poetry pamphlet My Body Can House Two Hearts was published by BurningEye Books in October 2019.
Aneirin Karadog
Aneirin Karadog won the Chair in the National Eisteddfod in Monmouthshire and District National Eisteddfod in 2016 with a sequence of poems on the theme 'Boundaries'. He is a member of Y Deheubarth team in the annual Ymryson and has won several awards for his strict meter poetry: the Emyr Feddyg Scholarship at the National Eisteddfod in Newport, the Urdd Chair in 2005 and the Wales Book of the Year poetry category in 2013 with his first volume of poetry O Annwn i Geltia (Cyhoeddiadau Barddas) and again with his second book Bylchau (Barddas Publications, 2016). He co-presents and co-produces a Welsh poetry podcast with Eurig Salisbury called Clera, with new chapters monthly since October 2016. In 2019 he published another book of poems, Llafargan (Barddas Publications). Aneirin was the Welsh-Language Children's Laureate for 2013-2015.
Elan Grug Muse
Grug Muse is a poet, editor and researcher. She is one of the founders and editor of Y Stamp magazine and published her first volume, Ar Ddisberod, with Barddas in 2017. She is a resident of Ulysses Shelter 2020, and is the holder of the Wales Literature 2020 Writers' Bursaries. Her work has been published in publications including O'r Pedwar Gwynt, Barddas, Poetry Wales, Panorama: the journal of intelligent travel and others. A Writer at Work at Hay Festival 2018-19, she won the chair at the Urdd National Eisteddfod in 2013, and the chair of the Inter-college Eisteddfod in 2019. She is currently working on a doctoral project in Swansea University, sponsored by the AHRC Center for Doctoral Research in Celtic Studies.
clare e. potter
clare e. potter is a bilingual poet and performer with an MA in Afro-Caribbean Literature from Mississippi. She lived in New Orleans for a decade and received Arts Council funding to respond to the trauma of Hurricane Katrina alongside a jazz quintet. clare has translated poems by the National Poet of Wales, Ifor ap Glyn, and collaborates with artists to make poetry installations in public spaces. She won the John Trip Award for Spoken Poetry in 2005 and was on BBC4's Listening Project with her father piecing together the source of emotion in poetry. In 2018, clare was the Velvet Coalmine Festival's poet-in-residence, based in the Miners Institute where she collected people's stories of this significant cultural and political building. www.clareawenydd.com
Marvin Thompson
Marvin Thompson was born in London to Jamaican parents. He has an MA in Creative Writing from Middlesex University and currently teaches English to secondary school children in mountainous south Wales.
He was one of three poets selected by The Poetry School and Nine Arches Press for the 'Primers Volume 2: Mentoring Scheme'. Reviewers have described Marvin's work as 'dramatic,' 'energetic,' and a 'virtuoso performance.'  Other publication credits include: The Poetry Review, Poetry Wales and Red (Peepal Tree Press).
In 2017, Marvin Thompson won third place in Ambit Magazine's international poetry competition.  In 2019, his magical-realist war poem, 'The Many Reincarnations of Gerald, Oswald Archibald Thompson' was submitted by Long Poem Magazine for the Forward Prize for Best Poem.
Marvin's debut poetry collection, Road Trip, is published by Peepal Tree Press.