Blog: Bardd Plant Cymru reflects on the Piece by Piece project
Published Wed 12 Apr 2023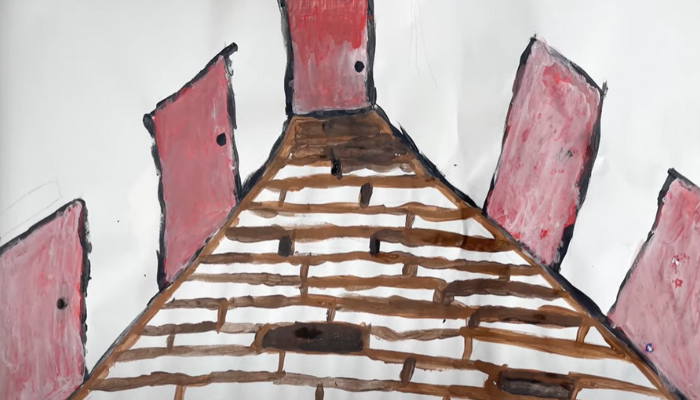 Literature Wales is delighted to share a poem and film created by Bardd Plant Cymru Casi Wyn, Ysgol Gwent is Coed, and artist Efa Blosse-Mason in March 2023, as a part of the Piece by Piece project.
Piece by Piece is a Comic Relief-funded partnership project with Newport Mind and Maindee Youth, supporting families and young people with mental health issues in Newport, especially those from low-income or BAME backgrounds or who are LGBTQ+. The project sees writers and artists partnered to create poems, films and music projects to support those families. Its creative aim is to address trauma and reduce the impact of poor mental health by sharing experiences through creative activities such as spoken word poetry, digital stories, drama, illustration and creative writing.
As a part of the project, Bardd Plant Cymru Casi Wyn held a workshop with 12 pupils from Ysgol Gwent is y Coed to compose the poem Drws Mawr Coch/Big Red Door, and worked with artist Efa Blosse-Mason to turn the poem into a video.
Below we are glad to share the poem and video, alongside a blog from Casi reflecting on her time working on the project.
Big Red Door
The portal to our imagination
is a big, red door
and on paper wings
we embark on a journey,
escape!
through the channels
of our potential.
Behind the door?
cordial creatures,
others most obnoxious,
beasts darting by,
matchstick men
hop along with a sigh.
Onward, onward towards
a volcano of red,
the swirling fires
of the hottest stream,
sizzling and ablaze.
A Chanel-clad Kloe
sprints at a lick
her glorious fingernails
sic,sic,sic.
Onward,onward
the boom of a roaring rocket
bursting towards
the boundaries of space.
Steve the robot
who blurts 'he-llo',
the lost astronaut
who's, Sh! gone with the flow.
Onward, onward
to the final room.
The resounding relief
on hearing a guitar
serenading the cerulean sky,
hovering on a cloud,
floating on high,
time to shut each door
and bid the day goodbye.
I had a wonderful time at Ysgol Gwent Is-Coed over the last two months. After receiving an invitation from Literature Wales and Newport Mind to develop original work with Newport's young people, I asked the artist and animator from Cardiff, Efa Blosse Mason if she wanted to join me on the journey.
The invitation was completely open – with an emphasis on offering artistic and beneficial experiences for young people to express themselves.
Empowering young people is something that is really important to me on a personal level but also a part of the work I do as Bardd Plant Cymru. Every child is unique, with their own expertise and needs. Every child is valuable – no one is better than another – and show skills or qualities that vary. Each one contributed in their own different way, enriching the process of creating a film that will challenge our experience of going to school.
From Kloe's fiery volcanic eruption to the endless azure of the French guitarist and his per-notes, behind every door there are worlds spinning and unfolding. Each world offers its own mystery and it is proof that telling a story is a mean of revealing the beauty of the subconscious.
The film is called 'Big Red Door' – the gateway to our imagination. This is the door that leads us, the audience, to follow the journeys of the warm, cruel, jerky characters in all their splendor. Enjoy the rainbows and mischief of Ysgol Gwent Is Coed's wonderful children.
Casi Wyn
Bardd Plant Cymru 2021-23