Cyswllt Datgyswllt | Plethu/Weave Film #5
Published Thu 22 Oct 2020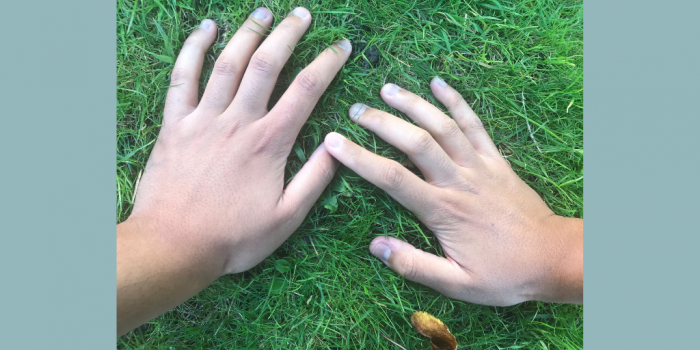 This 
is a translation of a 
blog written by
 poet,
 Elan 
Grug
 Muse
who 
collaborated with
 dancer Shakeera Ahmun to create 
Cyswllt
 | 
Datgyswllt
,
as a part of 
Plethu
/Weave, a digital cross-artform project by Literature Wales and National Dance Company Wales.
Creating Attachments
'Helo, can you hear me?'
Why does the start of every Zoom conversation feel like two astronauts trying to communicate?
'So, we're working together on this project. Do you have any ideas?'
It's hard to relax over Zoom, hard to create that informal space needed to chat. One eye is on the clock, and the other on whatever's going on off screen. Without being in the same physical space, it's hard to share those common reference points − the quality of the coffee, the traffic on the road, the weather. Everyone is in their own little bubble and it's difficult to reach out through the small window of the phone screen.
Other than Covid-19, of course. Everyone can ramble about Covid-19.
'How are things there?'
'Did you hear about this and that?'
'And how about those other things?'
The idea for our project came about from chatting about Covid. Talking about people succeeding in leaving violent relationships, Covid putting stress on relationships; as well as the stories of people coming together, to take care of neighbours, to support.
Not that the project is a direct response to Covid. We eventually started discussing relationships and followed the thread, about how people are tied together, sometimes in ways that strengthen, but often in ways that confine, and trap. The complexities of our relationships, and the importance of disentangling, sometimes as a means to secure the future of a relationship, and other times to escape from a toxic relationship, whether at a platonic or romantic level.
That's what I had in mind when writing the poem, and recording it, so that Shakeera, who doesn't speak Welsh, could hear the sound of the words to accompany the translation I made for her.
And then, wait, to see how she would go about interpreting the work. Like many's relationship with different art forms that they are unfamiliar with with, I'm guilty of saying that 'I don't understand dance' – guilty of assuming that the intention is to 'understand'. Through Shakeera's interpretation, the structure of the dance seemed much closer to that familiar to me, poetry. Every shot of the video, and the combination of movements within each shot, felt like a line of poetry, and the cut between each shot had the same effect as a line break for me. Combining the two, Shakeera's cuts sometimes fell in the same place as mine in the poem; at other times, they flowed over, or they cut a line at its centre in an unexpected place – breaks that gave new perspective to the poem. Dare I say, like cerdd dant?
You can view Grug and Shakeera's short film, Cyswllt | Datgyswllt, below: