Literature Wales and Sherman Theatre's Scriptwriting Skills Retreat
Published Fri 17 Jun 2022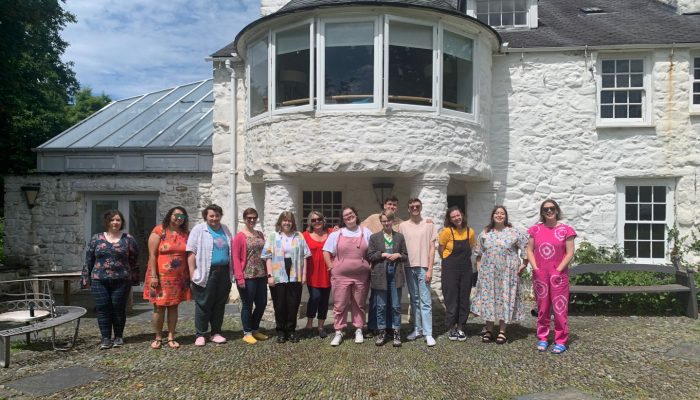 11 playwrights attend a free development opportunity at Tŷ Newydd Writing Centre
Back in April 2022, Literature Wales and Sherman Theatre launched a call-out for playwrights who are under-represented in literature and the theatre industry in Wales to apply for a free retreat at Literature Wales' national writing centre, Tŷ Newydd, to develop their scriptwriting skills for the stage.
The opportunity was open for emerging writers with under-represented characteristics within the literary and theatre world.
During the retreat, the writers took part in group workshops to develop their craft, placing their own original ideas into the world of the play. The workshops provided an opportunity to look at creating credible characters and dialogue, crafting a structure to carry the story, and exploring – and perhaps pushing – the boundaries of the stage play. Each writer also received a one-to-one meeting with the tutors Branwen Davies and Alice Eklund to discuss their own work and development as writers.
Virtual sessions were also held with Sita Thomas, Artistic Director of Fio theatre company and Alistair Wilkinson, Founder and Creative Director of WoLab.
The Writers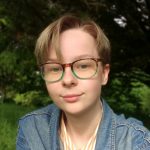 Kat Stephenson (They/Them) is a composer and writer from Lincolnshire. They currently live in Cardiff where they're studying composition at the Royal Welsh College of Music and Drama. Kat writes primarily poems and plays, and has a keen interest in theatre – both as a writer and a composer. As an autistic writer, Kat strives to represent and communicate their experiences through their writing and appreciates the power that words and stories can have, not just to entertain, but to uplift voices that are often left unheard.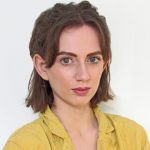 Sophie Warren (She/Her/Hi) is an actor and writer from Prestatyn, currently based in Cardiff. Mae hi'n dysgu Cymraeg, and since graduating as an actor from The Royal Welsh College of Music and Drama, she has worked in theatre and TV in Wales and across the border in London. Recently completing script editing training for Sgil Cymru and BBC Writers Room, Sophie has been fortunate enough to work with companies such as The Other Room, Theatr Clwyd, Theatr Genedlaethol, Chapter Arts Centre, OSO Arts and has written for Camden People's Theatre's Online Sprint Festival last year.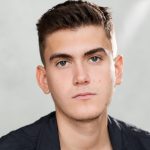 Tom Halton is creative from Bridgend who has recently graduated in BA (Hons) Acting at LIPA. While in training, Tom has produced several pieces of writing including Subliminal a radio play produced by his company Alternative Facts and Two Seeds; Same Soil as part of the 24hr Play Project, while also developing a full-length play and three-part screenplay based off his own LGBTQ+ experiences. Tom has a passion for creating more queer writing within theatre in Wales and voicing un-represented stories through exciting and technological mediums.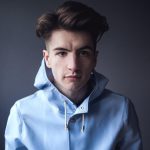 Rhys Warrington is a writer and actor who grew up in Carmarthenshire. As a writer his debut play BLUE opened in January 2019 at Chapter Arts Centre. The play was produced by Chippy Lane Productions. Following BLUE, Rhys has been working on a film with director Joe Stephenson (Chicken, McKellen: Playing the Part) about the life of 70s Texan serial killer Dean Corll. Alongside this he has been working on a new play, Fossils with director Francesca Goodridge which went into R&D last year at Manchester Royal Exchange. Rhys was longlisted for the BBC Wales Writer in Residence 2020 & the World Productions Writers Award 2021. Rhys is published by Methuen.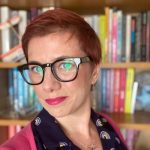 Emily Garside is a writer of many kinds. Emily spent a number of years as an academic and lecturer, beginning with her PhD on theatrical responses to the AIDS crisis, and the evolution of LGBTQ theatre. Currently, she is working on two books related to her research. She now specialises in Queer Culture Writing. As a journalist, she is a regular contributor for The Queer Review and has written for American Theatre, Slate, BBC and The Stage.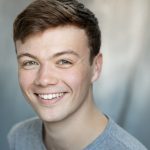 Harrison Scott-Smith graduated from the Liverpool Institute for Performing Arts (LIPA) in Acting, 2020. Writing credits include Anything is Popsicle, Out-Rage-Us (Sherman Theatre). Acting credits include Ben, Hushabye Mountain (Hope Mill Theatre); Queerway (Leeway Productions); Harry, Closure (BBC Cymru). Voice-over credits include BBC Carleton Hobbs finalist; Scur, The Storm Shepherd (All Things Considered). Harrison is passionate about telling Welsh, queer stories frequently involving mythology and gothic flare. Harrison is thrilled to be a part of Tŷ Newydd's Retreat; to soak up everything the experience has to offer as well as meeting some fabulous Welsh writers. Instagram/ Twitter – @harrisunsmith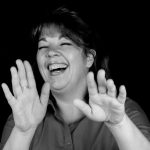 Swansea native, Del Hughes, is writer, and eternal optimist – convinced that, one day, she will create a play worthy of the stage. A lifelong theatre lover, her current dramatic project, Three Women, is a tragicomedy that takes inspiration from the folktales and history of Wales, exploring the concepts of the divine feminine and redemption. Since completing an MA in Creative Writing at Swansea Uni, she has been published in the Frequency House Poetry Slam Anthology and is a regular columnist for Nation Cymru. She's a dog-mother, perpetual tea drinker and loves coffee Revels.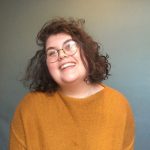 Daisy Major (she/they) is a writer and director based in Denbighshire. After falling love in with theatre at the Theatr Clwyd youth group, Daisy went on to study Drama at Liverpool John Moores University. Since graduating she has founded their own theatre company, On We Go, and established an LGBTQ+ theatre event, The Rainbow Spotlight. Daisy is particularly interested in telling stories that focus on women and the LGBTQ+ community. Recently Daisy has been to NSDF 22 with a show as part of their LAB scheme and spent some days in an R&D with their first play Wandering.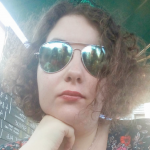 Mair Jones (she/her) is a freelance historian and writer from Ceredigion, with a History of Wales MA, who writes poetry, stories and shares minoritized Welsh history online. She's written blogs for the National Library of Wales, the National Museum of Wales and also poetry for local booklets. Also, she spoke about Welsh history on Recordiau Rhys Mwyn and for the Ceredigion Museum website. After being a part of a writing group in Aberystwyth, Mair has led workshops on writing historical fiction and on Welsh history. She also wrote a script for a short Iris in the Community film and a short drama that was performed at the National Eisteddfod by Dirty Protest Theatre.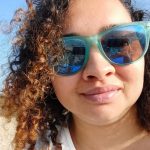 Sophie Marie began her Creative Writing MA with the idea of writing a novel, but after taking a variety of modules, she found her passion lay in scriptwriting. She has had short stories published, but her greatest achievement was the production of her radio play, Inside Me. Sophie is dipping her toe into the comedy genre and plans to write a sitcom for her dissertation. She wants to see more people like her in plays, so she will incorporate black characters in her scripts. She will continue writing comedies because, let's face it, we could all do with a laugh right now.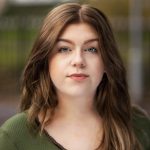 Lowri Morgan is a playwright and queer actor, originally from Caernarfon but now lives in Cardiff. When she was 19, she was selected for the Theatr Genedlaethol Cymru's Grŵp Dramodwyr Newydd (New Playwrights' Group), and that was the catalyst for her career in the theatre industry. Last year, her first play, Cuddio (Hiding) was produced with University of Wales Trinity Saint David. Since starting writing 5 years ago, Lowri has worked on several commissions and projects with Theatr Genedlaethol Cymru, Dirty Protest, Frân Wen and most recent Rondo Media.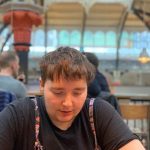 Charles O'Rourke (he/they) is a queer neurodivergent script-reader, dramaturg, and writer. They have worked as a script reader for Liverpool Everyman, Theatr Clwyd, and Channel 4's 4Stories. Prior to script-reading he spent his time doing manual labour, queer activism, and literary translation. He is interested in queer, disabled, working class stories with comedic, supernatural and/or science fiction elements. He's currently writing a ghost story.