Ifor ap Glyn, National Poet of Wales celebrates contact centres' vital role in keeping people connected
Published Tue 9 Mar 2021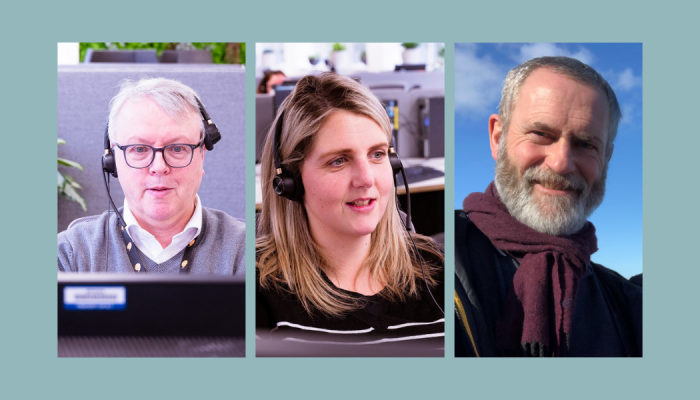 Ifor ap Glyn, National Poet of Wales, has written a new poem called Sgyrsiau (Conversations), celebrating the important role connectivity and customer call handlers play in keeping people and the country connected.
The poem – written in Welsh and in the form of an englyn, a traditional Welsh short poem – was commissioned by BT to mark the completion of the redevelopment of its customer service centre in Bangor.
The centre provides a number of services for the company, including housing BT's Welsh language customer service helpline. In 1994, BT became one of the first large private companies in the UK to adopt a voluntary bilingual policy in relation to the Welsh language, supporting the more than half a million Welsh speakers in Wales currently.
The poem reflects on the importance of staying connected and the value of hearing a friendly voice down the line.
Frontline customer service agents, including BT's Welsh language customer service team in Bangor, were designated key workers by government at the start of the pandemic and have continued to work throughout the outbreak, with Covid-19 safety measures in place.
BT's customer service teams have seen a significant increase in the number calls during the period, with many customers calling to ask for increased connectivity to stay in touch with friends and family, and to support home learning and working. Call handlers also deal with customers facing difficult financial situations, as well as vulnerable customers and those dealing with loneliness.
Keith Jones, a member of BT's Welsh language customer helpline team in Bangor, said: "It's clearly been a difficult time for many customers, so if we can have that initial chat and hear about challenges they may be facing like health problems or work issues, we then know their circumstances and can better help them stay connected.

"COVID-19 has also fuelled loneliness and isolation. Being alone means many customers are not seeing anyone. This makes the phone call they make to us even more important. It could be the only chat they have that day or week.

"Being local and personal is such a big part of what we do, so we're really proud to be able to provide support, including to those in our communities who need it most."
It's been one year since BT completed its commitment to answer 100% of its consumer customer service calls in the UK and Ireland, with the aim of providing a more personal and local service to its customers.
The Bangor team say that many of the people who call know that BT's Welsh language helpline is based in the city and that this leads to natural discussions about where they're from and shared experiences.
Keith Jones added: "By having those conversations at the start of the call about where they're from and maybe how the rugby or football team is doing, that local touch can really put the customer at ease. It means you can then just get on and resolve their issue more effectively.

"Many of the customers who call us also value and appreciate the fact that they can deal with their issues in Welsh and many comment on this at the beginning of the call. It's the first-language of many households and there are a lot of people who are more relaxed and confident discussing their issues in Welsh."
BT announced last summer that its centre in Bangor – located in the heart of the city – was to undergo a full refurbishment to modernise it and create an improved workspace for the 150 or so staff based currently at the location. The redevelopment is part of the company's 'Better Workplace' programme. It will see BT consolidate the number of office locations from more than 300 to around 30 across the UK, including Bangor and Cardiff which have so far been announced. Colleagues will benefit from new and refurbished workspaces as the company modernises.
The refit of the Bangor office has now been completed. The entire office has been modernised, with the introduction of new meeting rooms, relaxation areas and the latest conferencing technology.
Nick Speed, BT Group's Director in Wales, said: "It's great to have this wonderful piece of work from Wales' National Poet to bring home the importance of connectivity and conversations. And to celebrate the completion of the new-look office in Bangor.

"I'm really proud of the role my colleagues have played, including here in Bangor, keeping our customers, including vulnerable people, connected.

"I'm also proud of our Welsh language support. Customers feel they're getting a local and more personal service. Supporting the use of Welsh is good for the language, and for us as a business. I'd encourage more Welsh-speaking customers to use the services on offer."
Sgyrsiau
Rhwydd iawn deialu rhyddhâd
o'n hiraeth, drwy gyd-siarad,
rhannu hwyl, rhannu eiliad…
A ffonio ein gorffennol
a ddaw â'r hen alaw 'nôl
i swyno ein presennol…
Onid gwych yw clywed gwên
y lles clws sydd mewn llais clên,
fel gwefr yng ngofal gwifren?
Conversations
Hiraeth is easily repaired
by dialling someone, who's shared
a moment of joy; who's cared…
And phoning friends from the past
recalls old tunes, like a blast,
healing our present at last.
How sweet thus to hear a smile,
the friendly voices that beguile,
sparkling down each cabled mile…
Ifor ap Glyn
Bardd Cenedlaethol Cymru
National Poet of Wales