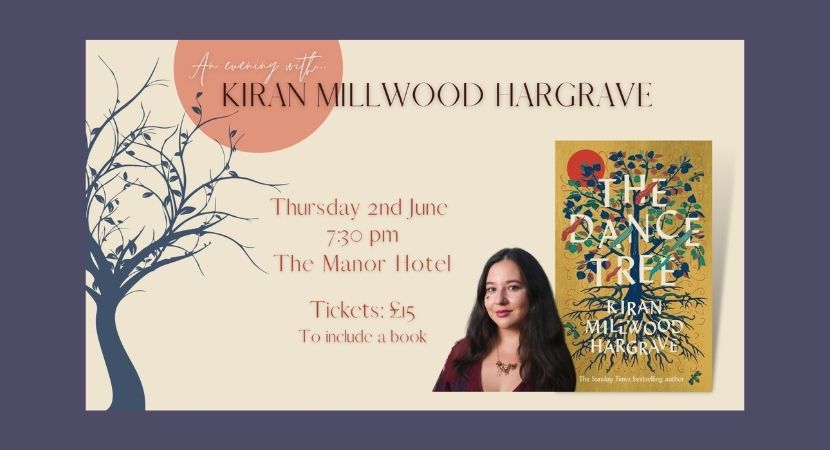 Category / Book Launch
An evening with Kiran Millwood Hargrave
Join us for an evening with Kiran Milwood Hargrave to discuss her new book: The Dance Tree
Thursday, June 2nd – 7:30pm at The Manor Hotel
Tickets include a copy of the book: £15
---
From the author of The Mercies comes an enthralling, highly atmospheric historical novel set in 16th-century Strasbourg that revolves around the outbreak of a bizarre plague and its repercussions on a small, close-knit group of women.
In Strasbourg, in the boiling hot summer of 1518, a plague strikes the women of the city. First it is just one – a lone figure, dancing in the main square – but she is joined by more and more and the city authorities declare an emergency. Musicians will be brought in. The devil will be danced out of these women.
Just beyond the city's limits, pregnant Lisbet lives with her mother-in-law and husband, tending the bees that are their livelihood. Her best friend Ida visits regularly and Lisbet is so looking forward to sharing life and motherhood with her. And then, just as the first woman begins to dance in the city, Lisbet's sister-in-law Nethe returns from six years' penance in the mountains for an unknown crime. No one – not even Ida – will tell Lisbet what Nethe did all those years ago, and Nethe herself will not speak a word about it.
It is the beginning of a few weeks that will change everything for Lisbet – her understanding of what it is to love and be loved, and her determination to survive at all costs for the baby she is carrying. Lisbet and Nethe and Ida soon find themselves pushing at the boundaries of their existence – but they're dancing to a dangerous tune…