'Poetry Comes Free With The Human Spirit'
Published Mon 9 May 2022
clare e potter was awarded a Literature Wales Writers' Commission to work on
The Way We See It,
a 6 week project with Llamau staff and young participants. In this blog she reflects on the project, and the benefits of using poetry to support well-being.
It's amazing how one thing leads to another. I've been working as a freelance teaching artist for decades, and as both a poet and a facilitator, I've long known the positive impact of creating with words. In the past few years, there has been more demand for projects that are overtly directed at writing for well-being and positive mental health. I found myself talking to a friend who worked at Llamau, Wales' leading homelessness charity. We discussed potential for a creative project for 16 -21 year olds that would not only be enjoyable, but have tangible impact on confidence, skill-set and mental health. At that point, Literature Wales in partnership with Royal College of Psychiatrists Wales had a call-out for Literature and Well-being Writer Commissions; after many exciting talks with Llamau's Engagement Manager Sian Jones, I applied and was glad to receive funding and support from these three agencies to be able to create the 6 week project, 'The Way We See It' with Llamau staff and young participants.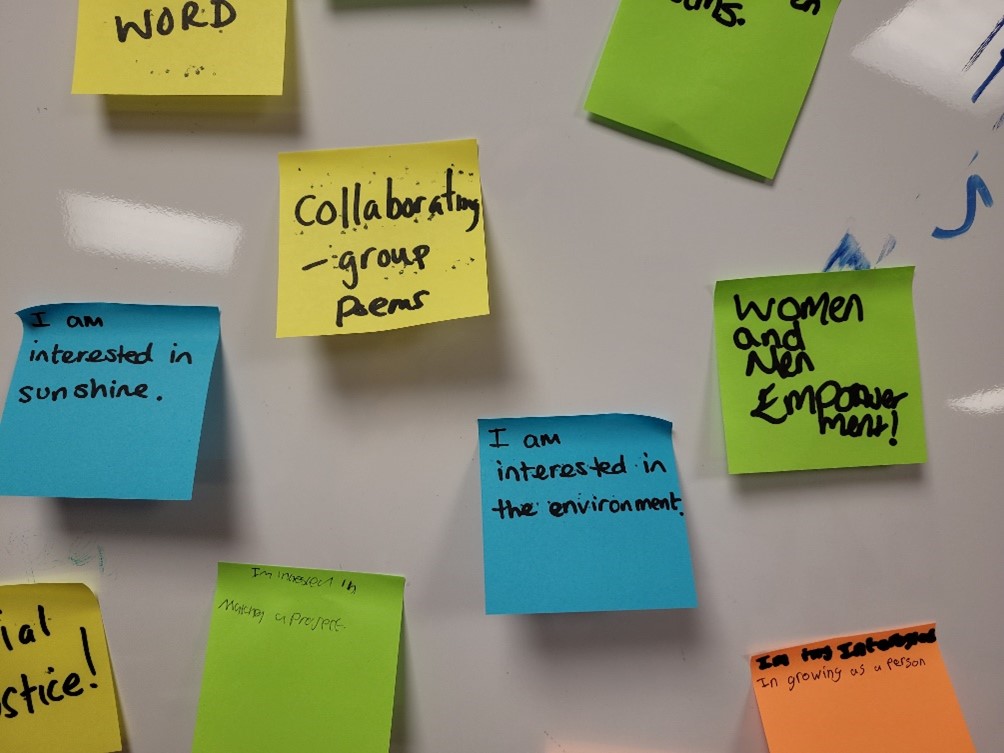 I wanted the project to be democratic, a coming together of minds and creative vision to determine how and what we would create as a group, a joint enterprise that we would all grow from interests and our collaboration. Richard Lewis, Susie Ware and Sarah Walker, the Llamau staff in Swansea, were incredibly supportive of this and facilitated meaningful discussions with the participants. We carved out time for considerable reflection between all involved. These ongoing conversations formed an important part of the creative process, ensuring agency and choice for participants and crucial learning for me (thanks to them). As a result of building in these writing and sharing reflections after each session, this has since become a part of my regular practice.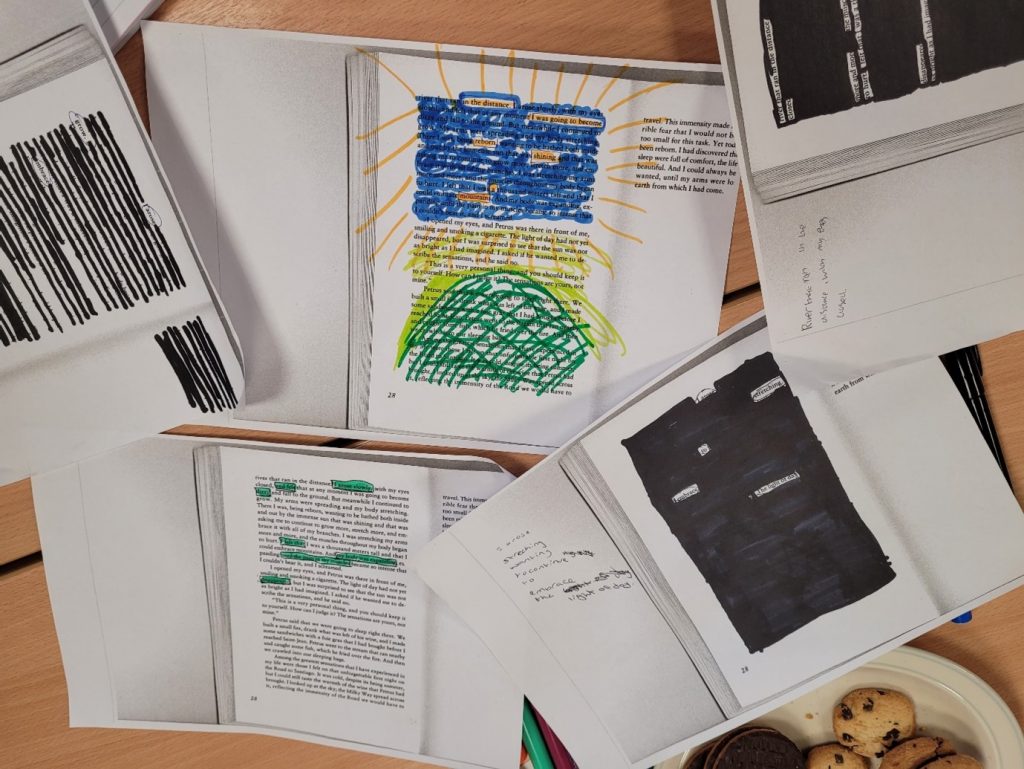 These six weeks were the first in-person workshops I'd done since the pandemic and it was extra joyous to be sharing creative time that was not on a screen. The participants had clearly been supported well by the staff at the learning centre and were open to trying out new activities which led to rich writing and sharing between all of us. We knew we wanted to work towards something, but didn't know what—songs, spoken word, postcards, a film? Then one of the participants brought in photos of his new desk and bedroom. 'How about we make something we can take home with our poems on' suggested someone.
Sarah, the Involvement and Engagement Coordinator recommended we talk to support worker and artist Rachel Oliver. Rachel came in and heard the participants proudly read their work and she talked to them about their pieces and how she could create art works from their words in collaboration with them. This resulted in everyone having their own personalised poetry posters.
The feedback from the young creatives and the staff who also fully participated was powerful; they all said they wished the writing sessions would continue. Their responses in the evaluation reinforced how beneficial engaging in poetry for well-being is:
Poetry…
'has shown me how the mind works by letting words give it the green light to wander in and out of itself as it wishes'

'has been healing for me because it has allowed me to write out my emotions instead of letting them stay in my head and stew and boil into anger. . . .Poetry has helped me understand the language that is love. '

'Poetry comes free with the human spirit'

'I enjoyed sharing the depths of myself with the surface'

being able to be honest with myself'

the free writing—taking a line and walking with it

finding out what was in my head and realising what deeper thoughts I carry.'
The next job I was asked to be creative lead on was with CASCADE (Children's Social Care Research and Development Centre) to facilitate a project that would elicit the voices of young care experienced children for the 'Transitions for Young People' conference. The project manager was Bridget Handley who wanted to reach as many young people as possible. Because I'd enjoyed working with Llamau, I suggested that we connect with their young creatives. It was important that the written and spoken responses were not only valuable for the participants' own creative process, but were a valued and integral part of a conference aimed at training professionals and to influence social policies that directly impact those young people.
As a result of a workshop with a group in Caerffili, we met a young writer supported by Llamau who was clearly a talented writer, eager to make more work. I connected him with Sherrall Morris, an artist and champion for disability rights. The two went on to have a productive writing session. You can read more about this work here, and below you can see and hear the work the children and young people produced that formed a crucial part of the conference:
I have always known the rewards of writing for feeling good, for understanding feelings, for putting shape to observations— it's why I like to facilitate; however, I'd forgotten how powerful it feels to be engaged in a deep process of writing with others. At the same time as I was facilitating the projects above, Louise Richards at Literature Wales had put in various systems of support for the writers she was employing. One of these was the gift of several poetry therapy writing sessions with master mentor and poetry therapist Jill Teague. As a result of these sessions, the enjoyment, the insights, the new skills I was learning as a person trying to navigate this strange world and as a poetry facilitator, I went on to apply to be mentored by Jill as a Poetry Therapy Practitioner with the International Academy for Poetry Therapy. Thanks to the Arts Council of Wales for funding me, I've just begun that part of my professional development, learning new skills and approaches that I can use while working with people in Wales, for well-being, for being well. 'Poetry comes free with the human spirit,' said one of my participants, I agree and would also add that 'poetry frees the human spirit.'