Literature Wales in 2022
Published Thu 15 Dec 2022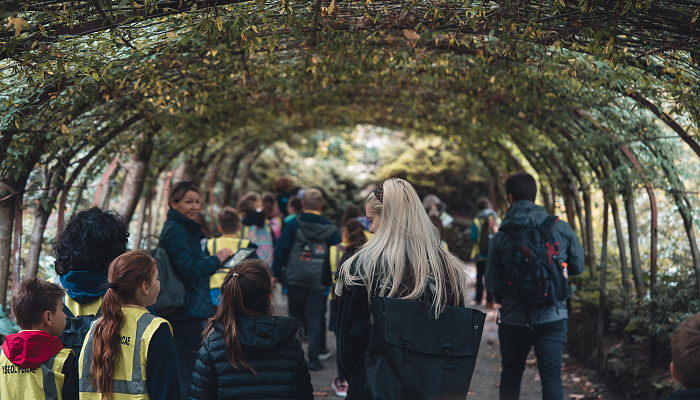 As the year draws to a close, we've been looking back at the last twelve months, before we welcome the exciting new year ahead.
2022 has been a big year for Literature Wales. We launched a new Strategic Plan, we announced an exciting HQ move, we bid farewell to our long-standing CEO Lleucu Siencyn, and welcomed Leusa Llewelyn and Claire Furlong as the organisation's new leaders, taking post as Artistic Director and Executive Director respectively. We opened the doors of Tŷ Newydd writing centre once more, welcoming writers to our in-person courses and retreats for the first time since the pandemic hit. We've seen writers take the next step in their writing careers, and have seen the transformative power of literature in action.
For this blog post, we've compiled a list of some of our highlights from 2022. If you'd like to read more, you may be interested in our quarterly Organisational Reports.
Announcing Hanan Issa as the new National Poet of Wales
In July 2022, Literature Wales revealed that Wales' new National Poet is Hanan Issa. The role represents Wales through poetry, celebrating writing from Wales and sharing our diverse cultures and languages with the world.
In the five months she's been in post, Hanan has already written about the cost-of-energy crisis, her personal experience of a loved one living with dementia, the ABCD's of Equal Opportunities, a video-poem to celebrate Cymru at the World Cup (see below), and a retelling of Dylan Thomas' A Child's Christmas in Wales.
Lyrical Landscapes
To mark Youth Climate Action Day, National Trust Cymru and Literature Wales released a series of poems that were created by schoolchildren across Wales, with the support of Casi Wyn, Bardd Plant Cymru and Connor Allen, Children's Laureate Wales.
For the project, 350 children from 12 schools visited their local National Trust site to get inspired by the area's natural environment, history and legacy whilst imagining what its future might look like. In the classroom, they channelled the inspiration from the site visits into composing a poem that shares their relationship with nature, and the effects of climate change on their doorstep.
Find out more about Lyrical Landscapes.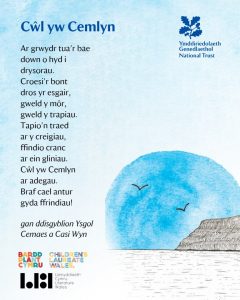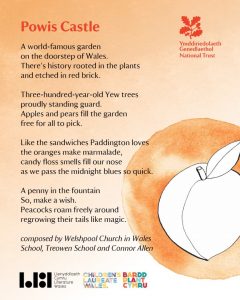 Do you Get Me?
As the schools broke up for the summer, Eloise Williams' year-long residency at Tonyrefail Community School came to an end. Over the course of the academic year, all Year 8 pupils at the school, as well as some vulnerable and disengaged groups in other school years, enjoyed a series of creative writing workshops and readings with Eloise. Additional activities included sessions with guest artists including Duke Al Durham, Rufus Mufasa and Sioned Medi, and the young people even shared breakfast on Zoom with Michael Sheen!
The aim of the project was to learn the impact that prolonged engagement with a writer can have on the students and the wider school community. Collecting information from teachers and learners, we've discovered that the general confidence of learners has increased, as well as confidence in their reading and writing skills. We will be sharing further impact findings in the new year.
Thank you so much to @TonyrefailCS for letting me have breakfast with you this morning. And to @Eloisejwilliams for the invite. #DoYouGetMe https://t.co/PhS1SunShX

— michael sheen 💙 (@michaelsheen) May 11, 2022
Wales Book of the Year 2022
Over a series of broadcasts on BBC Radio Wales and BBC Radio Cymru, we announced the winners of our prestigious Wales Book of the Year Awards. The winner of the overall English-language Award was Nadifa Mohamed with her novel The Fortune Men. The winner of the overall Welsh-language Award was Ffion Dafis with her novel Mori. Find out more about the award and this year's winning titles on the Wales Book of the Year pages.
Writer Commissions exploring literature, nature and well-being
We all know being in nature is good for our mental well-being and immersing ourselves in the great outdoors and writing about its wonders can also help us emotionally.
In March 2022, in partnership with Natural Resources Wales, we invited expressions of interest from writers and creative facilitators to devise and deliver a creative writing project which explored the connection between literature, well-being, and the natural environment.
Four projects were commissioned, each providing innovative and new creative activity exploring literary activity in nature and in the local community supporting good mental health and well-being.
Llên mewn Lle | Lit in Place
In the autumn we launched a new pilot project devised by Literature Wales in partnership with WWF Cymru, exploring the climate and nature emergency through literature. Llên mewn Lle | Lit in Place has funded writers and facilitators to devise, set up, and deliver activity with a community of their choice.
Three pilot projects will be supported in 2022-2023, which are Gwledda, run by Iola Ynyr in Rhosgadfan; The Fruits of our Fire run by Siôn Tomos Owen in Treherbert; and The LUMIN Syllabus by Sadia Pineda Hameed and Beau W Beakhouse in Swansea.
These pilots aim to develop resilient communities by exploring and understanding their local eco-systems. The projects will also contribute to wider discussions on finding practical solutions to the adverse effects of the climate and nature emergency.
Find out more about each individual project on the Llên mewn Lle | Lit in Place pages.
Books for all
In March 2022, a cohort of eight Black, Asian and Minority Ethnic children's writers from Wales completed a week-long residential course at Tŷ Newydd called Books for All. The cohort was selected following a call-out in the winter of 2021. The writers enjoyed several workshops and tutorial sessions from tutors Patience Agbabi and Jasbinder Bilan, and an afternoon of talks looking at the publishing industry in the company of Simran Sandhu, editor at Macmillan Children's Books; Leonie Lock, editor at Firefly Press, and Alex Wharton, who recently published his collection of children's poetry, Daydreams and Jellybeans with Firefly Press.
Maps and Rooms
At our inaugural Dihuno'r Dychymyg | Singing the Sun in Flight event, sponsored by Deputy Minister for Arts and Sport and Chief Whip, Dawn Bowden MS, the publishers Lucent Dreaming launched the anthology Maps & Rooms: Writing from Wales. The writing featured is by participants in Literature Wales' Representing Wales 2021-22 programme, showcasing the excellent voices of individuals who spent the year honing their skills and gaining a unique insight into the publishing industry.
You can read more about the anthology on the Lucent Dreaming website, and discover more about the Representing Wales programme via the video below.
Representing Wales
During 2022 we've been supporting a new cohort of writers through our Representing Wales programme. There are fourteen writers in total in the 2022-2023 cohort, working in the fields of fiction, narrative non-fiction, poetry, genre fiction, short stories, personal essays and more.
Representing Wales is a 12-month programme which provides development opportunities for writers currently underrepresented in the literature sector in Wales. It includes a financial award of up to £3,300 to help writers take time out to write, attend training sessions and literary events and to support travel expenses. Also included are one-to-one mentoring; monthly workshops and talks; as well as opportunities to network, make new contacts and build relationships with other writers.
Find out more about the writers taking part in the programme this year, and background information about Representing Wales on our website.
Cymru Ni | Our Wales
In the autumn, we announced a new, limited-time offer for Wales-based schools. With the support if Welsh Government, Cymru Ni | Our Wales helps schools deliver dynamic creative writing workshops by Welsh writers of colour by paying 50% of their fee.
The aim is that the writers delivering these workshops will inspire learners to imaginatively explore our modern Wales, helping them to become 'ethical, informed citizens of Wales and the world.'
The offer is still open, but the closing date is fast approaching! Head over to our Cymru Ni | Our Wales pages to find out more.
Helping other organisations develop literature activity
Last but not least, we've been pleased to facilitate literature activity with organisations outside of our sector, and have enjoyed seeing these projects bear fruit.
We partnered with Natural Resources Wales on their Nature and Us project, whereby two poets in residence, Durre Shahwar and Grug Muse took part in national and local conversations working towards a better understanding of the climate emergency in Wales.
We were also delighted to support Criw Creu, a project ran by Theatre Genedlaethol Cymru, and supported by Urdd Gobaith Cymru, which aimed to ensure that young people with additional learning needs have an opportunity to gain access to the arts, by creating original work under the guidance of experienced and inspirational artists.

We supported Cadw's Creative Responses project by co-commissioning the poet Alex Wharton to research and write about a number of notable individuals of Black heritage in Wales. Using poetry, song, and film, Alex has conveyed the stories of prominent figures in the world of entertainment, sport and academia, creating tributes to people including Iris de Freitas, Clive Sullivan and Betty Campbell.
Another way we support others to organise literary activity is through our Inspiring Communities Fund. This project offers up to 50% funding towards the cost of a writer's fee for events, talks and workshops. Since March 2022, we've supported 226 events along the length and breadth of Wales, with over 7,000 audience members enjoying inspiring sessions with a range of different writers. The Inspiring Communities Fund is available throughout the year, so if you're a society or an organisation aiming to organise an event with a writer in 2023, head over to the Inspiring Communities fund page to find out more about how and when to apply.