Wales' National Poets: Passing on the baton, showing our gratitude, and putting a foot on the gas!
Published Tue 20 Sep 2022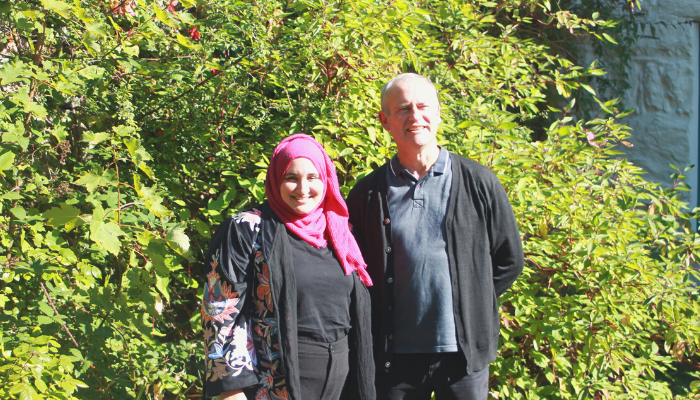 Wales had two National Poets over the summer as Ifor ap Glyn and Hanan Issa shared the role during a period of handover.  During a recent event at Tŷ Newydd Writers' Centre, the reins were fully transferred to Hanan, and Wales' new National Poet embarked on an autumn of of travelling, networking, and putting pen to paper responding creatively to many things that are close to her heart. 
Led by Literature Wales' Artistic Director, Leusa Llewelyn, the event at Tŷ Newydd was also an opportunity to thank Ifor ap Glyn for all his work over the last six years.   
Leusa said:
"Ifor ap Glyn has been the National Poet of Wales since 2016; as a fantastic poet and communicator, Ifor has been an accomplished, enthusiastic, and generous ambassador for Wales. We are extremely grateful to him for his remarkable contribution, skilful and sensitive words, and his continued willingness throughout his tenure." 
Ifor ap Glyn's six years as Wales' National Poet have been busy and varied as he travelled the world forming connections and celebrating Wales' culture. His biggest contribution was in Wales; he composed poems to note national occasions and led various projects where he ensured that he provided a stage for our country's other poets and artists. Ifor ap Glyn's commissioned poems, and information about his projects, can be found on the Literature Wales website. 
Ifor ap Glyn's last project as National Poet of Wales will be released online in the days leading up to National Poetry Day on Thursday 6 October. Language Sudoku is a project celebrating the languages of Wales, with six poetry videos in six languages published on the Literature Wales website from 28 September onwards – keep an eye out for these wonderful works!  
Hanan Issa was announced as the next National Poet of Wales in July, and since then, she has received many commissions and invitations to take part in events, conferences and projects. She was also announced as the 2022/23 Hay Festival International Fellow. 
Literature Wales has commissioned two poems by Hanan. One responding to the cost-of-living crisis, which is currently affecting many individuals and families in Wales; and another to mark World Alzheimer's day on 21 September 2022.  
Here are further details of all Hanan Issa and Ifor ap Glyn have in store over the coming weeks: 
Tuesday 20 September: Hanan Issa reads a new poem commissioned by the Arts Council of Wales as part of their Imagining Our Future festival.

You can register to attend the festival here

. 

 

Wednesday 21 September: The release of a poem by Hanan Issa to mark World Alzheimer's Day

 

Monday 26 September: The release of a poem by Hanan Issa on the cost-of-living crisis

 

Wednesday 28 September – Wednesday 5 October: The Language Sudoku video-poems will be published. This project was developed and led by Ifor ap Glyn – his final work as National Poet of Wales.