Open Call-Out: Scriptwriting Skills Retreat
Published Tue 5 Apr 2022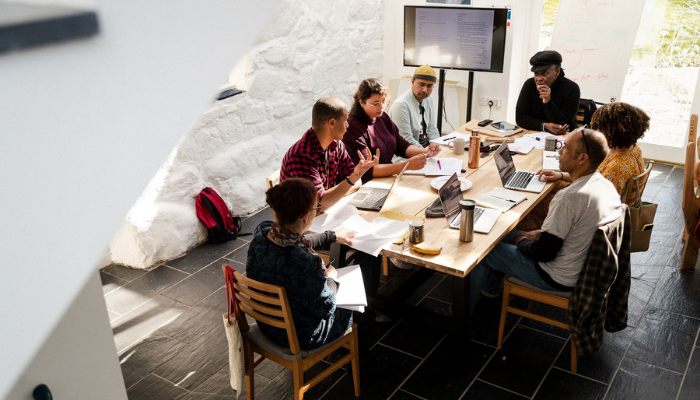 Literature Wales and Sherman Theatre are pleased to offer a free development opportunity for playwrights who are underrepresented in literature and the theatre industry in Wales.
Course Dates: Monday 13 – Friday 17 June 2022
Tutors: Branwen Davies and Alice Eklund
Guest Readers: Sita Thomas and Alistair Wilkinson
Deadline to Apply: 5.00 pm Monday 2 May
Join Branwen Davies and Alice Eklund, Literary Manager and Literary Associate at Sherman Theatre's literary department, for a retreat at Literature Wales' national writing centre, Tŷ Newydd, to develop your scriptwriting skills for the stage. This retreat will be offered to ten playwrights from Wales, free of charge, through an application process. The opportunity is open for emerging writers with underrepresented characteristics within the literary and theatre world, and in particular we will be looking for writers of colour and/or writers with a disability.
What will happen during the retreat?
During the retreat, you will take part in group workshops to develop your craft. We'll aim to help you develop your original ideas, placing them into the world of the play. We'll look at how to create credible characters and dialogue, crafting a structure to carry the story, and explore – and perhaps push – the boundaries of the stage play. During the week, every writer will receive a one-to-one meeting with the tutors, and with a Literature Wales staff member, to discuss your development as a writer.
There will be an opportunity to hear from industry experts speaking about their diverse experiences, and we'll read extracts of plays, share work, and watch clips of relevant dramas to give context to our work. There will be plenty of time for you to focus on your writing, as well as enjoying your co-writers' company, so you can develop a new supportive network of writers in Tŷ Newydd's welcoming and inspiring surroundings. Everyone will be encouraged to arrive with a seed idea or pitch for a play, and you will leave at the end of the week with the first pages of your play and a clear structural plan on how to continue with it in your own time.
We'll keep in touch after the course, and encourage the network to continue to meet online occasionally to share progress, ideas, and to discuss challenges. The retreat will mainly be held through the medium of English, but we are very keen to welcome writers eager to develop work through the medium of Welsh – there is no need for good grammar or vocabulary! The tutors are both bilingual, so the one-to-one meetings can happen in Welsh. We also welcome the possibility of creating bilingual work.
This course is aimed at writers who are underrepresented in the theatre and literature world. By providing guidance for writers from Diverse Ethnic Communities, disabled writers or writers living with illnesses, LGBTQA+ writers, writers from low income backgrounds or writers underrepresented in other ways, our hope is that these lived experiences will receive better representation in the future – ensuring that our theatre and literature is relevant to all.
The Tutors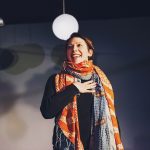 Branwen Davies is a playwright, dramaturg and director working through the medium of Welsh and English. She is currently the Literary Manager for Sherman Theatre, leading on writing courses and developing theatre writers. She has worked as a lecturer on drama and performance at several Universities in Wales. Branwen is a member of Dirty Protest, and one of the founders of theatre company Os Nad Nawr. She has worked with several companies in Wales including Theatr Genedlaethol Cymru, Papertrail, Illumine, Frân Wen, Dirty Protest, Blas Pontio, Sherman Theatre and Criw Brwd.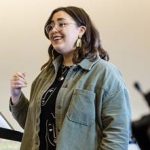 Alice Eklund is a multi-disciplinary artist based in Cardiff. She predominantly works as a theatre director and dramaturg on women-led new writing for plays and musicals. She is currently the Literary Associate at Sherman Theatre. As a queer, bilingual artist living with a disability, she's also interested in developing pieces that push the norm and boundaries of Welsh language theatre. Over the years Alice has worked with a number of companies such as National Theatre Wales, Wales Millennium Centre, Sherman Theatre, Theatre Uncut, Goodspeed and The Other Room. Alice is also the founder of BolSHE, a women-led creative collective, platforming and celebrating the voices of creative Welsh women.
Guest Readers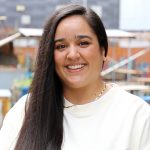 Dr Sita Thomas is Artistic Director of Fio theatre company. She is Creative Associate at Wales Millennium Centre, Associate Artist at National Youth Theatre, and Headlong Origins Director. Directing credits include: Coventry Embraces, a large-scale site-specific production as part of Good Chance's The Walk with Little Amal; Go Tell The Bees, a co-created community led feature film about Pembrokeshire for National Theatre Wales; Press Play Here, short films for Theatre Royal Stratford East; and Under The Mask, a binaural audio drama about the NHS for Tamasha and Oxford Playhouse. Sita holds a PhD from the University of Warwick and a Masters in Movement Direction from Royal Central School of Speech and Drama.  Sita is also a presenter of Channel 5's milkshake!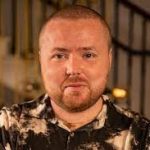 Alistair Wilkinson is an award-winning, queer, working class and disabled artist. They trained at Royal Central School of Speech and Drama, completed an MA at RADA/Birkbeck and took part in The Royal Court's Invitation Writers Group. They have made work for the BBC, Sky Arts, The National Theatre, Barbican Centre, Shoreditch Town Hall, Arcola Theatre, and Curious Monkey, amongst many others. Alistair's work focuses on themes of grief, sickness, intimacy and intoxication. A former Head of Artist Development at The Old Vic, they are currently leading on talent development at Punchdrunk. They are an Associate Artist at The National Youth Theatre, a Connect Artist for RTYDS, a Trustee for Boundless, and a Script Reader for The Bush Theatre, Theatre Uncut, and The Papatango Prize. Alistair is the Founder and Creative Director of WoLab.
How do I apply?
Please download the FAQ document below to read more about the course. Then, to apply, please fill out this Application Form. In addition to asking you about your personal information, the form will ask you to explain why you want to apply, and ask you to provide an example of a script – or an idea for a play.
Large print versions and dyslexia friendly versions are also available below.
If you need any help to apply, please contact us for an informal chat.
We will contact every applicant before Friday 13 May.