Niall Griffiths' Broken Ghost wins the 2020 Wales Book of the Year Award
Published Fri 31 Jul 2020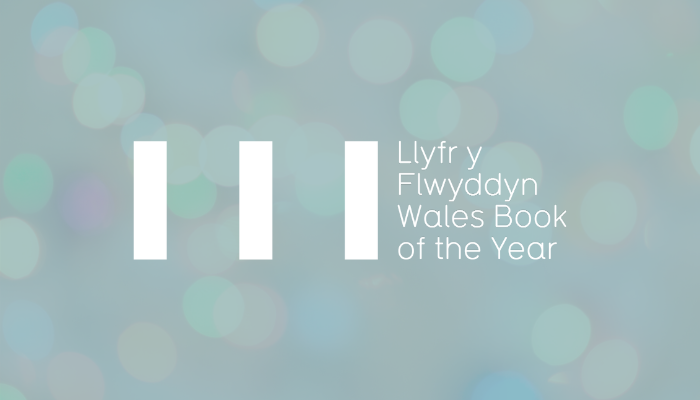 Literature Wales today announced that the renowned writer Niall Griffiths is the winner of the 2020 Wales Book of the Year Award with his novel, Broken Ghost (Jonathan Cape).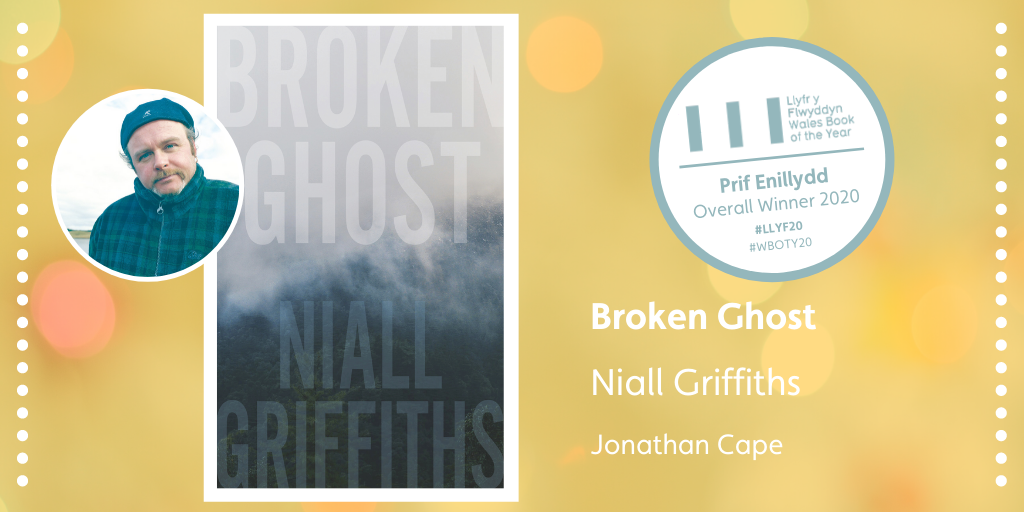 The news was announced on the BBC Radio Wales Arts Show at 7.00pm on Friday 31 July where presenter Nicola Heywood Thomas was joined by judge Ken Wilson-Max, CEO of Literature Wales, Lleucu Siencyn, representatives from the literary scene and all Award winners for a jam-packed celebratory programme. It was first declared that Niall's Broken Ghost had been awarded the Rhys Davies Trust Fiction Award, before going on to win the overall award and the crowning title Wales Book of the Year 2020. Niall receives a total prize of £4,000 and a specially commissioned trophy, designed and created by the artist Angharad Pearce Jones.
Broken Ghost is Niall Griffith's ninth novel, and the second to win the prestigious Wales Book of the Year Award (Stump, 2004). The novel features a Welsh community drawn together and blown apart by a strange vision in the mountains. The people who live in these mountains already have their own demons – drink, drugs, domestic violence, psychoses – but each character has a different experience of this strange apparition, a different reaction, and for some it will change everything. This is a novel that gives voices to the marginalised, the dispossessed, the forgotten. Disturbing and unforgettable, darkly funny and deeply moving, written in a charged language that is vernacular, lyrical and hieratic all at once, Broken Ghost is – simultaneously – a howl of anguish and a summoning of gods. Read more here.
Niall Griffiths was born in Liverpool and is now a full-time writer, living at the foot of a mountain in mid-Wales. He's been a labourer, a barman, a server of fish and chips, a burglar, a farmhand, a tree feller, a factory worker and more, but now he has many novels, non-fiction titles, and short stories to his name, and he is a regular contributor to The Guardian, BBC, and other media outlets. His fourth novel, Stump, won the Wales Book of the Year Award in 2004, and a film adaptation of his third novel, Kelly+Victor, won a BAFTA.
Judging the English-language books this year are author and illustrator Ken Wilson-Max; author, teacher and translator Sampurna Chattarji; and Fulbright Scholar, Senior Lecturer and Hay Festival Fellow, Tiffany Murray.
Tiffany Murray, on behalf of the judging panel, said: "Wales Book of the Year needs to celebrate our literature more than ever this year. Our stories must continue, and support for Welsh writers must continue. What a celebration this has been for the judging panel. It was a particularly strong year and the scope and quality of contemporary Welsh writing is astounding. Our four categories filled these months with the pleasure of reading, they challenged and inspired. Our winners have all met pasts, presents and possible futures head-on, and in this process they have altered the currency of where we are now."
The Wales Book of the Year Fiction Category is sponsored by the Rhys Davies Trust for the first time this year. The Rhys Davies Trust announced its investment in the prize in February 2020 as part of a dynamic and innovative series of creative initiatives designed to celebrate the past of Wales' long tradition of literary achievement through the medium of English, and build towards its future.
Chairman of the Rhys Davies Trust, Professor Dai Smith said: "The Rhys Davies Trust is delighted to support Literature Wales' English-language Fiction Award into the future, and that the first such award, acclaimed widely for its stylistic verve and its passionate commitment in the hope of  humane renewal amidst fracture and despair, should go to Niall Griffiths for Broken Ghost."
Category Winners
Celebrating books across four categories – poetry, fiction, creative non-fiction, and children & Young People – as well as the Wales Arts Review People's Choice Prize, tonight's broadcast saw Literature Wales announce a total of six prize-winners.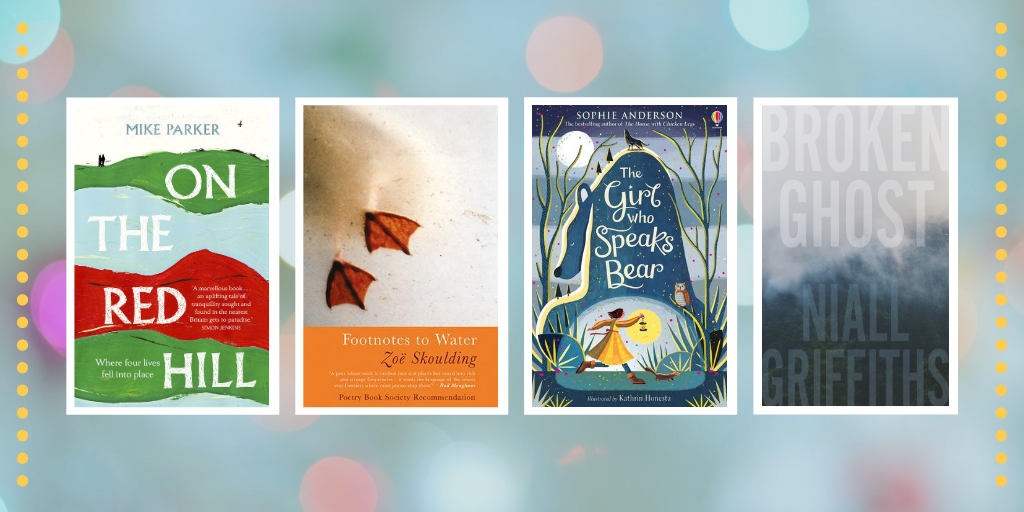 The winner of the Poetry Award is Zoë Skoulding with her collection Footnotes to Water (Seren), in which she follows two forgotten rivers, the Adda in Bangor and the Bièvre in Paris, and tracks the literary hoofprints of sheep through Welsh mountains. In these journeys she reveals urban and rural locales as sites of lively interconnection, exploring the ways in which place shapes and is shaped by language.
The winner of the Creative Non-Fiction Award is On the Red Hill, Mike Parker (William Heinemann). On the Red Hill is the story of Rhiw Goch, 'the Red Hill', and its inhabitants, but also the story of a remarkable rural community and a legacy that extends far beyond bricks and mortar. On The Red Hill celebrates the turn of the year's wheel, of ever-changing landscapes, and of the family to be found in the unlikeliest of places.
The winner of the Children & Young People Award is Sophie Anderson with her lyrical folk tale of magic, belonging, and choosing your own family, The Girl Who Speaks Bear (Usborne). This novel follows Yanka, who was found abandoned by a bear cave as a baby, and has always wondered where she is from. When she must flee her house looking for these answers, a journey far beyond anything she ever imagined begins, from icy rivers to smouldering mountains, meeting an ever-growing herd of extraordinary friends along the way.
The Children & Young People category is new for 2020, to encourage a new generation of creative readers and writers, help raise the profile of Wales and its talented authors, and establish that literature for children is on a par with that which is intended for adult readership.
The Wales Arts Review People's Choice Prize was awarded to Sophie Anderson, who captured the imagination of the reading public with The Girl Who Speaks Bear. Sophie receives a limited-edition signed and framed print of Pete Fowler's Weird and Wonderful Wales mural on Cardiff Central Station's Water Tower.
The Welsh-language Award
Today, in the last of a series of radio announcements in partnership with BBC Cymru Wales, Literature Wales announced that the overall winner of the Welsh-language Wales Book of the Year Award 2020 is Ifan Morgan Jones with his novel Babel (Y Lolfa).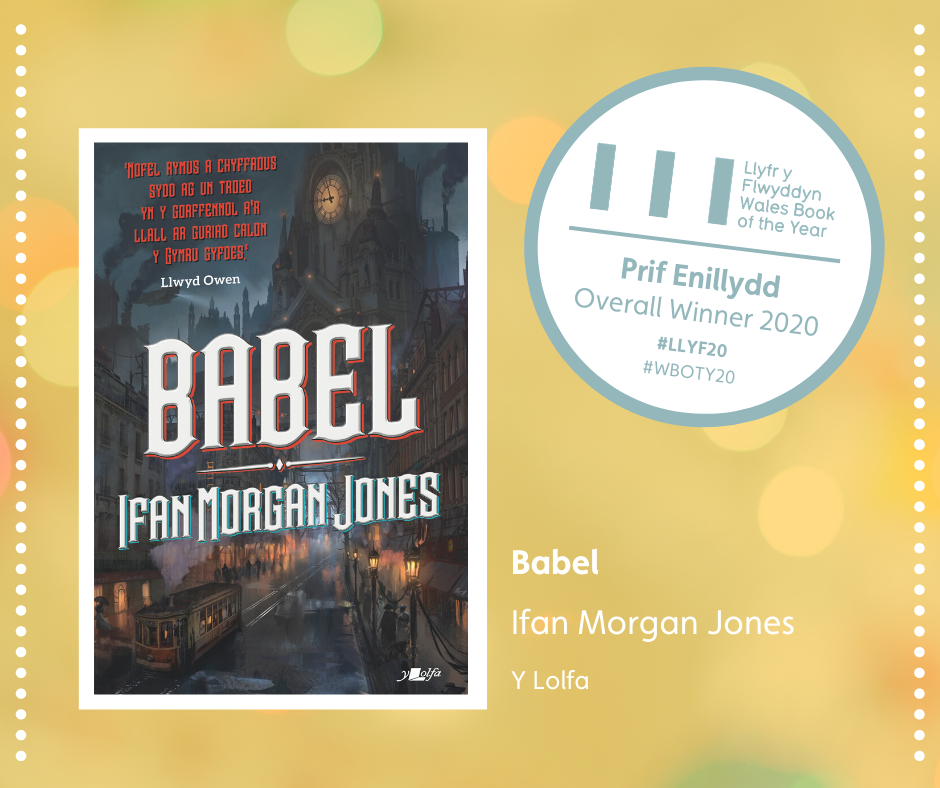 Ifan was announced as the winner on BBC Radio Cymru – as part of BBC Radio Cymru, Radio Cymru 2 and BBC Cymru Fyw's AmGen festival of culture and music – where presenter Nia Roberts was joined by CEO of Literature Wales, Lleucu Siencyn and members of the judging panel for the final Wales Book of the Year announcement of 2020. During the same programme, it was announced that Babel was also the winner of this year's Golwg360 People's Choice Award, meaning Ifan has therefore scooped all three possible awards this year.
Babel is Ifan Morgan Jones' third novel. It is the first Welsh-language novel in the popular Steampunk genre, a fast-paced mystery set in an industrial town in the second half of the 19th century. The main character, Sara, escapes from her father – an alcoholic minister – and comes to the town having seen an advert for a job as a journalist.
Ifan Morgan Jones is a writer, lecturer and journalist. Originally from Waunfawr, Ifan now lives near Llandysul and is a Journalism Lecturer at Bangor University. He is the editor of the news service nation.cymru.
The category winners are as follows:
Poetry Award: Caryl Bryn, Hwn ydy'r llais, tybad? (Cyhoeddiadau'r Stamp)
Creative Non-Fiction Award: Alan Llwyd, Byd Gwynn, Cofiant T Gwynn Jones (Cyhoeddiadau Barddas)
Children & Young People Award: Elidir Jones, Chwedlau'r Copa Coch: Yr Horwth (Atebol Cyf)
Fiction Award, Golwg360 People's Choice Award & Main Award Winner: Ifan Morgan Jones, Babel (Y Lolfa)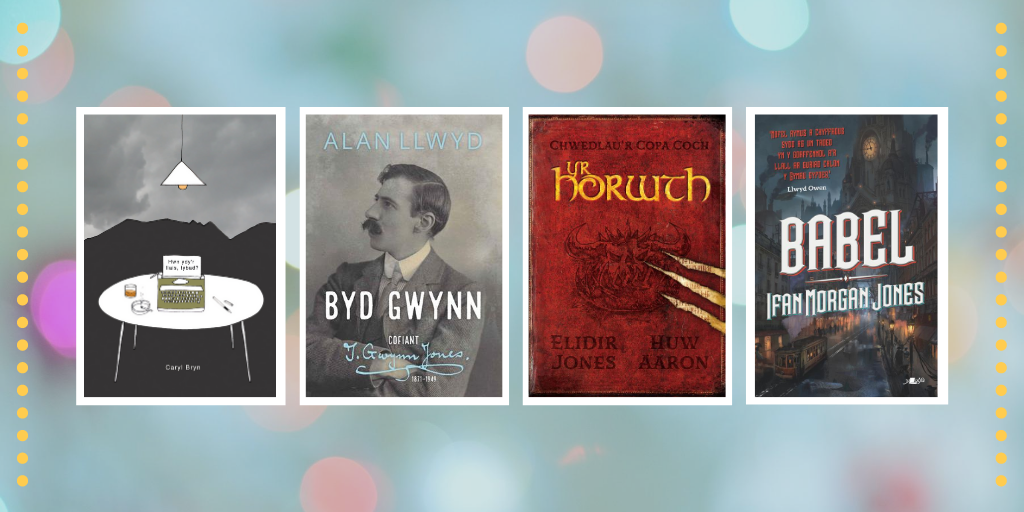 Lleucu Siencyn, Chief Executive of Literature Wales said: "Wales Book of the Year is one of the highlights of our cultural calendar, and this year more than ever we are extremely pleased to be able to continue to shine a light on our incredible literary talents. Literature helps to guide us through our darkest hours, as well as bringing joy and hope to readers of all ages. Wales consistently produces excellent writers, and this Award is testament to this each year. Congratulations to all of this year's winners!"
On the Welsh-language judging panel this year are journalist and former Editor of BBC Radio Cymru and BBC Cymru Fyw, Betsan Powys; cartoonist, author and presenter Siôn Tomos Owen; Award-winning poet and Head of Law and Criminology at Aberystwyth University, Emyr Lewis; and singer and composer Casi Wyn.
Phil George, Chair of the Arts Council of Wales, said: "Many congratulations to the winners of this year's Wales Book of the Year award. The gutsy, the provocative, the haunting and the lyrical are all here. We find a confident and often discomforting vision of contemporary Wales that is yet deeply rooted in fragments of memory, hidden histories and folk tales. And it's particularly inspiring to have the new category of the Children and Young People's Award. For readers in both languages of all ages, there's enough energy, depth and edgy challenge in this year's lists to fuel your dreams, delight your days and trouble your consciences."
For further information about the Wales Book of the Year Award, visit: www.literaturewales.org