Nadifa Mohamed's The Fortune Men is the 2022 Wales Book of the Year
Published Fri 29 Jul 2022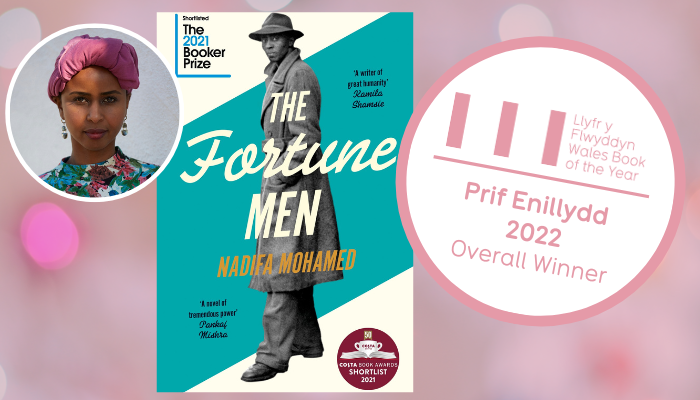 We are delighted to announce that the winner of the Wales Book of the Year Award 2022 is Nadifa Mohamed with her novel The Fortune Men (Viking, Penguin Random House).
Wales Book of the Year is Wales' national book award. The annual prize celebrates outstanding literary talent from Wales across many genres and in both English and Welsh. To be eligible, books need to be written by a Welsh or Wales-based writer, or must have strong Welsh-themed content. The news of this year's winners was announced during a special broadcast of BBC Radio Wales' Arts Show, where presenter Nicola Heywood Thomas was joined by the Award's judges, also Leusa Llewelyn from Literature Wales, Gary Raymond from Wales Arts Review, and featured contributions by all 12 shortlisted writers.
It was first declared that The Fortune Men was awarded the Rhys Davies Trust Fiction Award, then the Wales Arts Review People's Choice Award, before going on to win the overall award and the crowning title of Wales Book of the Year 2022. For this hat-trick, Nadifa receives a total prize of £4,000 and a bespoke trophy, designed and created by the artist Angharad Pearce Jones.
The Fortune Men is Nadifa Mohamed's third novel. It is a fictionalised retelling of the story of Mahmood Mattan, a man wrongfully convicted of murder in 1950s Cardiff. He is a father, chancer, petty criminal. He is many things, but he is not a murderer. So when a shopkeeper is brutally killed and all eyes fall on him, Mahmood isn't too worried. He is innocent in this country where justice is served. It is only in the run-up to the trial, as the prospect of returning home dwindles, and it dawns on Mahmood that he is in a fight for his life – against conspiracy, prejudice, and cruelty – and that the truth may not be enough to save him.
Nadifa Mohamed was born in Hargeisa, Somaliland, in 1981 and moved to Britain at the age of four. Her first novel, Black Mamba Boy, won the Betty Trask Prize; it was shortlisted for the Guardian First Book Award, the John Llewellyn Rhys Prize, the Dylan Thomas Prize, and the PEN Open Book Award. Her second novel, Orchard of Lost Souls, won a Somerset Maugham Award and the Prix Albert Bernard. Nadifa Mohamed was selected for the Granta Best of Young British Novelists in 2013 and is a Fellow of the Royal Society of Literature. The Fortune Men was shortlisted for the 2021 Booker Prize. Nadifa Mohamed lives in London.
The Awards are judged by an independent panel appointed annually. Judging the English-language books this year are poet and writer Krystal Lowe, journalist and broadcaster Andy Welch, author and presenter Matt Brown, and poet and recipient of a 2020 Rising Stars Award Taylor Edmonds.
On behalf of the judging panel, Krystal Lowe said: "We want to thank every single writer who submitted their book to this award. It was not only a joy but an honour to read every one of them. It was incredible to see the breadth of talent and creativity living in Wales, and I look forward to following the long and fruitful careers of all the writers who submitted. We are so pleased to have selected Nadifa Mohamad's The Fortune Men and hope that many people read this compelling novel."
Category Winners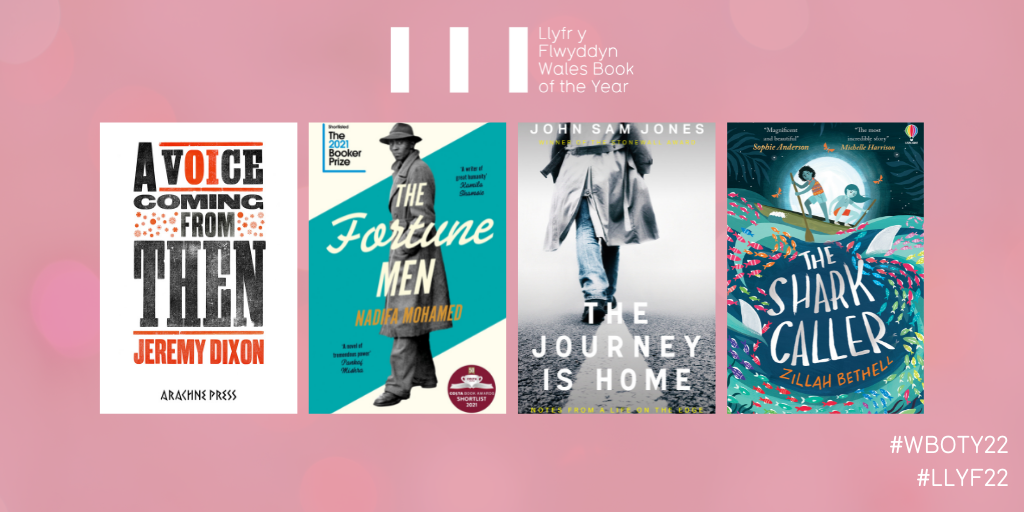 Celebrating books across four categories – poetry, fiction, creative non-fiction, and children & young people – as well as the Wales Arts Review People's Choice Award, tonight's broadcast saw Literature Wales announce a total of six prize-winners.
The winner of the English@BangorUni Poetry Award is A Voice Coming from Then by Jeremy Dixon (Arachne Press). His second poetry collection, A Voice Coming from Then, starts from Jeremy's teenage suicide attempt and expands to encompass themes of bullying, queerphobia, acceptance and support.
The winner of the Creative Non-Fiction Award is The Journey is Home: Notes from a Life on the Edge by John Sam Jones (Parthian). In this clear and absorbing memoir John Sam Jones tells a story of journeys and realisation, of acceptance and joy.
The winner of the Children and Young People Award is The Shark Caller by Zillah Bethell (Usborne). Set on the shores of Papua New Guinea, this novel is a spell-binding adventure of friendship, forgiveness, and bravery.
Find out more about the winners here: literaturewales.org/wales-book-year
Leusa Llewelyn, Literature Wales' Joint Interim CEO said: "Many congratulations to all of the category winners, everyone at Literature Wales have been enjoying and discussing the shortlisted books for months. A special congratulations to Nadifa for winning the hat-trick with The Fortune Men. It's no surprise at all that she has captured the judges' and the readers' hearts with this powerful novel about injustice and oppression. The Fortune Men brings alive the multicultural docklands of our capital city in the 1950s with its sights, smells and sounds, with Cardiff becoming an intriguing character in its own right within the pages of this captivating novel."
To find out more visit the Wales Book of The Year pages.