'Hold You', a poem for World Alzheimer's Day by the National Poet of Wales 
Published Wed 21 Sep 2022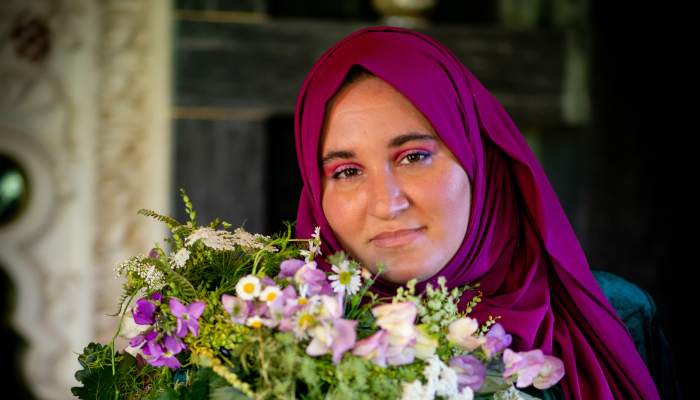 Hanan Issa, the National Poet of Wales has penned a poem to mark World Alzheimer's Day on 21 September 2022. 
Hanan Issa was announced as National Poet of Wales in July 2022, and officially took over from the former post-holder, Ifor ap Glyn in September. September is also World Alzheimer's Month, a global opportunity to raise awareness around, educate, encourage support of and demystify dementia. The theme for World Alzheimer's Month this year is Know dementia, know Alzheimer's. This is the same theme as 2021, but this year it has a special focus on post-diagnosis support. 
The National Poet of Wales takes poetry to new audiences and encourages others to use their creative voice to inspire positive change. They are an ambassador for the people of Wales, advocating for the right to be creative and spreading the message that literature belongs to everyone. Part of the National Poet of Wales role is writing commissioned poems, some commissioned by Literature Wales, the national body running the project. 'Hold You' is the first of these commissions, responding to an issue close to Hanan's heart.  
Hold You 
"Beware of the tigers, shunar beti1," 
you warn each time I leave the hospital. 
As if the Moulvibazar jungle had 
twined its vines around the streets of Heath 
and tigers roamed the cherry-blossomed roads. 
Forced to watch your fairy lights wink out. 
One by one, your memories drop off the shelf 
slowly, as a spider drags a fly 
from knowing to confusion to certainty 
over and over and over again. 
"D'you know they took my car back?" 
You fret each time I sit on your settee. 
As if the years you spent zooming left and right 
on errands for family meant nothing now 
that you sometimes forget your left, your right. 
You fill your wall with faces you can't place, 
every hesitation before you say my name stings. 
I promise to hold you as Abba, as Nan – 
fixing a car, buttering my toast. 
Hanan Issa 
Bardd Cenedlaethol Cymru | National Poet of Wales 
1 Bengali term of endearment meaning 'golden girl'
If you or your loved ones are affected by dementia, or if you are worried about your or their memory, contact Alzheimer's Society.  
The Alzheimer's Society exists to ensure that people living with dementia have the support they deserve, that their rights are protected and enhanced by campaigning, and that they can look to a brighter future thanks to investment in research. Find out more about the charity, about World Alzheimer's Month, and access Wales-specific information and support on the Alzheimer's Society website.  
A Welsh translation of the poem was written by poet Iestyn Tyne, and it can be seen on the Welsh Literature website.