Good-turn Energy | Comissioned Poem by Ifor ap Glyn
Published Thu 17 Dec 2020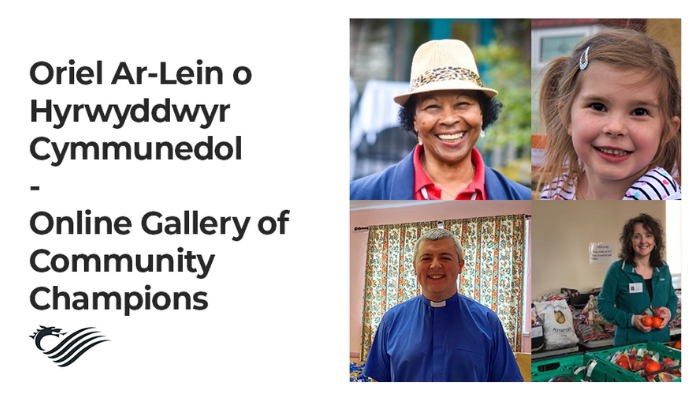 The National Poet of Wales, Ifor ap Glyn celebrates the heroes of Covid-19 
in his new
commissioned poem
; 
the people throughout Wales who have been generous and kind within their communities 
and 
for the benefit of others.
The poem is part of a new online portrait gallery of community champions nominated by Members of the Senedd, organised by the Welsh Parliament. 
The portraits are published daily on the Visit the Senedd social media accounts,  Senedd Instagram, Senedd Facebook, Pierhead Twitter in December 2020. 
Members of the Senedd were invited to nominate up to three champions from their constituencies or regions to be part of the gallery. The nominees include individuals, groups, key workers and businesses, who have done extraordinary things during Covid-19 to help the most vulnerable and keep communities together. 
'Good-turn energy' is an English translation of 'Egni Cymwynas' by National Poet of Wales Ifor ap Glyn, comissioned by Literature Wales and the Senedd Commission. 
Good-turn energy 
(to accompany the Gallery of 'Community Champions during COVID'  
in the Senedd, November – December 2020) 
Stadium Wales is a land laid dark, 
yet a cauldron of potential… 
(though no band is due to play) 
Amongst the empty seating,  
the echo of a crowd long-gone 
swells to chorus; 
and sparks of ancient kindness  
kindle thousands of tiny lights. 
Such is the force in each benevolent act –  
the surreptitious voltage 
coursing through our land, 
in prescription-fetching,  
neighbours-shopping; 
the heart-to-heart sharing  
like an unprompted rose; 
and the circuit completes, 
when we link arm-in-arm,  
from afar… 
And as we relearn  
the new worlds of our former haunts, 
challenged by new maps, 
despite the strangeness 
of virtual hugs, 
and the tedium 
of each temporary lockdown, 
good turns still generate a jolt: 
– like touching the sun with a finger-tip! – 
and Wales shines on in their wake…  
Ifor ap Glyn 
Bardd Cenedlaethol Cymru / National Poet of Wales