Artists share experiences of making a mural in Newport
Published Tue 14 Mar 2023
Creative practitioner Bill Taylor-Beales and Uschi Turoczy, a creative writing facilitator, worked with a group of young people at the Pill Millennium Centre, known locally as Pill Mill, to create the striking artwork.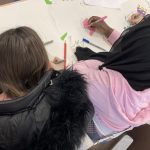 Piece by Piece is a Comic Relief-funded partnership project with Newport Mind and Maindee Youth, supporting families and young people with mental health issues in Newport, especially those from low-income or BAME backgrounds or who are LGBTQ+. The project sees writers and artists partnered to create poems, films and music projects to support those families. Its creative aim is to address trauma and reduce the impact of poor mental health by sharing experiences through creative activities such as spoken word poetry, digital stories, drama, illustration and creative writing.
You can read Uschi and Bill's observations below, or click on the Piece by Piece page of our website here to read more about the broader project.
"There is a large and diverse young community who attend Pill Millennium Centre, who rely on all the services, projects and ongoing clubs it provides. The staff there say it is a beacon in the community – turn on the lights and the kids will come. The young people trust that it's there for them and it is always buzzing with people. So delivering a project there is excellent because the young people feel comfortable there – it's their space – so when you try to get participant ideas and hear the young people's voices, it can actually happen as they are somewhere they already feel safe, heard and confident. 

"I was lucky enough to work with Bill Taylor Beales on this project (who has an enormous amount of experience in making mural work and creating physical pieces). Working with Bill was really positive; we shared views about being responsive to the participants and wanting to let their ideas drive the outcome. We were both flexible in having ideas up our sleeves, but not necessarily having to draw from them. Bill's ease at introducing the group to new practical skills was fantastic to see and gave the young people such a boost in their self-esteem.  

"On the day it was brilliant to see such energy and focus in the room. Five positive outcomes I saw on Day 1, were:  

Small groups working at ease together – each a hive of activity, where everyone was sharing and offering ideas. (It was also amazing to see how three groups were naturally created.)  

The young people coming up with the idea to incorporate flags into the design, representing diversity which they all identified as a positive aspect of Pill's strong community.  

Organic praise being offered between participants, e.g. "Who did this graffiti? It's so good." "Was it you, Alana? You're so good at drawing!" 

Volunteering to try new things. One young boy volunteered to use a power tool with Bill's supervision despite never having used one before – everyone else then followed suit.  

Participant numbers were higher than expected and people stayed focused throughout. Two girls even stayed and offered to help put away paints (apparently the pair of them usually do not engage so thoroughly with activities.) 

"Together the young people came up with words about Pill which they were happy with: diversity, community, togetherness, unique, teamwork, football, supporting, family, friends… and my favourite, 'Bryn's samosas'. Initially, the young people struggled to think of ways to describe Pill – but once people spoke about the community centre's role in Pill, their ideas flowed more naturally and they could bounce off one another. 'Football' became 'teamwork', 'community' became 'togetherness' and 'family', 'friends', 'diversity', and conversations about 'scary parts' provided the words 'protective' and 'support'. Eventually they chose to use the words 'community', 'Pill is family' and NP20 (pill's postcode), surrounded by flags from a range of countries.  

Uschi Turoczy, creative writing facilitator

"Artists, young people and staff from Pill Mill and Newport Mind and Literature Wales all gathered at the Pill Mill to create a fabulous mural depicting positive aspects of the area. 

"Seeing the eagerness that the young people took to using the power tools was so exciting, and the way they took the process of 'jig-sawing' the timber so seriously. I particularly enjoyed that a few of the older girls who had caused some trouble in the group historically really loved the chance to do this and commented how they wished they could do more of this and it was making them think that they would to do this as a job. They even volunteered to stay behind and clear up! The care that most of the young people took over their work was inspiring and to see them using power tools to actually install it on site was wonderful – the pride they had in their work was very apparent.  

"Literature Wales and Newport Mind were very active in offering help and making sure we as artists were able to deliver the project well and safely. I would specifically like to thank Katy, the youth worker at Pill Mill. She worked very hard to make this a success and had a great relationship with the young people – I felt everyone contributed to make the atmosphere really pleasant and the workshop as engaging as possible. 

"Looking forward to another opportunity like this as I believe the pride the young people had for the work will be a powerful legacy."

Bill Taylor-Beales, creative practitioner