Literature Wales announces the English-language Shortlist for Wales Book of the Year 2021
Published Fri 2 Jul 2021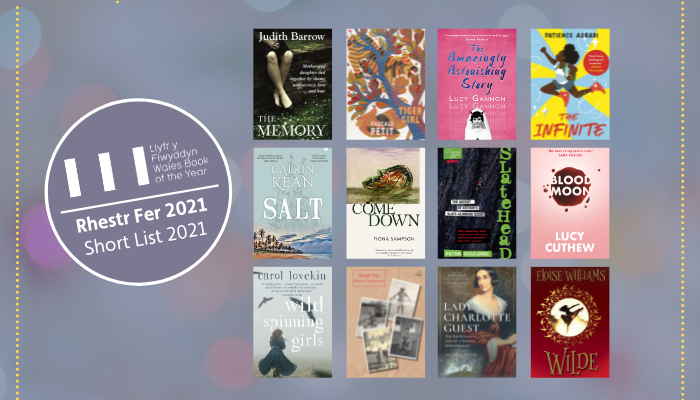 Literature Wales announces the English-language Shortlist for Wales Book of the Year 2021 which "demonstrates the quality, breadth and range of writing being produced in, and about Wales."
Literature Wales has today announced the Shortlist for the English-language Wales Book of the Year Awards 2021. The 12 books nominated for this year's Awards were revealed this evening (Friday 2 July) on the BBC Radio Wales Arts Show. The Welsh-language Shortlist was announced earlier this week on BBC Radio Cymru's Stiwdio programme.
Wales Book of the Year celebrates outstanding literary talent from Wales across various genres in both English and Welsh. There are four categories in each language – Poetry, Fiction, Creative Non-fiction and Children & Young People.
English-language Shortlist 2021
Poetry Award
Tiger Girl, Pascale Petit (Bloodaxe Books)
Come Down, Fiona Sampson (Corsair Poetry)
Road Trip, Marvin Thompson (Peepal Tree Press)
The Rhys Davies Trust Fiction Award
The Memory, Judith Barrow (Honno Press)
Salt, Catrin Kean (Gwasg Gomer)
Wild Spinning Girls, Carol Lovekin (Honno Press)

Creative Non-Fiction Award 
The Amazingly Astonishing Story, Lucy Gannon (Seren Books)
Slatehead: The ascent of Britain's Slate climbing scene, Peter Goulding (New Welsh Review)
Lady Charlotte Guest: The Exceptional Life of a Female Industrialist, Victoria Owens (Pen & Sword)
Children & Young People Award        
The Infinite, Patience Agbabi (Canongate Books)
Blood Moon, Lucy Cuthew (Walker Books)
Wilde, Eloise Williams (Firefly Press)
Welsh-language Shortlist 2021
Gwobr Farddoniaeth
Dal i Fod, Elin ap Hywel (Cyhoeddiadau Barddas)
rhwng dwy lein drên, Llŷr Gwyn Lewis (Self-published)
Mynd, Marged Tudur (Gwasg Carreg Gwalch)
Gwobr Ffuglen
Wal, Mari Emlyn (Y Lolfa)
Tu ôl i'r awyr, Megan Angharad Hunter (Y Lolfa)
Twll Bach yn y Niwl, Llio Elain Maddocks (Y Lolfa)
Gwobr Ffeithiol Greadigol
Ymbapuroli, Angharad Price (Gwasg Carreg Gwalch)
Darllen y Dychymyg: Creu Ystyron Newydd i Blant a Phlentyndod yn Llenyddiaeth y Bedwaredd Ganrif ar Bymtheg, Siwan M. Rosser (University of Wales Press)
O.M.: Cofiant Syr Owen Morgan Edwards, Hazel Walford Davies (Gwasg Gomer)
Gwobr Plant a Phobl Ifanc
Ble Mae Boc? Ar goll yn y chwedlau, Huw Aaron (Y Lolfa)
#Helynt, Rebecca Roberts (Gwasg Carreg Gwalch)
Y Castell Siwgr, Angharad Tomos (Gwasg Carreg Gwalch)
The judges of this year's English-language books are poet, writer, and dancer Tishani Doshi; teacher, reviewer and influencer Scott Evans; Paralympian, Crossbench Peer in the House of Lords, motivational speaker, and broadcaster, Tanni Grey-Thompson; and academic, writer, activist and former winner of Wales Book of the Year (2003), Charlotte Williams.
On behalf of the judging panel, Charlotte Williams OBE said: "Being able to read across the literary output of the nation in any one year is by turns inspiring, daunting and joyous. The 2021 shortlist for fiction, non-fiction, poetry and children's books demonstrates the quality, breadth and range of writing being produced in, and about Wales. Whilst these books reflect strongly Welsh literary themes, people and places, they also clearly speak to Wales' international connections and to its international readership."
On the Welsh-language panel are poet and writer Guto Dafydd; writer, presenter and former Bardd Plant Cymru, Anni Llŷn; writer, academic and lecturer, Tomos Owen; and comedian and writer, Esyllt Sears. 
What happens next?
The winners will be announced on the BBC Radio Wales Arts Show on Friday 31 July from 6.00 pm, where representatives from the judging panel, Literature Wales, and literary pundits will join presenter Nicola Heywood Thomas for this highlight in the Welsh literary calendar. The Welsh-language winners will be announced in a series of programmes on BBC Radio Cymru's Stiwdio programme between 2 – 4 August.
BBC Radio Wales' Arts Show presenter, Nicola Heywood-Thomas, said: "The BBC Radio Wales Arts Show is delighted to be once again part of the excitement of revealing the English language winners. Wales Book of the Year recognises and rewards the very best of our writers and it's a real treat that points us to great books that we might otherwise not discover. I am really looking forward to finding out who this year's winners are in such a strong field."
Wales Book of the Year is run by Literature Wales and each year recognises some of the country's most renowned writers as well as exceptional emerging voices.
Lleucu Siencyn, Chief Executive of Literature Wales said: "This shortlist is a celebration of the outstanding literary talents we have in Wales, during what has been incredibly challenging times for writers, readers, and the wider publishing sector.

On behalf of Literature Wales, I wish to congratulate all the shortlisted writers and thank them for providing us with such delight and inspiration during a year where the power of literature has never been more important. I encourage everyone to visit your local bookshop or library and immerse yourselves in the worlds of these exceptional titles."
A total prize fund of £14,000 will be distributed to the winning writers. Each category winner will receive a prize of £1,000 and the main award winners will receive a further £3,000. Each winner will also receive an iconic Wales Book of the Year trophy designed by the installation artist and blacksmith Angharad Pearce Jones.
Readers will have the opportunity to have their say as the shortlisted titles compete to  win the  People's Choice Awards hosted independently by our partners Wales Arts Review and Golwg360.
For further information about the Wales Book of the Year Award visit: www.literaturewales.org/wales-book-year