Announcing the successful recipient of a fully funded space on residential course
Published Thu 27 Oct 2022
Following a
call-out
earlier this year,
Literature Wales
and
Black Mountains College
are proud to announce that
Lottie Williams
from Carmarthen was the successful recipient of a fully funded space on the college's
Writing, Climate and the Living World
3-day residential course.
The course, which explored how writing can confront and reflect on the climate crisis, was held between 22– 26 September 2022, with tutors Tom Bullough and Jay Griffiths, and Pascale Petit as guest reader.
Lottie Williams is an emerging writer whose love for nature and place is reflected in almost every piece she writes, both fiction and non-fiction. She is just starting her final year studying for a MA in Creative Writing at Swansea University.
Lottie's writing has been published both online and in print, including Red Door, Eiddo, Firewords and Nation.Cymru.  She has featured in several online festivals, including the Being Human Festival, of which she is published within the accompanying Parthian anthology. She is a regular contributor to Cerddi yn Cwrw, a fortnightly spoken word event hosted by Write4Word in Carmarthen.
On why she applied for a place on this course, Lottie said:
"I want to be part of society's awareness and understanding. Being a mother, I am passionate about empowering our next generation and how they too can fight climate change. Winning this free space opens up more doors for me and will help me so much in my writing journey. But let us remember this free space is so much more – it is learning about the future of our planet and how we, as writers, can assist in advancing this vital conversation. I am so grateful to Literature Wales and the Black Mountains College for this amazing opportunity."
Reflecting on her time on the course, Lottie added:
"Tom and Jay were so warm, welcoming and knowledgeable. From the moment we arrived to when we left, they gave us their full time and commitment. I have learnt so much from them in such a short space. Pascale was also so giving and gentle, but with passion to her core. She helped me understand how trauma can be written with distance and with nature at the centre.

The other people on the course were also wonderful. From various backgrounds and writing experiences, we gelled so quickly. I have learnt so much from them all, including the reverence of tiger souls and Shamanic beliefs, to personal impacts of flooding, to coppicing and land management.

I have taken so much from this weekend, and I hope that I was able to give something of myself for other people to take away. It was energising to be writing and experiencing the course alongside writing participants who are more established than myself, and hearing about their future plans and impacts."
Taz Rahman, a poet from Cardiff, also received a partial bursary to support with attending the course. He said,
"It wasn't just an eye-opening few days of learning about climate change and adapting my own creative response to it, but being in a spot of such outstanding natural beauty has been a welcome change from my usual drab library and computer screen stints. Jay Griffiths and Tom Bullough were so very generous, sensitive in the way they accommodated such a diverse cohort of specialities and instilled so much confidence in all of the participants that I am sure I am not the only one who had come away with projects in mind."
Taz Rahman's first poetry collection is forthcoming in February 2024 by Seren Books. He has been published in Poetry Wales, Bad Lilies, South Bank Poetry, Anthropocene, Honest Ulsterman, Nation Cymru, Culture Matters and in various anthologies. He was one of the judges for the 2021 Poetry Wales Pamphlet Competition. In 2021, he was also awarded a place in the Literature Wales writer development programme Representing Wales, and was mentored by Poetry Wales editor Zoe Brigley. Having spent the vast majority of his life in Cardiff, his writing takes inspiration from the natural world and stories found between the rivers Taff and Ely. He founded the Youtube poetry channel Just Another Poet in 2019, which won a Books Council Wales 'New Audience Creation' commission in 2022.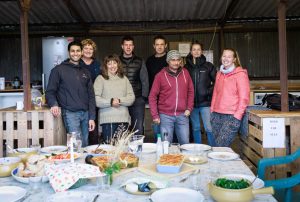 Literature Wales recognises the climate emergency and its devastating impact on our world and the lives of people, with the poorest hardest hit. We want to act where we can, to mitigate against further escalation of the crisis and raise awareness through our work. That is why we have placed the Climate Emergency as one of our main priorities. We will use creativity to educate, to explore and to challenge – aiming to increase knowledge of the climate emergency and inspire lasting change.
Black Mountains College in Brecon was founded as a response to the climate and ecological emergency, and they run vocational courses and a higher education programme on relevant themes.