Announcing the English-language Wales Book of the Year Short List 2022
Published Fri 1 Jul 2022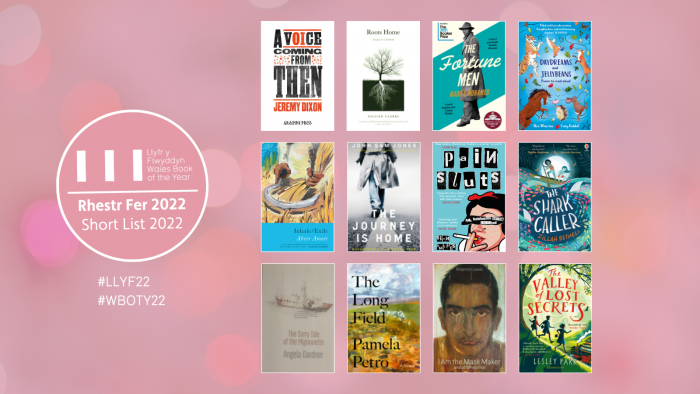 We're delighted to announce which books have reached the English-language Wales Book of the Year Short List 2022. The twelve-strong list was revealed by judge Matt Brown during BBC Radio Wales' Drive show with Colette Hume.
Awarding across four categories in both Welsh and English – Poetry, Fiction, Creative Non-fiction and Children & Young People – the Wales Book of the Year Award celebrates some of the best literary works in the previous calendar year.    
This year's English-language judging panel includes poet and writer Krystal Lowe, journalist and broadcaster Andy Welch, author and presenter Matt Brown, and poet and recipient of a 2020 Rising Star Award,  Taylor Edmonds.  
After months of reading and deliberating, the judges have named the following as their Short List:   
English-language Short List 2022
English@BangorUni Poetry Award  
A Voice Coming From Then, Jeremy Dixon (Arachne Press)  
Inhale/Exile, Abeer Ameer (Seren Books)  
The Sorry Tale of the Mignonette, Angela Gardner (Shearsman Books)  
Creative Non-Fiction Award  
Roots Home: Essays and a Journal, Gillian Clarke (Carcanet)  
The Journey is Home: Notes from a Life on the Edge, John Sam Jones (Parthian)  
The Long Field, Pamela Petro (Little Toller Books)  
Rhys Davies Trust Fiction Award  
I am the Mask Maker and other stories, Rhiannon Lewis (Victorina Press)  
Plain Sluts, Sian Hughes (STORGY Books)  
The Fortune Men,  Nadifa Mohamed (Viking, Penguin Random House)  
Children and Young People Award  
Daydreams and Jellybeans, Alex Wharton (Firefly Press)  
The Shark Caller, Zillah Bethell (Usborne)  
The Valley of Lost Secrets, Lesley Parr (Bloomsbury Children's Books)  
On behalf of the Judging Panel, Andy Welch said: 
"I was thrilled to be invited to join the judging panel of the WBOTY prize, and was bowled over by the quality among the entrants. Whittling down so many books to a Short List was no easy task, but we believe we've selected a dozen books that fully reflect the highly original, thoroughly entertaining, diverse nature of Welsh literary talent." 
For further information about each writer and their books, head over to the Wales Book of the Year page. 
Welsh-language Short List 2022
This year's Welsh-language awards are judged by broadcaster Mirain Iwerydd, presenter and columnist  Melanie Owen, the academic, writer and editor Siwan Rosser, and director, poet and author Gwion Hallam. The Short List was announced on Monday 20 June on BBC Radio Cymru's Stiwdio programme, and can be found here.  
What happens next?  
The Welsh-language award winners will be announced during a series of broadcasts on BBC Radio Cymru between the 19- 21 July. All the English-language winners will be announced on BBC Radio Wales on the 29 July. Literature Wales is glad to continue our partnership with BBC Cymru Wales this year, and look forward to sharing all the announcements with you during these special broadcasts.   
A total prize fund of £14,000 will be distributed to the winning writers. Each category winner will receive a prize of £1,000 and the main award winners will receive a further £3,000. Each winner will also receive an iconic Wales Book of the Year trophy designed by the installation artist and blacksmith Angharad Pearce Jones.  
Readers will have the opportunity to have their say as the shortlisted titles compete to win the People's Choice Awards hosted independently by our partners Wales Arts Review and Golwg360   
Literature Wales is grateful for the support of the award's sponsors and partners: Bangor University, The Rhys Davies Trust, Books Council of Wales and BBC Cymru Wales, and our funders Arts Council of Wales and the Welsh Government.   
Further information about sponsors and partners is available here.