Welsh-language Wales Book of the Year Short list 2022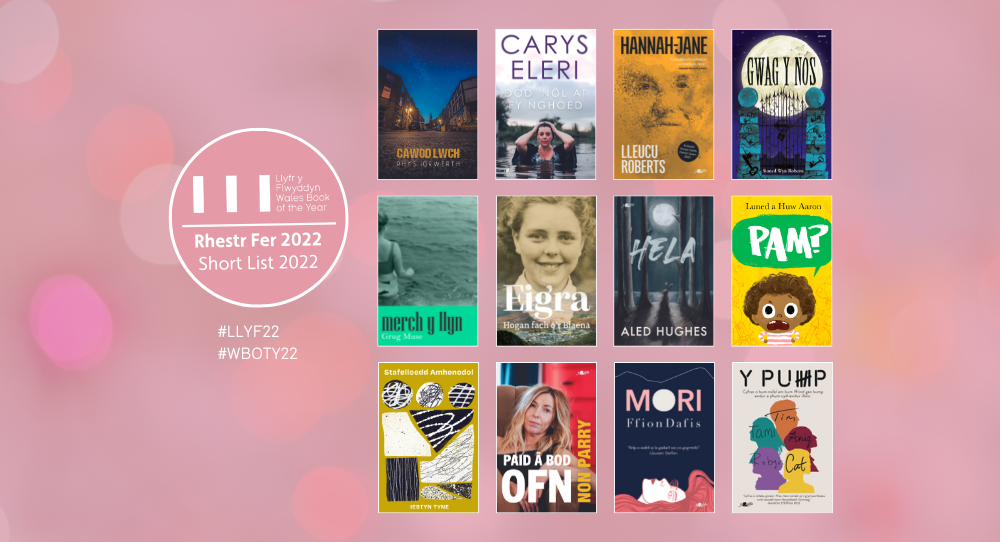 Poetry
Cawod Lwch - Rhys Iorwerth (Gwasg Carreg Gwalch)
Seven years ago, Rhys Iorweth published his first volume – Un Stribedyn Bach. That collection contained the voice of a man in his twenties. Now, after fifteen years in the capital, he has left Cardiff and moved back to Caernarfon, where he is an author and freelance translator. He has also married and had two children. Here is the new material for this collection of poetry – poems of his thirties, of a changing world.  
He sees that things have changed in Wales over the same period – Welsh communities are under more pressure and London politicians and the climate emergency give an edge to his lines. The commemorations the First World War, enormous growth in virtual technology, Brexit, and a pandemic. Celebrating the bright spot of the Euros in 2016. 
The poems weave together the personal and the communal. Weaving the sunny and the stormy, the heavy and the light, the big and the small. In every poem and every key, his skill is honed to a fine point as words turn into unforgettable images. Here is mastery of several measures and the variety this collection has to offer captures the fun, the challenge, and the ugliness of our days.  
***
Rhys Iorwerth is a poet and author from Caernarfon. He won the Chair at the National Eisteddfod in 2011, and the Wales Book of the Year Award for poetry in 2015 for his collection, Un Stribedyn Bach (Gwasg Carreg Gwalch). His first volume of prose, Abermandraw (Y Lolfa), was published in 2017. In 2020, he won the Michael Marks Poetry in a Celtic Language Award for his pamphlet Carthen Denau (Y Stamp). He constantly performs in literary events across Wales, and he is one of the founders of the live poetry nights Bragdy'r Beirdd in Cardiff and Caernarfon, and online. He also teaches a class on the traditional Welsh form, the cynghanedd, and holds poetry workshops in schools. He competes with the Dros yr Aber and Deheubarth teams and he has won the Dic Jones Memorial Award for the best cywydd on the BBC Radio Cymru series Y Talwrn three times (in 2013, 2019, and 2021). He published his second full volume of poetry, Cawod Lwch (Gwasg Carreg Gwalch) at the end of 2021.  
merch y llyn - Grug Muse (Cyhoeddiadau'r Stamp)
It is in the 'bargaining between hardness and softness' that the poems of merch y llyn, the second volume from Grug Muse, occur; in the bodies of water that provide an escape and a threat in one breath. The layers of geology reveal the layers of the self, in work that shows that the boundary between pain and pleasure, between the raw and the sensuous, is really very thin. 
***
Grug Muse is a poet and writer from the Nantlle Valley. She won the chair at the National Eisteddfod in 2013 and published her first collection, Ar Ddisberod (Cyhoeddiadau Barddas), in 2017. Her work has been translated into German, Greek, and Latvian.  
Stafelloedd Amhenodol - Iestyn Tyne (Cyhoeddiadau'r Stamp)
Stafelloedd Amhenodol is a collection of sonnets, the third volume of poetry from Iestyn Tyne. There are poems that disturb and excite, poignant meditations, anger at the state of communities, the environment, and the world.  
***
Iestyn Tyne is the co-founder and co-editor of the Stamp magazine and publishing house. He won the chair at the Urdd Eisteddfod in 2019. He has published three volumes of poetry, and his first novel for young adults, Robyn, was published as part of the Y Pump (Y Lolfa) series in 2021. He is one of the co-editors of the essay anthology Welsh (Plural) which was published by Repeater Books in 2022. 
Creative Non-Fiction
Dod Nôl at fy Nghoed - Carys Eleri (Y Lolfa)
Carys Eleri leads us through a forest of grief, her honesty and humour like a breath of fresh air. While walking through a difficult period for her and her family, she reveals how love and laughter can act as therapy. She shares how she came 'back to her trees' with the help of friends, nature, and an amazing bike ride.  
***
Carys Eleri is best known as the character Myfanwy in the popular drama Parch on S4C and for her bilingual comedy show Lovecraft (Not the sex shop in Cardiff) / Cer i Grafu… Sori… Garu! She is an actor, a singer, a presenter, and a producer.  
Paid â Bod Ofn - Non Parry (Y Lolfa)
In her raw autobiography, the singer Non Parry lifts the curtain on the glamour of life in the public eye and frankly discusses mental health.  
As a member of Eden, Non became a familiar face at just 22 years old. Overnight, she and her best friends Emma and Rachael made their dream a reality. However, behind the refrain "Paid â bod ofn", ("Don't be afraid"), there was a very different Non.  
In 2018, the time came to admit the truth: she was afraid of many things. After years of suffering in silence, enough was enough.  
"When am I going to be normal?" she asked out loud.  
Here is her story – the insecure child suffering with OCD and anxiety who went on to perform in front of thousands, the perfect imperfect wife and mother who has learned to live with the challenges of her husband Iwan John's illness and the effects on the whole family of waiting years for a transplant.  
***
Non Parry is a member of the hugely popular pop group, Eden. She also writes scripts and is currently studying an MA in Psychotherapeutic Practice. She has a popular podcast on BBC Radio Cymru, Digon yw digon – amser i gael sgwrs onest am iechyd meddwl.  
Non is married to the actor Iwan John and has three children as well as two stepchildren. 
Eigra: Hogan Fach o'r Blaena - Eigra Lewis Roberts (Gwasg y Bwthyn)
The autobiography of Eigra Lewis Roberts, one of our most prolific authors. She's a girl from Blaenau and this volume reflects that area's influence on her – and her books are the milestones that guide us along the way.  
***
Eigra Lewis Roberts has enriched our cultural life over the years, creating unique novels and stories as well as unforgettable television series like Minafon.
Welsh@BangorUni Fiction Award
Mori - Ffion Dafis (Y Lolfa)
Morfudd doesn't understand people and people haven't tried to understand her. When she receives a Facebook request from a young girl who lives her life online, Morfudd's curiosity is awakened.  
As her obsession with this electronic girl grows, Morfudd is forced to face the secrets of her past. Will the wounds that fester inside her shake both their worlds forever?  
A powerful contemporary story, this is the first novel from the actress Ffion Dafis following the success of Syllu ar Walia (Y Lolfa, 2017).
***
Ffion Dafis is familiar as an actress and presenter on radio and TV. Originally from Bangor, she is best known for playing the parts of Llinos in the TV series Amdani and Rhiannon in Byw Celwydd on S4C. She played Lady Macbeth in Theatr Genedlaethol Cymru's groundbreaking production of Shakespeare's play at Caerphilly Castle in 2017.
Hela - Aled Hughes (Y Lolfa)
In those few minutes, the innocence of the group of four who had known each other since nursery school vanished completely in the wake of Guinness and Scampi Fries. The four stared into the fire that no longer provided comfort…  
This is a novel about friendship, hypocrisy and community. The early days friends Callum, Babo, Jac-Do and Saim Bach have to grow up very quickly as their community, its people and all that they know are completely shattered.  
***
Originally from the Llŷn Peninsula, Aled Hughes now lives in Anglesey with Laura, Osian, Tristan and Lois. He presents his own morning show on Radio Cymru as well as presenting on the television.  
Hannah-Jane - Lleucu Roberts (Y Lolfa)
Hannah-Jane is losing her memory, but her tongue is as sharp as a razor, as her neighbour Beth knows well.  
But is there more than illness behind the clouds in this old woman's mind?  
As the seasons turn through the town's history, light is thrown on the alienation between Hannah-Jane and her daughter, Susan, and there may be hope for reconciliation through her relationship with her granddaughter, the artist Ishi Mai.  
A gripping family story that will make you desperate to turn the pages as you try to solve the mystery of Hannah-Jane's past.  
***
Originally from Llandre, near Aberystwyth, but now living in Rhostryfan. Lleucu Roberts was an editor at Y Lolfa for a time, but now makes a living writing novels and scripts for radio and TV. She has won the Tir na n-Og award several times and won the Daniel Owen Memorial Award and the Prose Medal at the National Eisteddfod in Carmarthenshire in 2014, the first person to take both the main prose awards in the same year. She achieved the same feat again in 2021, in the AmGen Eisteddfod.  
Children and Young People
Pam - Luned and Huw Aaron (Y Lolfa)
This fun-filled book raises many questions from a mischievous little boy. The book has a simple vocabulary and uses meter and rhyme throughout, with colourful ink illustrations that complement the text. As the story progresses, the playful questions become increasingly over the top as the boy voices his frustrations.  
***
Originally from Bangor, Luned Aaron now lives in a house full of books in Cardiff, with her husband Huw and their two daughters, Eos and Olwen.  
Huw Aaron lives in Cardiff with his family and works as an illustrator and cartoonist. Huw has illustrated a number of books for children and comic strips, including the popular children's magazine Mellten. Huw also contributes regularly to Private Eye, The Oldie and The Spectator. 
Gwag y Nos - Sioned Wyn Roberts (Atebol)
'Only one rebel is needed to make a difference. And you're her, Magi.' 
Life is hard in 1867 and if you're poor, it's hell.  
Since Magi Bryn Melys moved to the Gwag y Nos workhouse, she has been a thorn in the side of Nurse Jenat. But being a rebel is dangerous, and one morning things go from bad to worse for Magi.  
It's clear that something is very wrong in the workhouse, but who is to blame? Will Magi the rebel succeed in saving her friends and solving the dark secret of Gwag y Nos?  
This is her story… 
***
Originally from Pwllheli, but now settled in Cardiff, Sioned Wyn Roberts has worked in children's broadcasting for over twenty years. Until recently, she was the Children's Content Commissioner at S4C where she held editorial responsibility over Cyw and Stwnsh. Prior to that, she produced children's programmes with the BBC. Sioned was selected as one of the authors for the Literature Wales and Welsh Books Council course (Tŷ Newydd February 2019). It was here that she developed the idea for this series of books. Gwag y Nos won the Tir na n-Og 2022 award in the Primary category. Sioned believes that creating quality content in the Welsh language that sparks the imaginations of children and aids in language acquisition is essential.  
Y Pump - (Y Lolfa)
Five honest, powerful and candid novels from some of our foremost young writers. Y Pump embraces the complexities of five friends in Year 11 of Ysgol Gyfun Llwyd – Tim, Tami, Aniq, Robyn and Cat. The five novels follow this group of friends as they discover the power their otherness has when they come together as a community.  
***
Tim – Elgan Rhys and Tomos Jones (co-authors of the first novel in the series)
Elgan Rhys was raised in Pwllheli and has lived in Cardiff for a decade. He mainly works in theatre as an author (Woof), performer (Chwarae) and director (Llyfr Glas Nebo). His role as an author, creative director, and editor of Y Pump is his first publishing project.  
Tomos Jones is 18 years old and lives in Cardiff. This is the first novel he has helped to create. He hopes to stay in Cardiff to study Welsh at university.  
Tami – Mared Roberts and Ceri-Anne Gatehouse (co-authors of the second novel in the series)
Mared Roberts hails from the New Quay area of Ceredigion. She read French and Spanish at Cardiff University and is now a translator. This is her first novel.  
Ceri-Anne Gatehouse is a writer and poet who is currently pursuing a BA in Drama and Creative Writing at Royal Holloway, University of London. She is proud of working on a novel that provides representation for young people who are usually under-represented.   
Aniq – Marged Elen Wiliam and Mahum Umer (co-authors of the third novel in the series)
Originally from Bangor, Marged Elen Wiliam currently lives in Cardiff after periods spent living and studying in London and Cambridge. She recently completed an MPhil in South Asian Studies. She works as a policy officer and spends her spare time writing or meditating.  
Mahum Umer is a third generation Pakistani who was born in Wales and he is proud of his Pakistani and Welsh roots. He is studying Welsh and hopes to use his experiences to bring variety into literature and the media, starting with Aniq, his first experience of working on a novel.  
Robyn – Iestyn Tyne and Leo Drayton (co-authors of the fourth novel in the series)
Iestyn Tyne is originally from the Llŷn Peninsula, but he now lives in Caernarfon. He is one of the editors at Cyhoeddiadau'r Stamp and he has published two volumes of poetry. This is his first novel.  
Leo Drayton is a trans boy from Cardiff. After leaving Ysgol Gyfun Gymraeg Glantaf, he volunteered in Cambodia before going to university. This is the first novel he has worked on and he enjoys writing poetry.  
Cat – Megan Angharad Hunter and Maisie Awen (co-authors of the fifth novel in the series)
Megan Angharad Hunter hails from Penygroes, Nantlle Valley, and she is studying Welsh and Philosophy at Cardiff University. In 2020, she received a New Writer's Bursary Award from Literature Wales before publishing tu ôl i'r awyr (Y Lolfa), her first novel for young people.  
Maisie Awen is 18 years old and comes from Pembrokeshire. She studies the performing arts and loves all types of arts. Cat is the first novel she has worked on, but she has been writing poetry and short stories for years.